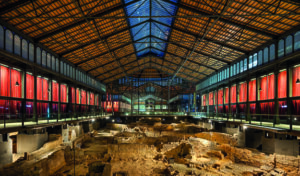 In a city as cosmopolitan, modern and international as Barcelona, with so many things to see and do, it's easy to overlook the fascinating history that formed it into the city it is today. You may be inclined to dive straight into the modernist architecture and the stunning beaches Barcelona offers, but we recommend you take a step back, and explore the city's riveting roots by getting an Arqueoticket in Barcelona.
For just around 15 euros, you'll have access to four must-see archaeological collections in Barcelona that will lead you in your exploration of this magnificent city.
A city consistently filled with innovative and creative people, Barcelona has experienced, and continues to experience, speedy and immense growth. Barcelona's journey from being home to a small Roman civilization to one of the world's top international business and artistic hubs is nothing short of amazing.
You can buy the Arqueoticket online or pick it up at any of the four museums listed below. Don't miss the chance to dive head first into this amazing city!
1. Museu d'Arqueologia de Catalunya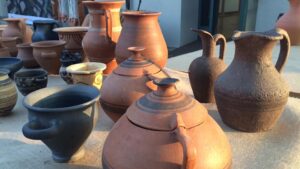 For an interesting overview of Catalonia's evolution from its first ever settlers to the Middle Ages and everything in between, Museu d'Arqueologia de Catalunya (El MAC) is the place to go. Home to collections of prehistoric, Iberian, Visigoth, Phoenician, Greek, and Roman artifacts, you are sure to be an expert after this visit.
At the Archeological Museum of Catalonia you'll be able to see many ancient treasures—everything from art to jewelry to household appliances. This Arqueoticket stop will make you feel transported in time as you walk through the different eras of Catalonia's evolution!
Address: Passeig de Santa Madrona, 39-41
2. Museu Egipci de Barcelona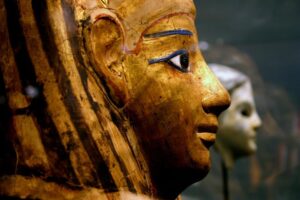 The Barcelona Egyptian museum explores a civilization that was incredibly advanced for its time. With cosmetic practices similar to our own, including the use of perfumes and eye paint, and an emphasis on the importance of material things, such as fancy belts and rings, this society, thousands of years removed from our own, actually shares many values and practices with modern day.
That being said, many aspects of their society were very different from what we think of as normal, for example their extensive mummification process. This combination makes for a relatable, and yet still astonishing experience. Getting the Arqueoticket in Barcelona in Barcelona will allow you to explore this this interesting story.
Whether it's art, royalty, cosmetics, funerary practices, temples or anything else you can imagine related to ancient Egypt that you're interested in, the Museu Egipci de Barcelona has you covered.
Address: Carrer Valencia, 284
3. Museu d'Història de Barcelona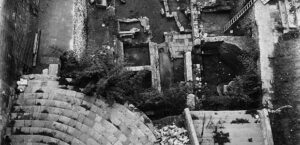 A museum dedicated to conserving and documenting artifacts, architecture, and all else related to the city of Barcelona, the Museu d'Història de Barcelona is a great source of information.
This museum, whose headquarters are located on Plaça del Rei in the Gothic Quarter, is the largest, and debatably one of the most interesting sites the Arqueoticket gives you access to. It is responsible for a number of historic sites spread all around the city. These area include archaeological locations displaying the remains of the ancient Roman city of Barcino, others referring to the medieval times, and finally a few contemporary sites related to Gaudí, the Spanish Civil War and the 1992 Olympic Games.
A highlight of visiting the Barcelona History Museum is getting to walk along the raised paths through the excavated streets of Barcino. You can read about people's daily practices while peering into their bathhouses and wine storage buildings, an interactive and intimate view of history. If you visit this epic, all encompassing Arqueoticket musem, you'll leave an expert on the city in which you are staying.
Address: Plaça del Rei
4. Born Centre de Cultura I Memòria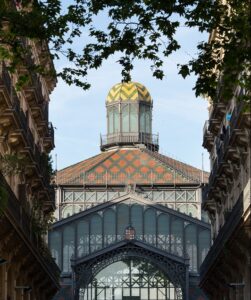 Set in the cast-iron structure of a landmark 19th century market, The Born Cultural Center is dedicated to teaching people about local and national events that have affected communities around the world, particularly Barcelona.
Their headquarters are located in El Born, in a former market. The market contains the remnants of the European modernist movement, but also, the recently excavated remains of streets and houses of Barcelona in the 1700s. This Arqueoticket stop, which has been converted into a forum for meetings and debates as well as a place to learn and enjoy art and important cultural events, is a unique and incredibly interesting experience you don't want to miss out on.
Address: Plaça Comercial, 12
The Arqueoticket allows you access to four of Barcelona's most interesting and informative museums. They will enable you to walk around Barcelona with a greater cultural appreciation and understanding. You'll notice the difference immediately as you begin to spot signs of Gothic architecture, or imagine Las Ramblas back when it was home to the Roman city Barcino.
The Arqueoticket will enhance your experience immensely, and is a small price to pay to become a more informed traveler!