Home to Spain's second largest railway network, Barcelona boasts some of the best public transportation in the world. Barcelona's metro services are a major benefit to living in or visiting the city. This winding, maze of tunnels however, holds more than you may think. What people don't realize as they hop on the train, is that there are 12 ghost stations and various abandoned air raid shelters that lie deep under their feet, below the bustling city streets, that have been completely uninhabited, neglected, and abandoned for years.
Hidden Metro Stations

In 1924 the Transports Metropolitans de Barcelona (TMB) set out to begin construction of what has become one of the highlights of this city, and something its residents and tourists rely upon heavily: the metro (originally known as the "Gran Metro"). The first line to be put to use went from Lesseps to Plaça Catalunya, which we now know as Line 3.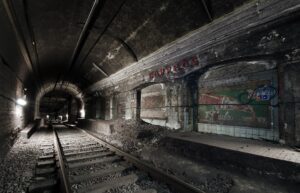 In the decades since its first lines were constructed, a number of metro stations have gradually disappeared off of the maps… Hadn't realized this? You're not alone; this anomaly remains well hidden from the unsuspecting eye, deep below the surface of buzzing activity. These stations, including the Correos station, Gaudí station, Travessera station and the Banco station, retired due to changes and improvements to the metro system that left them useless. Some of the stations are still accessible from the outside, and many have eerie legends attached to them…
If you are riding on Line 2 or 5, make sure to take a peek outside your window to catch a glimpse of the Gaudí metro station. Located near the Sagrada Familia, this station was built in 1968, but was never actually opened for use due to changing metro plans. Some metro riders claim to have seen mysterious ghost people on this platform awaiting a train, and some even claim to see the figure of Antoni Gaudí himself.
Air Raid Shelters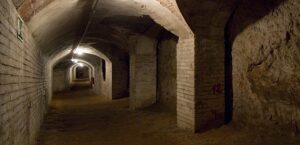 Another intriguing hidden part of Barcelona is its air raid shelters. During the Spanish Civil war the general public built more than 1,000 shelters as a way to protect themselves from the frequent bomb raids. Many still exist today, and though they are clearly a major part of Barcelona's history, they are often overlooked in favor of more conspicuous attractions, like the Sagrada Familia or the Boqueria market. While these prominent attractions are not to be missed, learning about and visiting the bomb shelters will provide you with a unique, authentic insight into the trials and tribulations the people of Barcelona faced throughout history.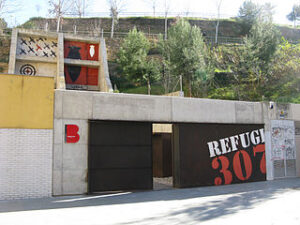 One of the shelters that remains today, Refugi 307, was built during the Civil War, when Barcelona was subject to indiscriminate bombing. The public was forced to learn to live in the shelters to hide from the attacks. Most of the shelters are buried away, but a few have been rediscovered. Shelter 307 was excavated in Poble Sec, and can be found at Nou de la Rambla. The shelter contains 400 meters of tunnels, which include a toilet, a children's room, a fireplace and a water fountain.
Intrigued? Tickets only cost about 4 Euro, a small price to pay to witness such history.