Marta Rubio is a Barcelona-native who likes to share her tips and knowledge about the city where she was born and raised. She is the owner of HolaBarcelona.nl, where she gives all kinds of insider tips, information and news about the Catalan capital. Her aim is to let you discover the real Barcelona. Although she has been living in the Netherlands since 2008, she regularly returns to Barcelona to discover new places which she can pass on to her readers.
Let's start off with an ice-breaker… Name three interesting things about yourself. Don't be modest!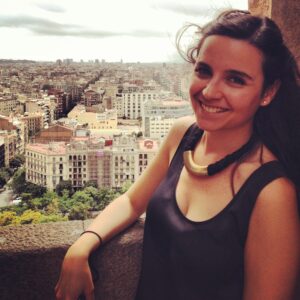 I was born and raised in Barcelona but decided to move to The Netherlands with my (Dutch) boyfriend some years ago. Here I studied a Master in Marketing and began working in online marketing for several companies. Nowadays I run my own company, HolaBarcelona.nl.
On 2008 I started a blog in Dutch about Barcelona with all my tips and insider information about my city in order to help travellers in The Netherlands to explore Barcelona as a local. Even though it all started as a hobby, HolaBarcelona.nl is nowadays one of the biggest information sources in Dutch about Barcelona and helps Dutch travellers to make the most of their visit to Barcelona.
As a student in Barcelona I worked in a museum and ever since I can remember I've been fascinated by this city and enjoyed showing it around to visitors, so I guess blogging was the natural thing to do.
Why did you start Hola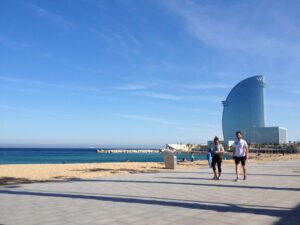 barcelona.nl?
I started the blog as a result of the many questions I got from family and friends in The Netherlands who, knowing that I was from Barcelona, asked me for advice. At a certain point I decided to publish all my tips online so that everyone in The Netherlands (and Belgium) could also enjoy the city as a local.
Are you planning on moving back to Barcelona?
I do miss Barcelona, its city vibes, nice weather, delicious food… and of course my family and friends, so yes, I will probably move back to Barcelona in a few years. At least that's the plan 🙂
What is your favorite neighborhood of the city and why?
My favourite neighbourhood would be Horta, which is also the place where I grew up and where my family lives. It's a very charming place, far from the busy city center, surrounded by nature and pretty old houses from the old village of Horta.
What is your favorite place to grab a bite in the city?
Barcelona is full of cafés and bars where you can have a bite. From the well known tapas to more modern concepts like raw food and slow pressed juices. What I also enjoy a lot in Barcelona is the large assortment of pastries at the bakeries. If you want to give yourself a treat, then go to a Boldú bakery and ask for their famous Bolduman. This is a delicious donut which comes in all kinds of flavours.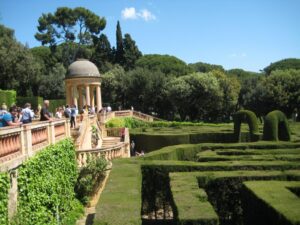 Is there a hidden corner or an 'off the beaten track' place that you'd recommend to visitors?
One of the places I enjoyed the most as a child was visiting the labyrinth at Parc del Laberint d'Horta. This beautiful park in Barcelona is not that known among tourists because it lays off the beaten track in the foothills of the Collserola mountains, but with the metro you can get there very fast and it's certainly worth a visit. Besides its amazing labyrinth maze, this is also an important historical place: it is actually city's oldest conserved garden!
What's something that visitors definitely should not do when in the city?
You should definitely not stay your entire vacation hanging around the Ramblas. There are so many other places to see and to discover in Barcelona! Besides which, the Ramblas have become really touristy over the last few years, so if you want to experience the real Barcelona I advise you to visit some of the other 'ramblas' that the city has to offer, like Rambla de Catalunya, Rambla del Poblenou or Rambla del Raval.
What's the most interesting piece you've written for your blog?
I try to write about different topics on my blog, from restaurant reviews to personal tips, walking tours to new events and things to do. I've recently written an interesting post about Carlos Ruiz Zafón's books like The Shadow of the Wind and The Angel's Game, both of which are set in Barcelona. You can even visit the locations featured in the novels, if you like.
It's my first time in the city. What's your no. 1 tip?
I would recommend you plan your trip in advance in order to get an idea on what are you going to visit and what would you like to do during your stay. If you're planning to visit monuments like the Sagrada Família and Park Güell (both truly a must!) then it is handy to buy your tickets online in advance in order to skip the long lines. By knowing what your plans are in advance and buying online tickets you can then make the most of your time in Barcelona.