Summer has arrived and is finally heating things up in Barcelona! While this means longer beach days and getting to perfect those tans, it also means you might find yourself itching for that icy, refreshing treat. Cold, healthy juice is a wonderful pick-me-up, providing a bright and more flavorful alternative to coffee. It's no wonder that this industry is booming in the city. With multiple shops all over Barcelona, we've compiled a list of some of our favorites.
Greenshots
This juice bar and restaurant specializes in detox juices in Barcelona. Modern and with three different locations, their juices aim at cleansing the body of all the toxins that make you feel sluggish and off balance. Detox juices are rich in vitamins A, C and K, and are packed full of antioxidants. These are especially useful for boosting the immune system and balancing cholesterol levels.
This place also offers a lot of cold-pressed juices. These are made with a hydraulic press which extracts the juice as opposed to other methods which allows them to retain more of their vitamins and minerals.
Prices are very reasonable and affordable. So while you're there, why not pick up a quiche to-go or try something else off their vegetarian menu!
 Via Augusta 21, C/ Paris 201 and C/ Casanova 178

Press and Reset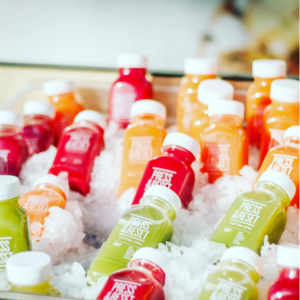 With various locations across the city, you're never too far from Press and Reset's famous cold pressed juices in Barcelona. After being featured in Vogue and Elle, this store's popularity shot up. They recently came out with a line of sport juices for the active consumer, and also feature a kids line for the little juice lovers in your life.
P&R offers over 16 different tasty flavors. Daily detox juice packs provide an easy and convenient way to stay hydrated after a workout or to keep healthy this summer while you're on-the-go.
Passeig de Joan de Borbó 56 and C/ Petritxol 6 and others across the city

Brunch and Cake
This popular eatery has a delicious selection of juices that are served in delectable mason jars with large pieces of fresh fruit. Their juices aren't heavy or thick, so they aren't too filling to eat with a meal if you are only looking for an accompaniment. The colors of the juices are as beautiful as they are tasty, swirled to perfection with a sugared rim. Some juices even include large strips of coconut or passion fruit. Made with ingredients from the market across the street on Enric Granados, you can be sure you are truly getting the Barcelona experience when you pick up a drink from here.
Enric Granados 19

Flax and Kale
This trendy, vegetarian based restaurant located in El Raval boasts a healthy eating, healthy lifestyle motto. The menu, which contains juices, veggie milks and purees, is all organic. You'll feel very adventurous after ordering a juice from here, as they include many super foods such as kale and beetroot. Take one for the beach bag or before heading to explore the city. The juices at this Barcelona health restaurant provide natural energy to keep you going throughout your day, giving you the boost you need to sustain those longer summer nights!
Carrer dels Tallers 74B
BeBo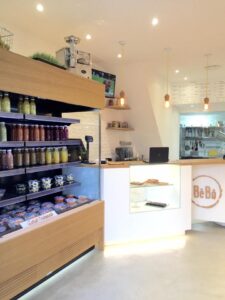 BeBo is a quaint shop owned by a local couple. It's as renowned for its customer service as it is for its juices. Each bottle is extracted and packaged with no artificial preservatives, ensuring you are getting 100% pure ingredients. Every one of their juices contains more than 1kg of organic fruit and vegetables, offering an easy way to incorporate the required amount daily fruits and veggies in your diet. Some of their favorite healthy ingredients are goji berries, spirulina and chia seeds. The Barcelona juice masters at Bebo are always happy to offer personalized recommendations!
 Plaça de Francesc Macià 5