The boys in Barcelona. What could possibly be better? A chance for you and your best mates to enjoy some quality 'bromance' time with a weekend of pure pleasure, mayhem and endless fun. There's no better place to let loose, go crazy and have a big blowout with the guys than the Catalan capital. And if you end the weekend in classic 'Hangover' style with a tiger in your room, you know that you've had one hell of a trip.
So if you've got a lads weekend on the agenda, say adios to dreary grey skies and escape to the Spanish sunshine for the time of your life. We've got the key ingredients for a lad's weekend away in Barcelona, so leave the hard stuff to us, and you just worry about where you're going to kick off your trip.
The Ultimate Hangover Cure
It's the morning after the night before and you're slowly recovering (or just plain suffering). You can hear the call of your mum's homemade full English waiting for you on your kitchen table and it's all too tempting to book a last minute flight back to England.
Luckily for you, Flaherty's Irish Bar serves a traditional breakfast with all the trimmings. That's right, we're talking bacon, sausages, fried egg, baked beans, white pudding, hash browns, grilled mushrooms and roasted tomato, all served with toast, butter, and jam. And no, you're not dreaming. What's more, this plus a drink of either tea, coffee or orange juice costs a mere 8,50€ saving the pennies for the more important things in life, like a pint. Who said Barcelona wasn't the answer to your prayers?
Plaza Joaquim Xirau
Say Yes to Segwaying
Why walk when you can glide your way through the streets of Barcelona? Segwaying is a great way to get around the city during your boys weekend in Barcelona and far more exciting than your bog standard bike tour. Barcelona Segway tours offers an exciting and thrilling way to see the city's top sights from Gaudí's quirky creations to hidden gems tucked away in the city's nooks and crannies, as well as cruising along the famous palm tree pathway for unbeatable views of the sea.
The standard tour includes 2 hours of wheely fun which'll give you enough time to complete a 12.5km tour of the city featuring the best of both worlds: the city's old and new parts. At 59€, it'd be foolish to pass up such an opportunity that'll give your lads weekend the kick-start it needs.
Beer and Biking
If you're seeking an innovative and fun way to discover the city and segwaying doesn't quite take your fancy, say 'hola' to the beer bike, possibly the greatest invention of all time.
The Spain Event offers the experience of a lifetime, sipping beer and sangria whilst sightseeing from the comfort of your beer bike. Each vehicle seats up to 18 people and comes complete with a sound system so you can blare out your favourite tunes for a good ol' sing-along. All beer bikes come with a roof to shade you from that blazing Barcelona sunshine, and most importantly to keep your beers cool. Your 'driver' will steer you past some of the city's most famous monuments to art deco buildings and beautiful squares as you kick back, relax and enjoy!
There's also a tapas bike by Barcicleta, where you can enjoy some delicious Spanish snacks while you cycle around the city.
Burgers Galore
Burgers are an absolute must for a boys weekend in Barcelona. If you're looking for finger-licking, mouth-watering, taste-bud tantalising gourmet burgers, look no further than two of the hottest burger bars in the city, Bacoa and Maka Maka.
Bacoa: More than just a restaurant, Bacoa prides itself on its high quality, freshly made burgers with a Spanish twist. They've taken timeless classics and given them the Spanish infusion that they deserve with typical Spanish cheeses, hams and other locally sourced produce. Take your pick from their delicious selection of premium beef, lamb, vegetarian and chicken burgers which are char-grilled and seasoned to perfection!
Each burger is then topped with tomato, cos lettuce, Spanish onion and their secret homemade mayo. Our recommendation for a tasty burger that never fails to disappoint is their signature and best-selling 'La Bacoa' which is a delectable combination of bacon, cheddar, manchego cheese, homemade pickles and artisan mustard- simply divine.
Their casual eateries are a great spot for a quick bite to eat with the boys, giving you the fuel you need to fight your way through the hoards of people on La Rambla.
Location: Various around the city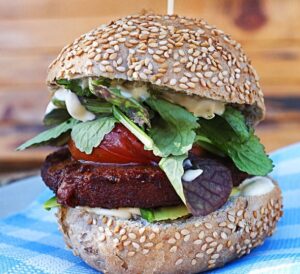 Maka Maka: There's nothing quite like a hearty burger and this place undeniably serves the mother of all burgers. Located just off Barceloneta beach, it's ideal for a post-'playa' day nosh where you can find a selection of burgers as scrumptious as each other, and what's more, they're all under 10€.
If you're feeling brave, why not put the other boys to shame and challenge yourself by ordering their 'Hot Mama' burger which is lovingly topped with scamorza smoked cheese and homemade spicy cream cheese sauce. Some say it's too hot to handle… surely that deserves some lad points?
Passeig de Joan de Borbó, 76
Call yourself a football fan?
Barcelona is a city that lives, breathes and celebrates football at every opportunity possible, and not to mention, in a big way. Try and grab some tickets for you and the lads for a game at Barca's home stadium at Camp Nou where you can enjoy a truly unforgettable experience. Witness the incredible atmosphere and the best of international football- it doesn't get much better than this for all you football fanatics.
Barcelona is also home to the internationally renowned Camp Nou Museum which offers a glimpse behind the scenes of FC Barcelona, where so many legends have walked. Receive an interactive, guided tour from the hallowed turf to the locker room and church chapel dedicated to Our Lady of the Back of the Net. What's more, you can take a seat on the famed team bench, whilst marvelling at the sheer size of the monumental Camp Nou.
C. Aristides Maillol, 12
Make sure you end your trip with a drink at the nearby Fútbol Bar which has more than 260 football scarves and over 60 signed t-shirts from different teams, as well as great food and a friendly vibe.
Sun's Out, Guns Out
Need a break from sightseeing? Cool off in the Mediterranean Sea and head to Barceloneta beach, one of the city's oldest and most beloved beaches thanks to its sheer beauty and vibrant atmosphere. Take advantage of the dazzling Barcelona sunshine and soak up some rays or alternatively, enjoy a game of volleyball on the golden sands.
All that lounging on the beach can be thirsty work so why not stroll over to one of the well known chiringuitos and grab a refreshing beer or soft drink. Kick back, relax and enjoy the spectacular views!
Fancy a Pint?
If you're looking for a chilled bar night where you and a room full of testosterone fueled sports fans can guzzle beer and watch a game, head to one of Barcelona's many sports bars. George Payne, Belushi's, The Michael Collins and 7 Sins are amongst some of the most popular hangouts for sports fans with big screens on every wall, classic pub-grub, and often 2-4-1 drinks.
Bevving in Barcelona
The Limehouse: This happening bar is a favourite amongst students and travelers, and ideal if you're with a large group in search of a young and lively atmosphere. This relatively new addition to the Barcelona bar scene has taken the Catalan capital by storm ever since its opening in 2014, with its impressive display of 70 homemade gins consisting of several weird and wonderful flavours. This truly is a gin lover's haven and in the unlikely event that you're in the mood for a roast dinner or Japanese food, they even have wasabi and roast lamb flavour gin!
However, the Limehouse is famous for its tempting mojito concoctions that'll be sure to put you in the party spirit. These killer cocktails start at a reasonable 3,50€ and trust us when we say that only one is necessary to set you up for your night ahead thanks to their generous portions.
If you've got the alcohol munchies, the Limehouse also boasts a tasty Mexican style menu for you to satisfy that rumbling stomach of yours. Alternatively, if you're looking to continue your night elsewhere, thanks to the Limehouse's location in the trendy El Born neighbourhood, there are plenty of other great bars and clubs close by.
Carrer dels Carders, 31
Espit Chupitos: A great way to kick start a night out on the town with the lads is with this place's delicious and cheap shots. Put your shotting skills to the test with their extensive selection of shots, 500 to be specific, and some truly ingenious creations. With so many tempting concoctions available, choosing your shot can be tricky business. However, the fun doesn't end here, each shot comes with its own "gimmick", often including fire and flames on the bar!
Location: Various around the city

Let's party!
In the city that never sleeps, Barcelona knows how to throw one hell of a party. With many clubs open until 6am, be prepared to party 'til sunrise but make sure to enjoy your night the savvy way. First things first- go to a club that offers free entry. Head to the Port Olympic Strip before 1am where flyers will be given out entitling you to free entry to the city's best beach clubs including Opium Mar, Pacha, CDLC, Shôko and Danzatoria. Avoid getting a taxi as they tend to be overpriced. Instead, opt for the metro which is a quick and cheap means of transport and offers a 24 hour service on a Saturday.