Since Barcelona's, shall we say 'makeover', for the 1992 Olympics, it is world-renowned for being one of Europe's trendiest cities. Yet it is the striking contrast of this, with its 2000 years plus of history, which draws millions of visitors to the city each year. A great way to travel back in time through Barcelona's past is to visit one of its fascinating historic restaurants or bars.
Having endured the passing of the years, you know you can expect the best at one of these timeless classics and enjoy a truly unique experience. The great thing is, they're not going anywhere soon, so if you don't manage to squeeze them all into your trip, it's something to look forward to for next time! They can be tricky to come across so we've picked out our top favourites and if they're good enough for the likes of Hemingway, we hope they're good enough for you.
Restaurants
Luckily for foodies, Barcelona is a city with a remarkable culinary tradition. Kitchens where people first began to cook what we know today as Catalan cuisine are still available to dine in today.
It would be sinful not to include Els 4Gats in Barcelona's top historical restaurants. This legendary restaurant was opened in 1897 by Pere Romeu who wanted to imitate the Parisian style eatery that he worked at in the French capital. Two years later, the 17 year old Picasso began to make regular visits to the restaurant and carried out his first exhibition here.
Els 4Gats soon became one of the main centres of Modernisme in Barcelona and a place for famous artists to display their artwork. Due to financial troubles, the restaurant was forced to close until 1991 when it reopened as a sophisticated tapas restaurant, bar and brewery which is how we know it today.
They offer a breakfast menu for you early risers and also an expansive lunch and dinner menu at the Gastrobar with their famous sautéed octopus. If you don't fancy a bite to eat, pop in for a beer so you can have a mooch around, what was, a local hangout for Hemingway, Gaudí and Picasso. If it's beginning to all look too familiar, don't worry, you're not having flashbacks to a past life, it was recently featured in Woody Allen's "Vicky Cristina Barcelona".
Carrer de Montsió, 3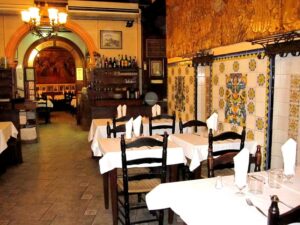 Restaurante Can Culleretes
Founded in 1796, this historic Barcelona restaurant opened as a cake shop and café and is now the second oldest restaurant in Spain. Its ideal location in the heart of the Barri Gòtic, next to La Rambla, makes it the perfect spot for a meal with an education.
Its walls proudly display photos and oil paintings from its intricate past and the friendly waiters are always up for a good chinwag if you have any questions. From the artists, celebrities and writers that used to be regular diners back in the day to the famous tale of how the restaurant had more spoons than customers (hence the name), and serving traditional and tasty Spanish dishes at affordable prices, you cannot go wrong with this place.
Carrer d'en Quintana, 5
7 Portes
Having been around for more than 175 years, this is another city classic and one of Barcelona's most iconic restaurants. It was originally built by Josep Xifré i Cases, one of the wealthiest Catalans of his time, who decided to open a luxury restaurant and café in the same building that he lived and worked in.
He designed it so that the restaurant would have eight doors, seven for customers and one for staff which is the reasoning behind the name ´7 Portes'. Picasso, Miró, Camilo José Cela and Federico García Lorca are amongst the many famous people that have enjoyed a meal here. Boasting a wide selection of Catalan and Mediterranean dishes, all made with fresh and seasonal produce, there really is something to suit each and every taste.
Passeig Isabel II, 14
Bars
In the city that never sleeps, Barcelona is swarming with historical bars but some in particular are real treasures worth visiting.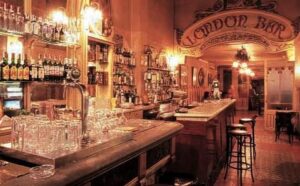 London Bar
Opened in 1910, this bohemian hotspot, just off La Rambla, was once frequented by Hemingway and Miró, and even Picasso and Dalí were known to drop by on occasion. Whilst it may not be the plushest of places, its Modernist décor and eventful history is what causes people to flock here day and night.
A place that oozes character with its smoke-stained woodwork, it's perfect if you're looking for a quiet spot to enjoy your morning caffeine fix. Ironically, one of the reasons why it's so popular is because it offers free Wi-Fi, a modern day essential, which can be hard to find in the city. You can expect a somewhat different vibe evenings and weekends and a younger crowd of people. Despite being more European café than metropolitan bar, this doesn't stop partygoers knocking back a few drinks at this historic Barcelona bar before heading to a club.
Carrer Nou de la Rambla, 34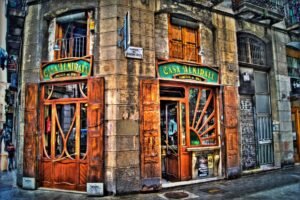 Casa Almirall
The place where time stands still due to the fact that it has barely changed since it first opened in the 1860s. Quaint and cosy, this is one of the best bars in the Raval area. It has a warm and welcoming atmosphere that can be hard to resist, so why not pop in for a drink after an afternoon trip to the MACBA?
Choose from their extraordinary selection of wines and spirits from behind the bar, or if you're feeling brave, a shot of absinthe, a favourite from back in the day. Alternatively, sample Casa Almirall's speciality 'oliveta', a traditional vermouth which was recently reintroduced to their drinks menu to celebrate their 150th birthday. Its soundtrack of light jazz adds to the relaxed atmosphere and provides a sultry, romantic setting for couples.
Carrer de Joaquín Costa, 33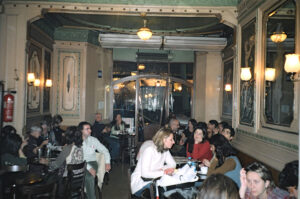 Café de l'Opera
 A local favourite since the 1920s, do not mistake this traditional Barcelona bar for another overpriced coffee shop. Admire the Art Nouveau-style interior decorated with antique paintings and etched mirrors whilst sampling their fabulous, freshly made 'churros' in true Spanish style.
With its diverse crowd you'll come across all sorts here, from well dressed opera goers to sore footed tourists that simply want to recharge their batteries after a day spent fighting their way down La Rambla. Its street-side patio provides ample opportunity for people-watching and relaxing as the hustle and bustle of the city goes by. Its chilled out vibe is just what you want to kick off a night on the town making it popular on Friday and Saturday evenings.
La Rambla, 74
Boadas Cocktail
A cocktail lover's haven, this family run bar is rumored to be the very first cocktail bar in Spain. Transport yourself back in time to the 30s with Miguel Boadas' family portraits, old newspapers, letters and other memorabilia which are hung from the walls adding to the historical authenticity of the bar.
Given its location, it is extremely popular amongst tourists although equally loved by locals, and a hotspot in the professional circle for after-work drinks. The absence of a drinks list allows you to get experimental and create your own wonderful concoction  from their expansive selection of Russian vodkas, English gins and Caribbean rums. Smart-casual wear is advisable to blend in with those stylish city workers.
Carrer dels Tallers, 1