Weekend brunch has fast become a trend in the Catalan capital and is becoming more and more popular every day. With many bars, restaurants and cafés now open long before midday, you'll find the hottest spots across the city all offering some form of brunch menu.
Following the success of our first post on where to enjoy brunch in Barcelona, we've hand-picked even more of our favourites to help you get a tasty breakfast-lunch combo. Whether you're looking for the perfect brunch to cure your hangover or simply seek a delicious meal to fuel your long, fun-packed day of sightseeing, take a look at our handy guide to some of the best brunch spots in Barcelona…
1. Milk Bar
W
ith its plush handmade sofas, antique chandeliers and stylish wallpaper by 50s designer Florence Broadhurst, Milk Bar is one of the most alluring brunch spots in Barcelona. The setting alone is enough to make for a great brunch but their food is also top notch! Served from 9:00 until 16:30 every day of the week, their 'recovery brunch' covers everything from smoothies and fresh orange juice to Eggs Benedict and tasty omelettes, meaning there will most definitely be something you fancy at this top brunch spot in Barcelona.
Address: C/ Gignàs, 21
Tip: Try their sensational noodle burger that is taking the city by storm!  
2. Federal Café
Open all day, this cosy and relaxed brunch offers excellent breakfasts and brunch plates using the freshest of ingredients. They offer a simple but successful menu of international inspired dishes made with quality local produce such as baked eggs in a spicy yet sweet tomato sauce, served with warm crunchy toast and washed down with a freshly whizzed smoothie. A big hit for its spectacular cakes as well as its brunch, Federal Café is also a perfect spot to sit with a coffee and sweet treat as you catch up with a friend in the afternoon sun. In summer the retractable windows of the Gothic quarter site open up completely, allowing customers to sit on the window sill benches. With two locations, one in Sant Antoni and the other in the Gothic quarter, there's no excuse not to try out Federal Café.
Tip: Their Eggs Benedict are a must-try!
Address: C/ del Parlament, 39, 08015 Barcelona and Passatge de la Pau, 11, 08002 Barcelona
3. Brunch & Cake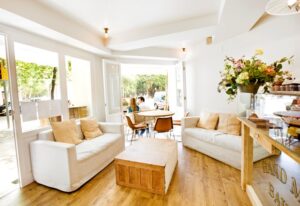 Brunch & Cake is a charming café located in the heart of Barcelona's Eixample district, popular with young locals and expats living in the city. Whether you're health conscious, have a craving for something sweet or are simply a cautious gourmet, Brunch & Cake have got you covered! From their brunch classics, such as scrambled eggs and Eggs Benedict, to their hearty porridge with cinnamon and fruit, there's something for even the pickiest of eaters at Brunch & Cake in Barcelona!
Address: C/ Enric Granados, 19 – Passeig Joan de Borbó, 5
Tip: Grab one of their delicious cupcakes to take away! 
4. Picnic
Located within the winding alleyways of the Gothic Quarter,  it's American-Spanish fusion is what earns Picnic it's reputation as one of the best spots to grab brunch in Barcelona. This seafood eatery is renowned for its excellent customer service and of course its 'mariscos'!  Don't worry if seafood isn't your thing, there are plenty of other options too! This quirky café is located just a few steps from Parc de la Ciutadella and is the best place in Barcelona to "get fed, watered and inspired!" Their brunch menu covers all the brunch basics and more, from French toast and pancakes to club sandwiches and quinoa hashbrowns!
Address: C. Comerç, 1
Tip: Try their ice cool pink lemonade! 
5. Flax & Kale
Fancy a healthy, hearty brunch to kick start your day of sightseeing in Barcelona? Flax & Kale is a healthy 'flexitarian' restaurant ideally located in the centre of Barcelona, just a few steps from Plaça Catalunya. Their weekend brunch is served every Sat and Sun and bank holidays from 10:00 to 17:00. From scrumptious, fresh-baked goods to all the brunch classics with a healthy-twist, Flax & Kale will most certainly satisfy those elevenses-cravings!
Address: C/ dels Tallers, 74
Tip: Compliment your brunch with one of their delicious juices!
6. Alsur Café 
If a brunch experience just like home is what you're looking for, you won't want to miss out on brunch at Alsur café. Their cosy sofas and relaxed atmosphere is what makes Alsur the ideal place to catch up with friends over a luscious meal. With a number of locations across the city, you're never too far from one of their tasty home-made cakes or classic egg-brunches. If you're feeling adventurous, you could even go all out and opt for one of their special 3,50€ cocktails.
Addresses: C/ Roger de Llúria, 23 –  Plaça de Sant Cugat,1 – C/ Sant Pere Més Alt, 4
Tip: We recommend their huevos rotos (broken eggs) – a Spanish speciality!