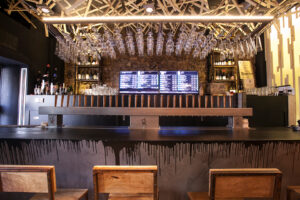 Last updated: November 2017
Barcelona is a city that aims to please, and that is true again for beer lovers. Although beer is not spotlighted in the Catalan capital there are still a several places that have made it their mission to provide delicious cervezas to those who seek them out. You can find quality beer from every corner of the world you just have to be willing to look. To make things a little easier for you, here are some suggestions for great places to go when you want to find the perfect beer in Barcelona.
1.       Bier Cab
Bier Cab will blow your mind, there are so many beers to choose from you will have to keep coming back to try them all. With 30 beers on tap and even more served in bottles, all brewed and imported from different countries, you are guaranteed to find something new to try here at this Barcelona beer locale. Bier Cab also offers a large menu of bar food, small bites, sandwiches, and lots of your favorite fried snacks.
Carrer Muntaner, 55
2.       La Cerveteca
If you love beer, make sure to stop at La Cerveteca, home to an enormous selection of worldwide craft beers served in bottles or on draft. The knowledgeable staff is always willing to help if you are overwhelmed by array of the options, and one of the goals of this bar is to teach about beer along with serving it. Here you will also find a large selection of Barcelona beers and wines that can be purchased to take home with you. This is not a late night bar, so be sure to stop in during the day or early evening.
Carrer Gignàs, 25
3.       The Quiet Man
The Quiet Man is an Irish pub that has been serving patrons in Barcelona for some 20 years. With a beer list of 20 or more at all times you can order a traditional Irish beer or take your pick from the other imported delights. The cozy pub is a great place to relax and watch a sporting event with your friends, and they are known to offer deals on buckets of beer.
Carrer Marques de Barbera, 11
4.       Ale & Hop
With the motto "Nice beer – Good food" Ale & Hop is a simple, comfortable place to grab a bite to eat and a great beer. This bar has 10 taps that change every week, although the styles remain the same while the brewers change giving you a chance to come back and compare beers. Another unique thing about this bar is its completely vegetarian menu, including a great brunch. So if you're looking for a good veggie meal and some tasty beer in Barcelona, this is your spot.
Carrer de les Basses de Sant Pere, 10,
5.       Moritz Factory
This is a truly unique bar and restaurant dedicated to traditional Moritz beer from Barcelona. The brew house allows visitors to observe the brewing process taking place in the building through large windows. Whether you just want a drink or you are looking for a place to grab dinner, Moritz Factory has you covered, and the beer is always brewed in house. You can also drop by if you want to buy a Barcelona beer-related souvenir, as the factory has a huge store dedicated to Mortiz beer.
Ronda de Sant Antoni, 39 – 41