Last Updatet: September 2017
Barcelona is a great city with so much to offer, you'll never be short of something to do. However, if you're only visiting for a few days it can be difficult to decide which of the famous attractions you can fit in to your plan, but that's where we come in! We have created a fun-packed itinerary for your weekend in Barcelona. From the hustle and bustle of Las Ramblas to a relaxing few hours in Parc de la Ciutadella, plus some great restaurant recommendations, here's how to get the most out of your weekend stay in Barcelona.
Day 1 – Friday Afternoon
What better way to start your journey than admiring the great works of Gaudí?
2pm
– By the Passeig de Gràcia metro station C/ d'Aragó exit you will find Casa Batlló, one of Antoni Gaudí's masterpieces. The building was actually a previously built house that Gaudí renovated in 1904. If you think the outside is spectacular, wait until you see the inside! Take a tour from the basement right up to the famous coloured chimneys.
3pm – If you're feeling hungry why not grab a bite to eat at one of the many restaurants that align Passeig de Gràcia? We recommend Costa Gallega Moncho's for some delicious jamon and a great atmosphere!
Walking along Passeig de Gràcia towards Diagonal station, you will find another of Gaudí's famous works, Casa Milà. Casa Milà was built between 1906 and 1910 and has since been declared a World Heritage Site by UNESCO.
4pm – The final stop on the Gaudí tour is one of his most famous works, and Barcelona's most popular attraction, La Sagrada Familia. Take the metro from Diagonal towards Vall d'Hebron (Blue Line L5) and exit at the Sagrada Familia stop.
The construction of Sagrada Familia began in 1882 and is still ongoing today. It is expected to be completed in 2026. Guided tours are available inside the Sagrada Familia, but you may choose to enjoy the breathtaking architecture by yourself. The entrance fee is 15€ however we recommend the 29€ ticket that also allows entrance to the towers with an an audio guide; we promise the views will be worth it! Alternatively, you can admire Sagrada Familia for free from the outside in Plaça de Gaudí.
8pm – If all that sightseeing has made you hungry, enjoy a gourmet dinner at Anauco on C/ de València, just a street away from Sagrada Familia. After, why not sip a glass of wine at one of the many bars that align Av. de Gaudí.
Day 2 – Saturday
10am – Start your Saturday with a yummy breakfast to fuel your day! We recommend Café Petit Pot Bistro on Urquinaona, 4; friendly staff and great coffee!
11am – Just a short walk from Petit Pot, down Ronda de Sant Pere, you will find Plaça de Catalunya. Known for its fountains and statues, Plaça de Catalunya is considered the very centre of Barcelona and is where the Old City meets the Eixample district.
11.30am – From Plaça de Catalunya head towards the most iconic street in Barcelona, Las Ramblas! The 1.2km stretch runs from Plaça de Catalunya all the way down to Port Vell and is aligned with numerous stalls selling everything from souvenirs to flowers!
12.30pm – About half way down Las Ramblas you will find Mercat de Sant Josep de La Boqueria, also known simply as La Boqueria, one of Barcelona's most famous landmarks. This thriving market has a diverse selection of goods available, from fish and meats to fruits and tasty treats – you definitely won't be disappointed! There are even a number of bars and restaurants inside where you can eat and gossip like a local.
Take a look here for more ideas on things to do on Las Ramblas.
3pm – Continue
down Las Ramblas and explore the Barri Gòtic, the old city also known as the Gothic Quarter. Many of the buildings here date back to medieval times and some as far back as the Ancient Romans! Get lost in the labyrinth of winding streets and admire the unique  Artisan shops this old town has to offer. The Barcelona Cathedral, home to the seat of the Archbishop of Barcelona, can also be found within Barri Gòtic.
7pm – All that walking sure can make you thirsty! Enjoy a glass of wine before dinner in the wonderful square that is Plaça Reial, located in the Gothic Quarter.
8pm – Continue down Las Ramblas towards Drassanes metro station and take the L3 Green Line towards Zona Universitaria, exiting at the Plaça Espanya stop.  From Plaça Espanya, one of Barcelona's most important squares, head down Av. Reina Marina Cristina to catch the spectacular Magic Foutain of Montjuïc show. There are a number of shows with music and lights, usually in the evening, however this does vary seasonally.
10pm – No doubt you will have worked up an appetite by now! Enjoy a traditional Spanish meal and a glass of wine at Patio Cordobés on Av. Francesc Ferrer, just opposite the magic fountain! What better way to end the evening?
Day 3 – Sunday
10am – Kick-start your Sunday at Elsa y Fred with a traditional breakfast. Choose from a wide range of dishes under 5€, it's no wonder this place is a firm favourite with tourists and locals alike!
11am – A few minutes from Elsa Y Fred, down C/ del Rec Comtal, you will come across Barcelona's very own Arc de Triomf. It was built in 1888 by Josep Vilaseca i Casanovas as the main access gate for the Barcelona World Fair and still stands tall today. Don't forget your camera!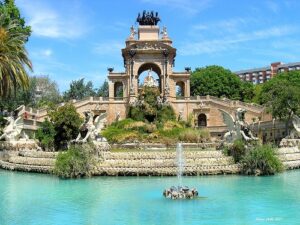 12pm – Continuing through the arc, down Passeig de Lluís Companys, you will reach Parc de la Ciutadella. After a long day of sightseeing yesterday it's time to relax in Barcelona's biggest park. Take a stroll through the park or chill out under one of its many palm trees. If one park's not enough, check out our top 5 parks to visit in Barcelona!
If relaxing in the park isn't really your idea of fun then why not head to the beach to partake in some water sports?
2pm – Parc de la Ciutadella is also home to a boating lake on which you can hire rowing boats, from as little as 6€ for 2 people or 10€ for 4-5 people. Chill out on the lake and admire the views!
4pm – Opposite the lake you will find Barcelona's very own Trevi Fountain, La Cascada of Parc Ciutadella. The fountain was built by Josep Fontsére and assisted by Antoni Gaudí, who was just a student at the time!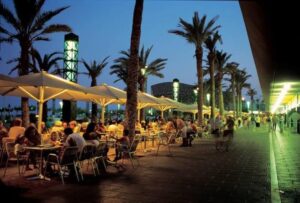 6pm – Head towards Port Olímpic, a busy marina that was built for the Barcelona Summer Olympics in 1992. Why not take a stroll around and enjoy the views before dinner?
7pm – Port Olímpic is also home to a ton of bars and restaurants. Dine on the terrace at Bestial restaurant and sample some Italian and Mediterranean cuisine with stunning sea views!
9pm – For after dinner drinks, follow the promenade and you'll reach Barceloneta. Known for its expanse of beaches, Barceloneta comes alive at night with numerous bars and restaurants. We recommend Bar Leo, a traditional Spanish bar with a friendly atmosphere.. What better way to end your weekend in Barcelona?  Check out some more of our favourite things to do in Barceloneta.
Now that you know the ins and outs of your Barcelona trip, it's time to find your accommodation! From beach apartments in Barceloneta to modern apartments in the heart of the city, our apartments are well-connected to all of the attractions mentioned above and more! Check online at Apartment Barcelona for some fantastic deals for your trip to Barcelona.