The beautiful 'barrio' of El Gótico in Barcelona, also known as the Gothic Quarter, is one of the oldest parts of the Catalan capital, and is stuffed with historically rich pinpoints to be found around every corner. Once the old Roman town of 'Barcino', some of the ancient city walls of this area in the 'Ciutat Vella' still remain today, making it the ideal spot to see some real Barcelona history. Situated in the heart of the city, and stretching from Las Ramblas to the Via Laietana, this neighborhood is packed with labyrinthine alleys, medieval architecture, and interesting boutiques, as well as a few intimate squares where you can grab a bite of some tasty Catalan cuisine.
Here we give you a few of our favorite 'must-see spots' in the Gothic Quarter of Barcelona.
1.      

Amazing Architecture and Places to Visit
With so much to see in the Gothic Quarter, you could easily choose to just get lost in the winding streets of this unique neighborhood and you'd be sure to stumble across something remarkable. But, one of the sights that cannot be missed in this area is the Catedral de Barcelona. Also known as the Catedral La Seu, this amazing cathedral can be found in the north of the Gothic area in the Plà de la Seu. Offering a perfect mix of Catalan Gothic architecture with a Renaissance twist, this is one Barcelona building that is definitely worth a visit, both inside and out. Be sure to walk down the Carrer del Bisbe toward the cathedral square to ensure that you experience the Gothic designs from all angles, as well as the impressive neo-Gothic bridge!
Other top spots for architecture:
Plaça Reial

– Be sure to check out this beautiful square where you can get an up-close look at Gaudí's first professional commission: the lampposts.

El Call

–  Don't miss the chance to see Barcelona's Jewish Quarter, home to the Mayor Synagogue, believed to the one of the oldest in Europe and dating all the way back to the 3rd Century AD.

Plaça de Sant Jaume

­– Catch the breathtaking 'castellers', aka human towers, in action in this emblematic square during the many Barcelona festivals!
2.      

A Shopping Sanctuary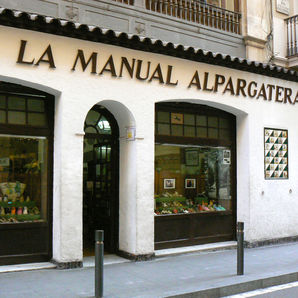 Whether you are in search of the perfect souvenir or simply looking to spice up your wardrobe, the Gothic Quarter is home to some of the most memorable stores in the Catalan capital. From the commercial shops that line Portal de l'Angel like Zara and Mango, to the one-of-a-kind boutiques on Carrer d'Avinyó, shopping in this beautiful Barcelona 'barrio' is a unique experience, and one that ensures everyone will find something to suit their individual style.
For a touch of authentic class, check out La Manual Alpargatera at Carrer d'Avinyo, 7, and grab your very own pair of Espadrilles. Best described as casual, flat footwear, these Catalan shoes have been around for a very long time and have recently been the fashion must-have in various European countries. This Barcelona store has been hand crafting espadrilles since 1940, and has catered to many famous folks including the Pope and Catherine Zeta-Jones!
Other top spots for shopping & souvenirs:
La Colmena Barcelona

– Indulging in some sweet and tasty chocolate treats! We recommend this top spot for the most delectable handmade bonbons, cakes and chocolates! Yumm… Plaça de l'Àngel, 12. Metro: Jaume (L4)
Art Montfalcon – Always struggling to find the perfect souvenir for those back home? This unique and quirky store is known for their vast range of uncommon souvenirs, including something for even the most selective member of your clan! Carrer dels Boters, 4. Metro: Jaume I (L4) or Liceu (L3)
Ndorfina – Get those endorphins rushing in this hip and modern clothing store, where you can spruce up your wardrobe with the latest fashions! Baixada de Viladecols, 3. Metro station: Jaume I (L4)
3.      

Restaurants, Bars and Nightlife
If you find yourself in the mood for some tasty tapas or a traditional Catalan meal, then the Gothic Quarter is sure to satisfy your palatial desires! From the many bars, restaurants and bakeries that can be found in this 'barrio', we recommend Els Quatre Gats, located at Carrer de Montsió, 3. One of Barcelona's most famous restaurants, this eatery was once a favorite of Pablo Picasso, who spent much time here during the city's early modernist days. Also known for hosting one of the artist's very first exhibits, this restaurant allows visitors a chance to get a little bit closer to the inner workings of Picasso, while enjoying some of the finest tapas and Catalan cuisine in Barcelona.
If you're in the mood for a cool cocktail, make your way to Margarita Blue at Carrer de Josep Anselm Clave, 6, for a delicious mix of drinks and a fusion of Mediterranean and Mexican cuisine.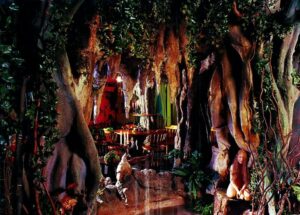 Other top spots for dining and nightlife:
 

Carrer de Petritxol

– As the weather starts to cool down, the people of Barcelona begin to enjoy some delicious chocolate con churros, and you'll find some of the best bars serving this sweet treat along this historic, chocolate-laced street.
 Les Quinze Nits – For some of the very best Mediterranean cuisine in Barcelona, be sure to check out this restaurant in the beautiful Plaça Reial!
 Sidecar Factory Club – Seeking a memorable night out? This nightclub in Plaça Reial hosts concerts, live DJs and much more!

El Bosc de les Fades

– One of Barcelona's best known theme bars which is part of the wax museum, offers a fun alternative to a regular night out.  Get whisked away to a world of fairies, waterfalls and mysterious tales! Passatge Banca, 7. Metro: Drassanes (L3)
So, whether you wish to marvel at some of the oldest and most impressive architecture in the Catalan capital or are simply in search of a tasty meal and souvenir, the Gothic Quarter in Barcelona has something for you. Be sure to spend at least half day in this charming part of town or even try to get lost in the historic streets, and you're certain to discover a hidden gem in this unmissable Barcelona barrio!
Check out Apartment Barcelona's video about the Gothic Quarter in Barcelona for a quick tour!