Last updated: November 2017
It's easy to see why Barcelona is a top European holiday destination that attracts millions of visitors every year. The good news is that many of the Catalan capital's most outstanding features are right at your fingertips without handing over your hard earned Euros. We've compiled a few suggestions of things that you can do for free in Barcelona when you're not visiting sightseeing hotspots like the Sagrada Familia, Camp Nou or the Aquarium.
1.       Modernist Barcelona for free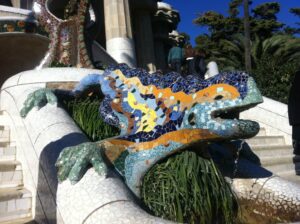 Barcelona is synonymous with Antoni Gaudí's iconic Modernist architecture. The Catalan visionary has left a legacy of unique buildings that are top of any tourist's to-do list. Whilst all are worth visiting and are accompanied by fascinating audio guides they can also be admired from the street.
Take a walk up Passeig de Gràcia, where you'll find Casa Batlló (Passeig de Gràcia 43), on your left. Its colourful façade and undulating forms are completely original and delightful. Slightly further up this same elegant avenue you'll come across Casa Milà, which is affectionately nicknamed "La Pedrera," or the "stone quarry." Its unusual asymmetrical shape echoes the nearby mountain formations of Montserrat and other quirky peaks of the pre-Pyrenees. To discover more Barcelona Modernism for free follow the Modernist Route (Ruta del Modernismo), a DIY itinerary that indicates 115 Modernist architectural highlights and the city and is marked by red paving stones with a flower design.
2.       Barcelona's parks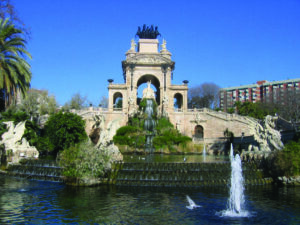 Also designed by Gaudí, the Park Güell has recently been divided into two areas. An entry fee is now charged to visit the ornamental part where you'll find the famous dragon statue, mosaic seating area and decorated houses. However, the higher part of the park remains completely free and its views are as spectacular as ever.
There are plenty of other free parks in Barcelona where you can enjoy a landscaped encounter with nature. The Ciutadella Park near Arc de Triomf has a magnificent fountain and boating lake.
Above the port and behind Plaça Espanya you'll find Montjuïc, which is known as the green lung of Barcelona. Several smaller parks are located on its slopes such as the Cactus Garden and it is also scattered with museums. Amazing panoramic views await from here.
 3.       Plaça Espanya and the Magic Fountain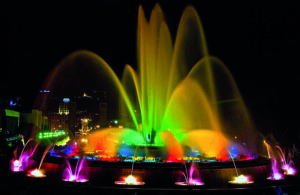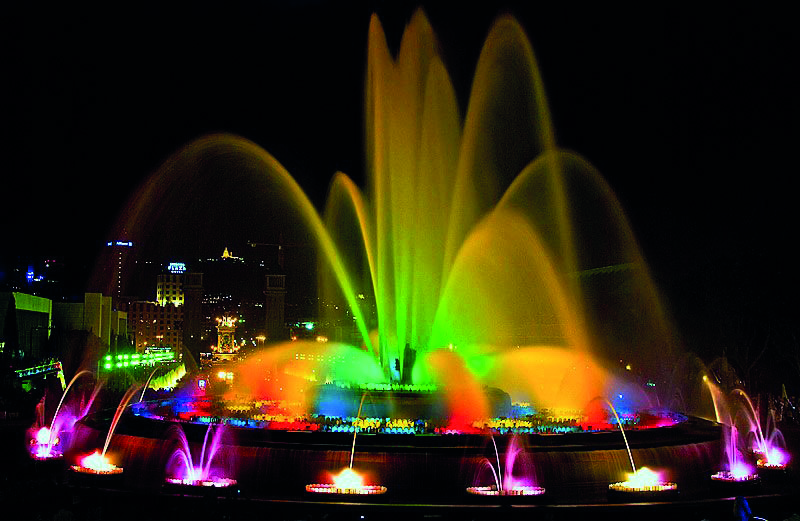 Plaça Espanya itself is worth visiting too; history and culture converge in this busy epicenter of Barcelona life. Fira Barcelona trade fair venues line the sides of this wide avenue and welcome a constant movement of international visitors. The Palau Nacional, which was inaugurated for the 1929 International Exhibition, now houses the Catalan National Art Museum.
One of the most recent triumphs of urban transformation has been the conversion of the Arenas bullring into the Arenas Shopping Centre, an ambitious project headed by renowned contemporary architect Richard Rogers. Its original structure has been preserved, and red rags for the bulls have been replaced by high street retailers such as Mango, Benetton and Sephora. Take the lift to the top floor to enjoy some more views (for free) and perhaps a coffee in the many open air café and restaurant terraces.
As night falls the fountain of Plaça Espanya comes to life in a spectacular sound and light show. A rousing soundtrack of pop and rock, classical and opera favourites accompanies the water jets as they shoot up in a colourful dance. Barcelona's Magic Fountain is completely free and the display takes place every Friday and Saturday at half hour intervals from 7pm-9pm.
4.       Barcelona's Gothic district
Barcelona's city centre is like an open-air museum that whispers its tumultuous past amid the hustle and bustle of everyday modern life. The Gothic cathedral is a good place to start exploring, with its statues and paintings that visualise the Catholic stories and the white geese in the cloister that squawk for breadcrumbs and snacks. Step back into the Barcelona sunshine and look up at the grotesque gargoyles that decorate the Cathedral walls. You might also notice the remains of an old Roman wall that marked the boundaries of the Iberian city of Barcino. Another Roman relic is the three surviving columns of the Temple of Augustus, carefully preserved in Carrer Paradis, 10. All of the above are some of Barcelona's top free places to visit.
The Jewish quarter of El Call that lies between the Cathedral and Calle Ferran is scattered with placards that recount the customs and events associated with these back streets of the medieval city. Musicians and performance artists play classical guitar, blow giant soap bubbles, and share their talent with passing visitors. Street entertainment is plentiful in Barcelona and is offered for free, but showing your appreciation through a donation is always gratefully received!
5.       Free museums and galleries in Barcelona

Many of Barcelona's museums give you the opportunity to enjoy their cultural offerings for free on the first Sunday of each month. These include the Picasso Museum (Museu Picasso, Montcada, 15-23), Catalunya History Museum (Museu d'Història de Catalunya, Plaça de Pau Vila, 3), and the Music Museum (Museu de la Música, Padilla 155). Others are free every Sunday afternoon from 3pm, such as the Centre for Contemporary Culture (CCCB, Montalegre 5), Maritime Museum (Museu Marítim, Av. Drassanes), and the Botanical Gardens in Montjuïc (Jardí Botànic, Doctor Font i Quer, s/n, Sants-Montjuïc).
Feel free to explore Barcelona…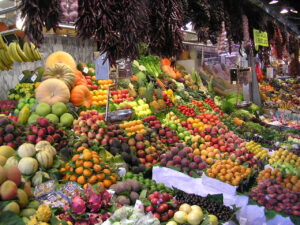 As the summer approaches, Barcelona's beaches will provide another obvious free treat – the giant swimming pool whose waves break on the sand is perfect for cooling down when the temperatures start to soar. The water is too chilly for all but the very bravest in February, so instead we'd recommend a stroll along the seafront. Perhaps you'll come across some of the local surfers, or a group of older men playing dominos, and perhaps a friendly glance will lead to an interesting conversation.
When it's time for a snack you could choose one of the bars that stay true to the Andalusian tradition of offering free tapas to accompany your drink. There are also several companies that run free walking tours in Barcelona, including the innovative Hidden City Tours led by homeless guides.
It's true that there's so much to visit for free in Barcelona; we've just scratched the surface here without even mentioning its squares, markets, public art and the highlights of each local district. But remember that it's also true that some of the best things a city can offer for free can't be snapped by an iPhone or tagged on Facebook. If you take the time and step out of your comfort zone to speak with the local people you may start to discover the real heart of this magnificent city, and share insights that will leave you with some priceless memories.