Last updated: November 2017
The Catalan capital is a place that calls visitors back time after time. There is something so captivating about the city that it seems to grab hold of you and never quite let go. Some of you will be somewhat old hands at Barcelona by now, experts on Gaudí, connoisseurs when it comes to selecting tapas, and able to jostle your way through the Boqueria like a pro. What is there left for you, then, in Barcelona? So, so much, is the answer.
If you've done Las Ramblas, climbed the Sagrada Familia, cheered on the local team at the Nou Camp, it's time for something different, something fresh, something that the camera-clad-Joes don't know about. For the curious traveller, the untrodden paths of a city are an exotic lure brimming with possibilities, and Barcelona is certainly a place where these curiosities can be more than satisfied. Take a look at our 5 'non-touristy' Barcelona tips and get to know the city like never before.
1.       City cycling like never before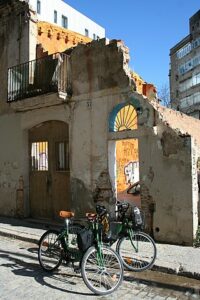 An endless selection of tours are available around Barcelona these days, cycling tours being particularly popular at the moment. But how about breaking free from the others and discovering the city in a totally new light? Forget visiting the same old monuments, Steel Donkey Bike Tours offer something truly different.
Their non-tourist Barcelona tours are unique and offer a real insight into the nitty-gritty of Barcelona. Highlights, amongst many more opportunities, include visiting the curious cemetery of Poble Nou, tasting local favourites like churros con chocolate, stopping by a recycled fashion workshop and sharing a meal at a squat. No guide books needed here, just a spirit of adventure and a curious heart eager to discover a different side of Barcelona!
2.       Be cool in café-brimming Gràcia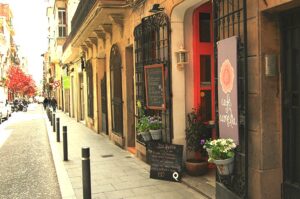 Gràcia has become Barcelona's hipster centre with an endless selection of curiosity shops, coffee spots and quirky eateries. Think chai tea, think red velvet cake, think colourful squares surrounded by bars ideal for a tipple and shops selling anything from vintage clothing to fresh herbs and you've got Gràcia sussed. Full of locals and young expats this pretty neighborhood has a lively, arty atmosphere and a truly Catalan-meets-cosmopolitan feel to it. Despite its proximity to the city centre however, for tourists Gràcia is generally an unknown side of Barcelona and has a real village-like ambiance, ideal to while away a few hours and watch the world go by!
3.       Two blocks of goodies!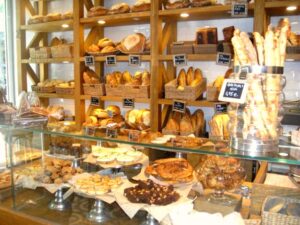 Catalonia is home to some absolutely delicious cuisine, and although eating out in restaurants is a great way to spend time in the city, really getting to know and sampling local products can be done another way too. How about kicking back with a truly Catalan-style picnic? The Eixample district is home to some spectacular bodegas, delicatessens and bakeries perfect for picking up some typical treats. Two blocks in particular (Carrer d'Arragó and Carrer Valencia between Rambla de Catalunya and Carrer Balmes) offer four musts.
Reserva Iberica on Aragó specializes in Iberian ham, perfect for putting together some deluxe sandwiches. Across the road is Colmado Quilez, a bodega specializing in wine and beer, cheeses and conserves. Over on Valencia you'll find Crusto bakery, home to delicious breads such as traditional Catalan coca. Last but not least is Cornelia and Co, a lovely delicatessen located opposite, where there is, amongst other things, a wonderful cake and dessert section. All you'll need to do is decide on your picnic location!
4.       Another way of 'seeing' Barcelona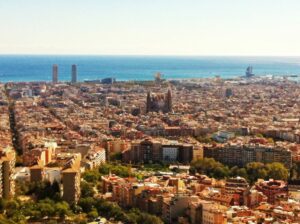 Thanks to their spectacular views over Barcelona, Tibidabo and Montjuïc mountains are popular attractions with visitors to the city. Few tourists, however, are aware of the existence of El Carmel bunker. Heading off the beaten track in Barcelona provides some fabulous surprises, this being one of the best of all.
This secret echo of the Spanish Civil War sits high atop of one of the tallest hills of the city and arguably offers the best (and least hectic) views of the city. Forget swarms of tourists jostling for the best photo op, and think locals hanging out with snacks of bread and cheese and plastic cups of red wine, as they gaze out at the sun set over their beloved home town.
5.       Bored of the Boqueria?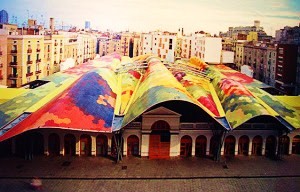 La Boqueria market is of course a classic favourite amongst visitors to Barcelona, and granted, it is a true spectacle. The hoards of tourists can be somewhat off putting though and make it difficult to actually shop. How about visiting some other less touristy Barcelona markets then? The products are equally as good, but the crowds are halved.
Santa Caterina market, over in the Sant Pere neighborhood is colourful, and exciting and is a great place to get to grips with regional cuisine. La Concepció over in the Eixample disctrict is another great example of Barcelona market culture where a relaxing culinary shopping experience is combined with a feast for the senses. Why not purchase some products and try your hand and preparing a locally inspired meal?
So next time you hit the Catalan capital, discover a 'non touristy' Barcelona. Take a different route to other visitors and tread the untrodden paths of the city… you'll be sure to see a whole new side to a place you once thought you knew!