Last Updated: November 2017
We all love to give in to temptation and indulge in a sweet treat now and again. And these days we're all partial to a bit of retro-cool too. What better combination then, than a creamy, icing-heaped cupcake? These little, sugary gems have hit the town big time in Barcelona and taken over as the must-have-coffee-stop accompaniment. Bang on trend, the cupcake boom shows no sign of slowing down and by now some of the coolest cafés in town are dedicated to these heavenly bites. So where should we be heading for our Barcelona cupcake fix? Check out our five favourite sweet tooth hangouts for the best treats in the city.
1.       Cup & Cake – Cake-Loving Hipster Central
Cup & Cake is perhaps the best known home of cupcakes in Barcelona and getting a table here is no easy feat. But, be patient as it's certainly worth the wait! Cupcakes here are taken seriously and come in some tantalizingly tempting designs. The colours are bright, the cakes perfectly spongy and the abundant icing super smooth. The ambiance is top-notch-trendy and this is a definite 'place to be seen' during weekend afternoons.
Cakey Comments: Fashionable. Cool. Super sweet.
C/ Enric Granados, 19
2.       Think Sweet – A Cute, Tucked Away Cupcake House
This pretty little cake shop is easy to miss, but for those in the know this is one place you simply cannot just walk past. The devilishly persuasive treats in the window beckon us in and certainly do not disappoint. If what you're in need of is a sweet, mini pick me up then this enticing, semi-basement café is sure to hit the spot. Located just around the corner from the top of Passeig de Gràcia this is a great place to stop off for a Barcelona cupcakes rest between sightseeing and shopping.
Cakey Comments: Cute, chilled out, bite sized.
Rambla de Catalunya, 124
3.       Zuckerhaus – German-Italian Inspired Goodies
Inspired by family recipes, the cakes here are less bog-standard-cupcake and more traditional-home-made-goodness. Think jammy. Think sticky. Think lip-lickingly yummy and you've got Zuckerhaus sussed. Tucked away in Poble Sec, this quirky little shop is a delight to the taste buds, a real Hansel and Gretel style, top cake hangout.
Cakey Comments: Homely, varied, kitsch.
C/ Parlament, 17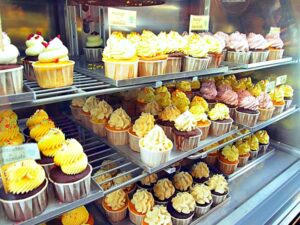 4.       Lolita Bakery – Park-Side Cupcakes to Go
Found on the fringe of the beautiful neighborhood of El Born, just across from lovely Parc de la Ciutadella, this place is ideally located for picking up some picnic treats. Cupcakes here come in a delectable assortment of flavours and colours, are dolloped high with creamy, whippy icing and topped off with an array of sprinkles. Get a box to go and enjoy your Barcelona cupcake experience in the chilled-out, bo-ho ambience of the park.
Cakey Comments: Sizely, creamy, good to-go.
C/ Portal Nou 20
5.  Pudding – For a Mammoth Cake Session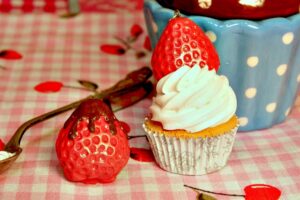 This incredible café is a dreamlike, guilty treats wonderland. The interior décor is as if straight out of a Lewis Caroll story and the cakes on offer no less impressive. Portions here are certainly generous and this is definitely the place to be for you extreme cake lovers out there. The cupcakes are undoubtedly delicious, but the giant slices of cheese cake, carrot cake, flans and tarts do give them a run for their money. Whatever your preference, you're sure in for a sugar rush here!
Cakey Comments: Divine, chunky, filling.
C/ Pau Claris, 90
So as the sweet toothed folk of Barcelona go to town with their cakes, be sure to get involved with the trend and stop off in one of these top Barcelona cupcake hangouts! (You know you want to!)
Know of any other top cupcake spots in Barcelona? Leave us a comment below!