The Sant Martí district is one of the most interesting parts of Barcelona. It consists of a total of ten neighbourhoods and is one of the largest districts in the Catalan capital. Some of Sant Martí's neighbourhoods are very popular among tourists, including Poblenou, Vila Olímpica or even Diagonal Mar i el Front Marítim. Thanks to the attractive rental prices, people from all over the world have settled here, making the district a multicultural mix of its inhabitants. In addition, Sant Martí is the most modern and 'young' area of Barcelona: there are brand-new institutions and infrastructures, as well as a modern environment, which makes it ideal for students and young people who would like to move to Barcelona but cannot afford the city centre prices. There is a lot to discover!
History of Sant Martí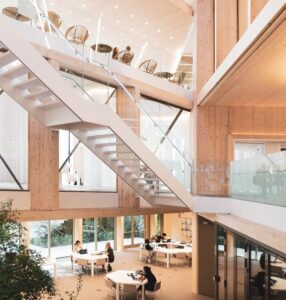 Located in the north-east of the city, this district of Barcelona stretches from the north to the river Besòs and from the sea to Mount Carmel. Until 1716, it was an independent parish under the name of Sant Martí de Provençals. In 1897, it joined the city of Barcelona along with Gràcia, Sant Andreu, Sants, Les Corts and Sant Gervasi. The district was originally a large area on the edge of the city walls of Barcelona, initially inhabited only by a few farmers or simple workers. Today's Poblenou and Besòs neighbourhoods were once marshes and lagoons that belonged to the Besòs river delta and have gradually dried up. The Romans, who also first settled this land, called the farmland near their settlements "ager provincialis", and used it to supply the city with food.
Things to do in Sant Martí
Shopping
Sant Martí is the ideal place to go shopping, precisely because it is outside the hustle and bustle of the city centre and allows you to escape the crowds in front of the shop windows and at the checkouts. Here you will also find the large Glòries shopping centre, which is famous throughout the city. With 166 shops on a total of three floors, a car park with over 3000 spaces, its own cinema, and many different restaurants and bars, it is one of Barcelona's largest shopping centres and is guaranteed to offer something for everyone.
In addition, it is always worth going to the market. As in every neighbourhood of Barcelona, Sant Martí has a wonderful market with many delicacies and regional specialties. You'll find Sant Martí market on Carrer de Puigcerdà, and it offers lots of fresh fruit and vegetables, but also meat and fish, and of course other delicacies, household items, clothes, or jewelry.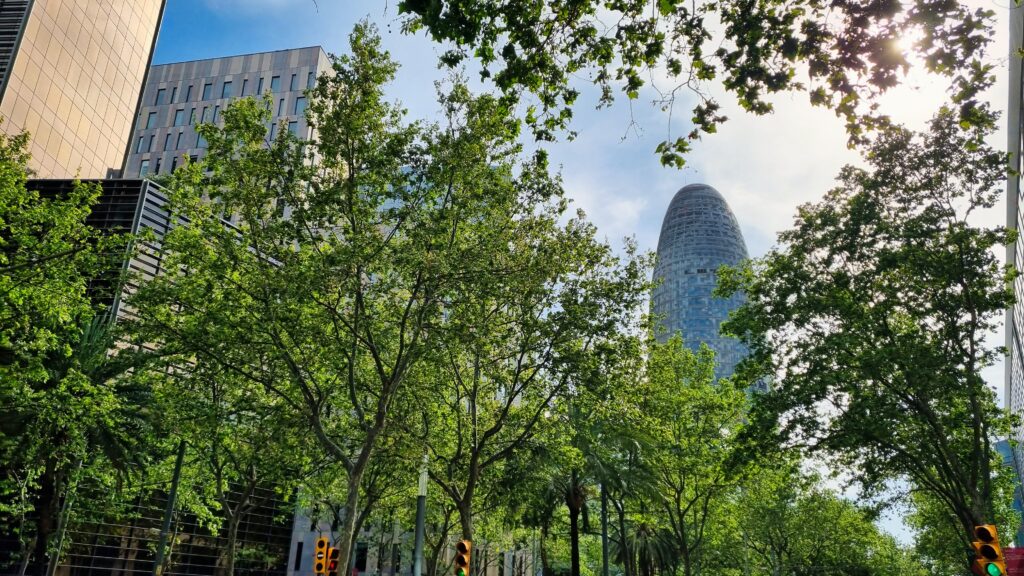 Culture
Parroquia de Santa María del Taulat
If you are a fan of historical buildings, this church is definitely worth a visit! Located in the heart of Poblenou, the exterior of this small church is sure to attract your attention, as its façade is in a well-maintained state. Inside, beautiful sculptures and breathtaking architecture await you. Don't forget your camera!
You can find out about current church schedules and events on this website.
Mercat dels Encants
If you are still looking for a special souvenir, then a visit to the oldest and unique flea market might be an idea for you. Here you'll find everything your heart desires, old furniture, first editions of books, maps, clothes, collectors' items and all the other treasures. A visit is also worthwhile simply because the market is located under a very interesting roof construction, which makes a spectacular photo motif at any time of day and is sure to put an astonished expression on the faces of your loved ones at home.
On the official website you can find the exact opening hours, offers, special promotions and directions so that you can easily plan your visit.
Beaches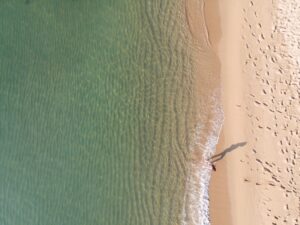 The neighbourhood of Sant Martí is especially popular because of its beautiful beaches. The beaches of Mar Bella, Bogatell or Nova Icaria are located in this district of Barcelona and attract tourists as well as locals every year. So grab your swimsuit and head straight for the beach! Whether you want to sunbathe, play volleyball, picnic, surf or swim, you'll find a beach that suits your needs. Read more about Barcelona's beaches in this blog!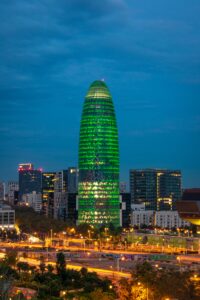 The Torre Glòries, formerly also known as Torre Agbar, which stood for Aguas de Barcelona, is a skyscraper located in Plaza de las Glorias, and offers 360-degree views. It marks the gateway to Barcelona's technology district, known as Distrito 22@. With 34 floors above ground and four below, and a total height of 144 metres, the building was the third tallest in Barcelona at the time of its opening (June 2005), topped only by the Hotel Arts Barcelona and the Mapfre Tower (both 154 metres high). Thanks to its spectacular façade design, which creates an unusual play of colours, it makes a great photo opportunity, and you will certainly feel very small standing in front of it admiring it.
Fun fact: The building has a total area of 50,693 square metres!
Eating out
The choice of good restaurants and bars is a little smaller in this area than in other parts of the city, but we still want to give you a few ideas for when hunger hits, whether it's big or small.
We recommend: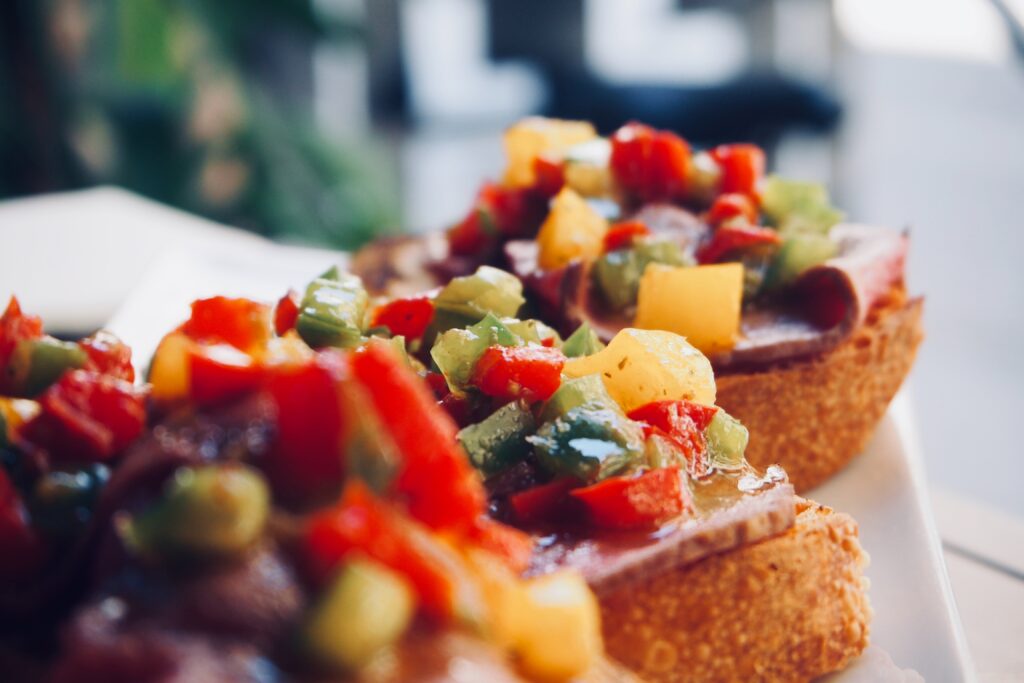 There is a wide range of clubs and bars to choose from, and you will find a number of the best and most popular discotheques in the city, such as the Razzmatazz.
Are you now curious about this great district of Barcelona and want to explore it on your own? Then pack your belongings and head off to this exciting and fascinating city in Spain. You can find your perfect accommodation at AB Apartment Barcelona. What are you waiting for?