There's no better time to visit Barcelona than September. The weather is cooler, but the sun is still shining. There's fewer crowds, meaning you are free to view your favourite attractions without queuing for hours. Best of all, there's so many great events happening in September that you can't miss out on! Let us guide you to the best, what's happening, when and where they are taking place.
Festa Major del Poblenou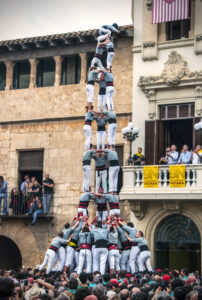 The Fiestas Mayores (traditional street festivals) are a perfect opportunity to experience Barcelona's culture! This famous street festival takes place across two weekends in September.
During these weekends you can expect to see a wide variety of: music, art and dance and of course some of Barcelona's popular culture including: the Giants parades, correfocs (fire runs), castellers (human towers), popular meals, children workshops and sport competitions.
If you are lucky enough to be in Barcelona during these weeks of September you can't miss out on the celebrations! An incredible experience for both the locals and tourists!
When: 8th- 17th September
Where: The Streets of Poblenou
La Mercè 
Barcelona's biggest street party! If you're a party lover then this street party is the one for you! Known as the highlight of Barcelona's festival calendar, this party is a fun and unique way of saying goodbye to summer and starting autumn the only way Spanish people know how… with a good party!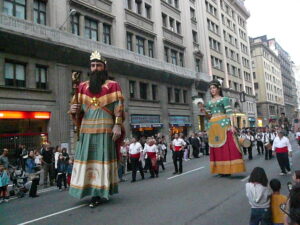 During the 22nd- 25th September the streets of Barcelona will be filled with a variety of activities including: fire runs, fire breathing dragons, human towers, giant parades, projection shows and finally the magical firework display! But the party doesn't stop after the activities! You can expect to see locals partying until the early hours of the morning so make sure you bring your dancing shoes!
The vibrant atmosphere during this weekend is something everyone should experience at least once in their life!
When: 22nd – 25th September
Where: Most events are in the gothic quarter but check the official timetable for the locations of each event.
La Diada, National day of Catalonia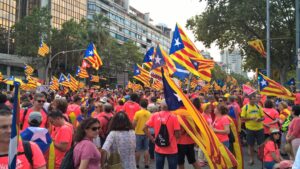 If you want to indulge in the rich culture of Barcelona this annual festival is a great experience for you! The National Day of Barcelona is a time for people to celebrate their Catalan identity.
This day-long festival is different to others you might have heard of, as it remembers the fall of Barcelona during the 1714 Spanish Succession. Less party, more politics! During the 11th of September you will see the streets of Barcelona filled with parades and many Catalans carrying the Catalan flag!
A unique experience that gives an insight into the pride and love for Catalonian people!
When: Monday 11th September
Where: The streets of Barcelona. Mainly on Passeig de Gracia and Las Ramblas.
The BAM festival
BAM! Short for 'Musical Action Barcelona' this festival is for all the party people who love music and dancing! Showing the best independent artists, from folk music to electronic vibes, you will find rock, pop and indie sounds throughout BAM.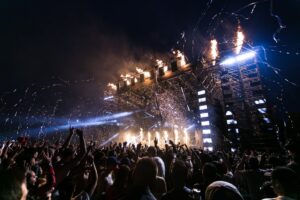 For a second year BAM is returning under the artistic direction of L'Afluent. This festival is made for music lovers, those who look to find a reflection of the cultural fabric of the city of Barcelona. You will experience music which will resonate in your mind and body, this 2022 the program has more than thirty shows.
Look out for artists such as Anna Ferrer, Frantic Amber, Júlia Colom and many more to sing your heart out to!
When: 23rd- 26th September
Where: Held at different stages throughout Barcelona, keep an eye out for the release of their venues!
For more ideas on things to do in Autumn in Barcelona, why don't you take a trip to Montseny Natural Park? It's perfect for that time in the year!