Barcelona is one of the world's most visited cities. In fact, although they have a population of only 1.6million they are still receiving up to 27million tourists annually. In hand with the recovery of Covid-19, tourism across Barcelona is increasing rapidly.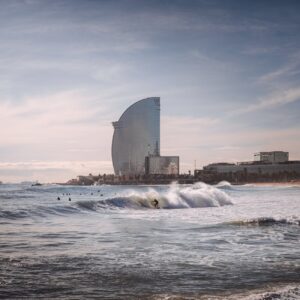 More and more people wish to visit the beautiful city of Barcelona, explore its sunny beaches, its incredible architecture, and indulge in its local cuisine and culture. It is important that these people aren't making negative impacts on the city. 
Developing and popularising sustainable tourism in Barcelona is extremely important. We need to ensure that this increase in tourism does not have a negative impact on the city. That's why we have put together a list of ways you can easily stay more sustainable. 
Transport
One of the best ways of making the most of the city whilst being sustainable is by walking. Walking through the city allows you to really take in your surroundings and admire the beautiful city of Barcelona!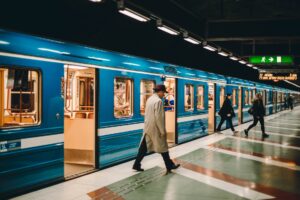 Other than walking there are plenty of sustainable forms of transportation; the metro, public bus, e-bikes, and electric scooters. The majority of the areas in Barcelona are fairly close to one another, meaning it really won't take you long to walk around the city and it will give you a chance to explore the streets properly. 
Eating locally 
Why travel the whole way to Barcelona to eat at Starbucks or McDonalds? Finding the local food is easier and often cheaper! You will find a load of family owned restaurants and bars where the staff are all locals and the food is all made with local ingredients. These are the places you want to try for a proper experience of Barcelona.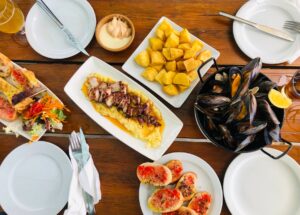 To be extra sustainable, you could try to eat less meat. Greenhouse gas emissions from livestock industries are enormous, you are working towards saving the planet by eating more plants. 
Shop locally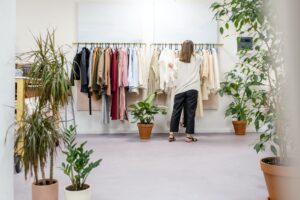 Although if you're one who loves shopping, we don't doubt that you are going to want to visit Zara, Stradivarius, Pull&Bear etc. However, you should keep in mind that there are plenty of independent local shops, vintage shops and charity shops which have much better quality and better value clothing. It also means you're investing locally rather than in big chains, reducing your carbon footprint, and you might find some unique pieces no one else will! 
Behaviour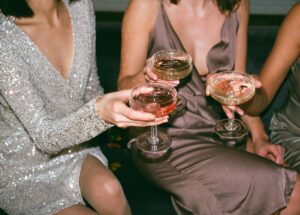 Although you will no doubt be enjoying yourself and that is completely understandable, drinks are cheaper, the sun is shining, the city is beautiful. Just keep in mind to drink sensibly, and to respect the fact that not everyone is on holiday. 
Recycling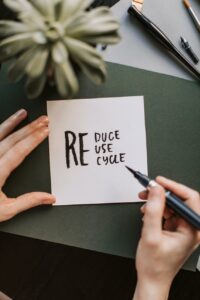 Use the bins around you, and try to make use of the recycling bins. Blue is for paper, green is for glass, yellow is for packaging and brown is for organic waste. Keep this in mind when you're in the city. 
Book sustainable accommodation in Barcelona 
When booking accommodation, it is essential you are abiding by sustainable tourism. AB Apartment Barcelona stand at the forefront of sustainable tourism within the tourist apartment market. Now holding three of the most important and recognised sustainable tourism certifications. These include: the Safe Travels Certification, the Barcelona Biosphere Certification and the WeRespect Macro Seal. These certifications ensure that we are following a day to day sustainable management model.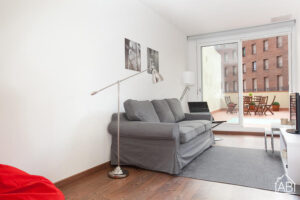 The future of the tourism sector is dependent on sustainable tourism. It is essential that we respect and preserve our city, Barcelona, the environment and the coexistence between tourists and locals as much as we can.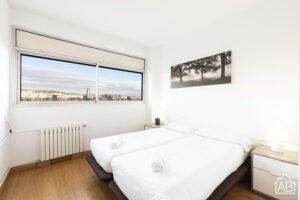 Sustainability at AB Apartment Barcelona 
Whether you're looking for a short term stay, or a long term stay, with over 500 apartments we will have you covered. Whilst ensuring the comfortability of our clients, we also make certain that the rest of our neighbours are protected and that coexistence between tourists and locals is facilitated.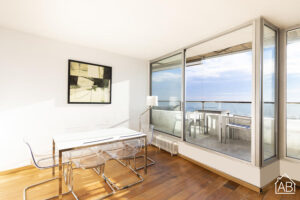 What do our certifications really mean 
Safe Travels Certification: Safer stays than ever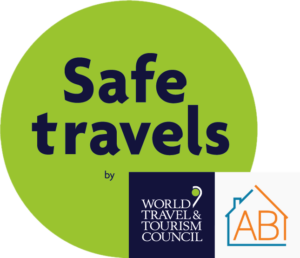 Defined by experts, AB Apartment Barcelona complies with the sanctuary, health and safety protocols for tourism companies. The Safe Travels Seal in particular certifies that AB Apartment Barcelona have adapted all their activity to comply with the measures established by the World Travel and Tourism Council, endorsed by the World Tourism Organisation. 
Barcelona Biosphere Certification: The future of sustainable tourism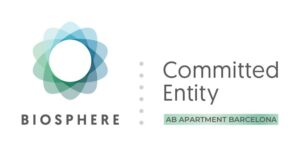 This certification ensures that AB Apartment Barcelona follows a non- aggressive tourism model, and works to raise awareness among its guests, staff and collaborators in terms of sustainability. AB has implemented measures to reduce its emissions, to save resources, minimise its environmental impact, and raise awareness about the preservation of natural space. 
AB are actively working to improve and make the world greener, more natural and more sustainable. 
The WeRespect Macro Seal: Commitment to neighbourhood coexistence and the impact of tourism in Barcelona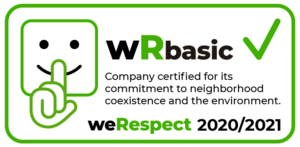 The WeRespect Macro Seal signifies the commitment of AB Apartment Barcelona to the coexistence and impact of tourism in the city of Barcelona. This means that we strive to ensure the rest of the neighbours are unaffected by tourism, and that harmony is facilitated between the neighbours and tourists. 
This seal is significant to those who would like to travel in hand with the values we have at AB Apartment Barcelona; environmental awareness and a respectful attitude towards our premises and those locals in Barcelona. 
Check out more about how we respect sustainable tourism in Barcelona!