Barcelona is one of the biggest and busiest metropolitan cities in the world, and accessibility for those with a disability is taken very seriously, and the legal requirements to ensure accessibility are strict too. Removing barriers for people with disabilities is paramount, and the city is in general accessible, and becoming more and more accessible by the day. The 1992 Olympic Games in Barcelona was the first time ever that both the Olympic and Paralympic Games were held in the city, and that same inclusive attitude persists in our beautiful city.
There are alternative entrances on public transport, adapted audiotours, and ramps and elevators installed at the most popular tourist attractions. There are also wheelchair accessible toilet facilities available at museums, public buildings, and airports that are always maintained to a clean, high standard.
In older buildings, lifts and ramps have been installed to be accessible for wheelchair users. Designated parking for those with disabilities is well respected, as the fines for parking there without a disability permit are extortionate, and the tow truck arrives quickly to remove any cars violating this.
If you're planning a visit to Barcelona, or already live here, and want to know more information about where you can go and what you can do, we've got you covered. This is the most up to date information on how you can enjoy your time in Barcelona.
Transport
Metro & Train
The Barcelona metro network was established almost a century ago, but the speed and complexity of the Barcelona metro doesn't mean it is not an accessible means of transport. The ticket barriers for both the metro and the train emit acoustic signals and visual messages to ensure visual and hearing-impaired passengers know if their tickets have been validated correctly. The ticket machines also offer Braille and voice-activated browsing systems to guide visually impaired passengers through the process. Lines 2, 9, 10 and 11 are fully adapted, with the remaining lines being gradually refurbished.
Bus & Cable Car
The bus network has been fully adapted for people with reduced mobility since 2007 for those that have physical disabilities there are reserved spaces and access ramps, and also visual and auditory stop indicators. The Montjuïc cable car is also a fully adapted facility with a universal accessibility certificate. The Transports Metropolitans de Barcelona, works in coalition with the Municipal Institute for People with Disabilities to ensure that they continue to make adaptations and improvements to their infrastructure, and created their Universal Accessibility Master Plan detailing their commitment to becoming as accessible as possible.
Mobility Scooter & Electric Wheelchair Rentals
There are several Barcelona based companies that offer rentals of mobility scooters and electric wheelchairs, and can be delivered to you upon your arrival and picked up again when you leave. Prices vary depending on the type of vehicle hired, but deals are available for longer rentals.
Barcelona Access website has a designated section for any transport you need to take around the city, whether coming from the airport, taking a taxi, taking the train, car, metro, whatever! They share their advice on how to move around Barcelona with ease.
Attractions
Taking a visit to the magnificent sights of Barcelona need not be limited by a disability, as the majority are accessible to those with physical impairment and visual/audiovisual-impairment also. The iconic Sagrada Familia offers audiotours, adapted reading materials and audiovisuals with subtitles, and is accessible to wheelchair users, except unfortunately at the towers of the Basilica.
Casa Mila and Casa Battló both offer adapted tours for disabled visitors and have elevators that
allow wheelchair users to access the roof areas. Additionally, both of these emblematic landmarks, plus the Sagrada Familia, rent out wheelchairs for those that need them, just remember to reserve in advance of your visit.
The beautiful Park Guell is accessible for wheelchair users, with a separate entrance on Carretera del Carmel. The natural height differences of the park make some sections slightly difficult to reach by wheelchair however, and due to a lack of lift facilities at the park's museum, only the ground floor is available to wheelchair users.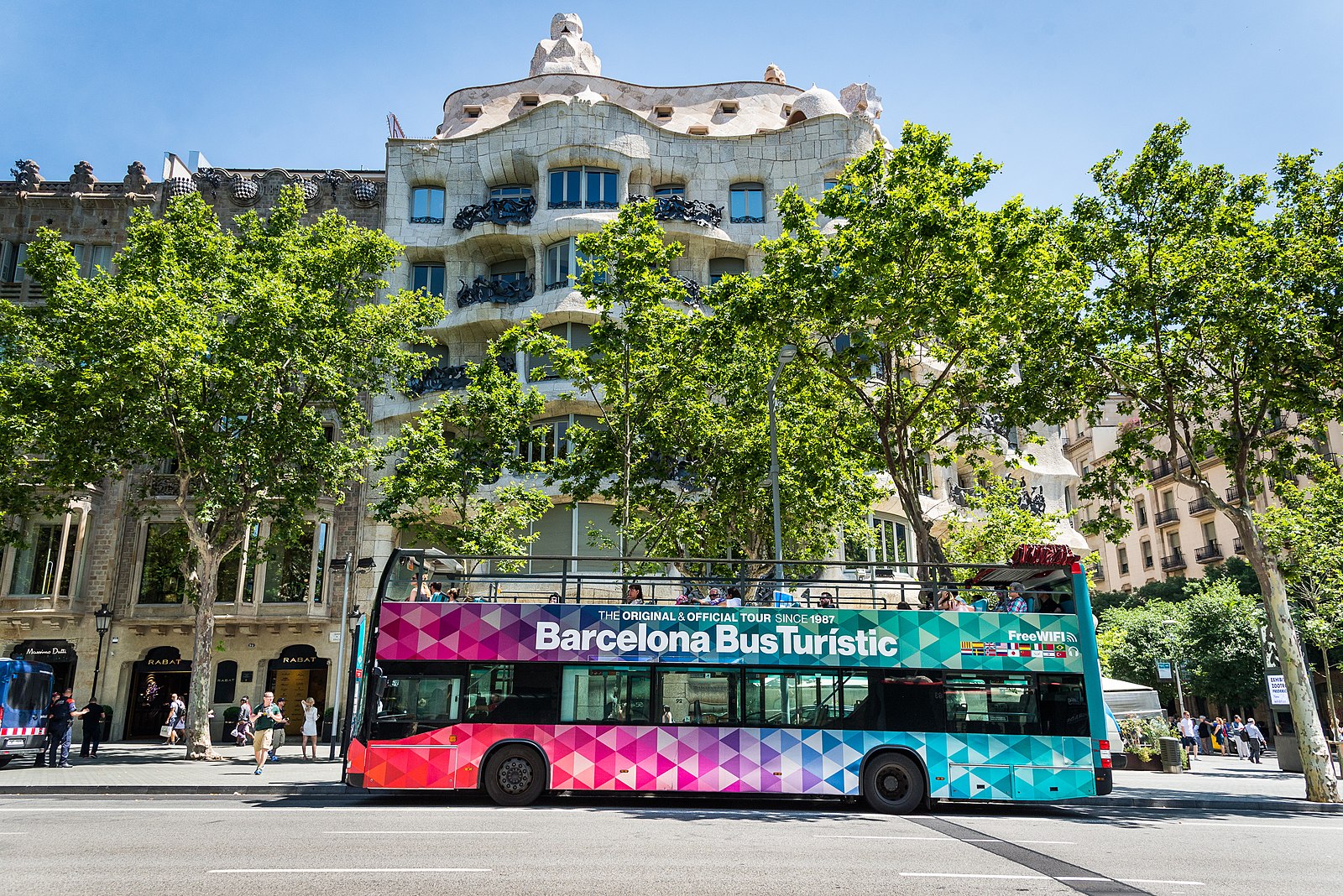 The Barcelona Touristic Bus that gives the official sightseeing tour of the city is suitable for those who use a wheelchair, have hearing impairments, or have a service animal.
Outdoor activities
Accessible beaches
The Catalonia government has committed to all of Barcelona's beaches being accessible, not only in the easy access routes to the sand, but beyond that for entrance to the water, adapted showering and changing facilities, and parking facilities too.
During the bathing high season between 31st of May to 28th of September, a specific swimmer assistance service has been developed that assists those with a disability when entering and exiting the water. For the 2020 season this was also updated according to COVID19 regulations to ensure the safety of visitors and staff alike.
Accessible walking tours
Another great way to view the city of Barcelona and its charming streets is by a walking tour. Many tour providers offer tours that can be adapted to each person's specific requirements, such as tours with adapted pavements, shorter walking sections, guides that can speak sign language, or visiting sights with braille inscriptions.
Where to stay
The majority of hotels in Barcelona have specially equipped rooms for disabled guests, it is however worth following up a booking with the hotel to ensure that specific needs will be met upon arrival and that the booking is suitable for your requirements.
At AB Apartment Barcelona searching for an apartment to stay in that is disability accessible is made easy by having the option to filter according to wheelchair accessible rooms. Additionally, the team at AB are more than happy to help with any specific requests or concerns, by calling or emailing us for further advice and support.