Catalonia is home to many wonderful and unique dishes that local people and tourists alike absolutely adore, with restaurants being one of many reasons why people come to visit the Catalan Capital. However, with the current situation and people find themselves distancing at home, there is an opportunity for you to bring the tastes of Barcelona to your home. Follow these dishes and see if you can turn your hand to making some of these Catalan classics dishes that we absolutely adore!
Pa amb tomàquet
Like all good meals made at home, whether cooking for a couple or a family, there is always a need for a starter. There is nothing quite like Pa amb tomàquet, simple yet very effective food that is found all over Catalonia. So, to start off cooking catalan dishes at home, here's how we make bread with tomatoes, Barcelona style.
Firstly, get a fresh loaf of unsliced bread, the fresher the better, and then divide it into small sections. Then, place them in the oven to toast and crisp slightly. As the doughy centre is being baked, time to crack on with the tomato spread. Simply grind some fresh tomatoes, leaving the skin on for that extra texture, once ground, place into a small bowl and add some salt and pepper to your liking! Once the bread is ready, spread your tomàquet after adding some olive oil to the bread. A quick and effective way to start any meal!
Escalivada
Another appetiser to get into the swing of Catalan cooking at home, is Escalivada. This is another straightforward yet tasty dish to nibble on. It is, essentially, roasted vegetables with some seasoning. Simply roast together some baton slices of peppers and aubergine and roast them slowly in the oven with plenty of oil. Some people like to add slices of onion, tomato and garlic to this mix, as well as salt and pepper seasoning. Once ready, you can enjoy the vegetables on your Pa amb tomàquet! If you are not vegetarian and enjoy seafood then it is also customary to add some juicy anchovies to the bread, we'll leave that choice to you!
Fideuà
Now, onto the main course, you can have a go at cooking Fideuà, which is an interpretation of Catalan Paella, cooked with noodles instead of rice! The basis of this dish is usually monkfish, squid, prawns and or muscles. However, most white fish can be substituted if the usual ingredients are not available to you.
To start, you have to make the seafood stock, made with tomatoes, garlic, onions, fish bones (Or fish stock), water and juice from a lemon. Once this has broken down, add the fish to the stock and keep it on the heat until the fish is cooked through. Once the fish is added, put in the short vermicelli noodles (or cooked rice alternative) to the mix, along with some paprika. Whilst this is readying, you can make the topping by chopping parsley and almonds up, ready to add once the Fideuà is cooked through. Plate up, have some lemon wedges ready at the side and enjoy!
Faves a la Catalana
Next up is another wonderful Catalan dish that you can cook in the comfort of your own kitchen, Faves a la Catalana. This is a meat casserole that has been enjoyed in the region for years.
Start this dish off by cooking some fine chunks of bacon to a buttered and oiled casserole dish. Next, add some garlic and onion to the bacon. Now the next thing to add is usually black Butifarra, a traditional blood pudding that is found in Catalonia. However, any black pudding or sausage would work too. Chop the Butifarra (or alternative) into 1cm slices and add to the casserole, as well as a tin of chopped tomatoes. Now, once they have stewed slightly, add fava beans (broad beans work well too) and a glug of white wine and let the dish cook slowly.  Once simmered, add some thyme to the casserole and serve when ready! This hearty meal has been served in the homes of Catalonia for centuries, find out why!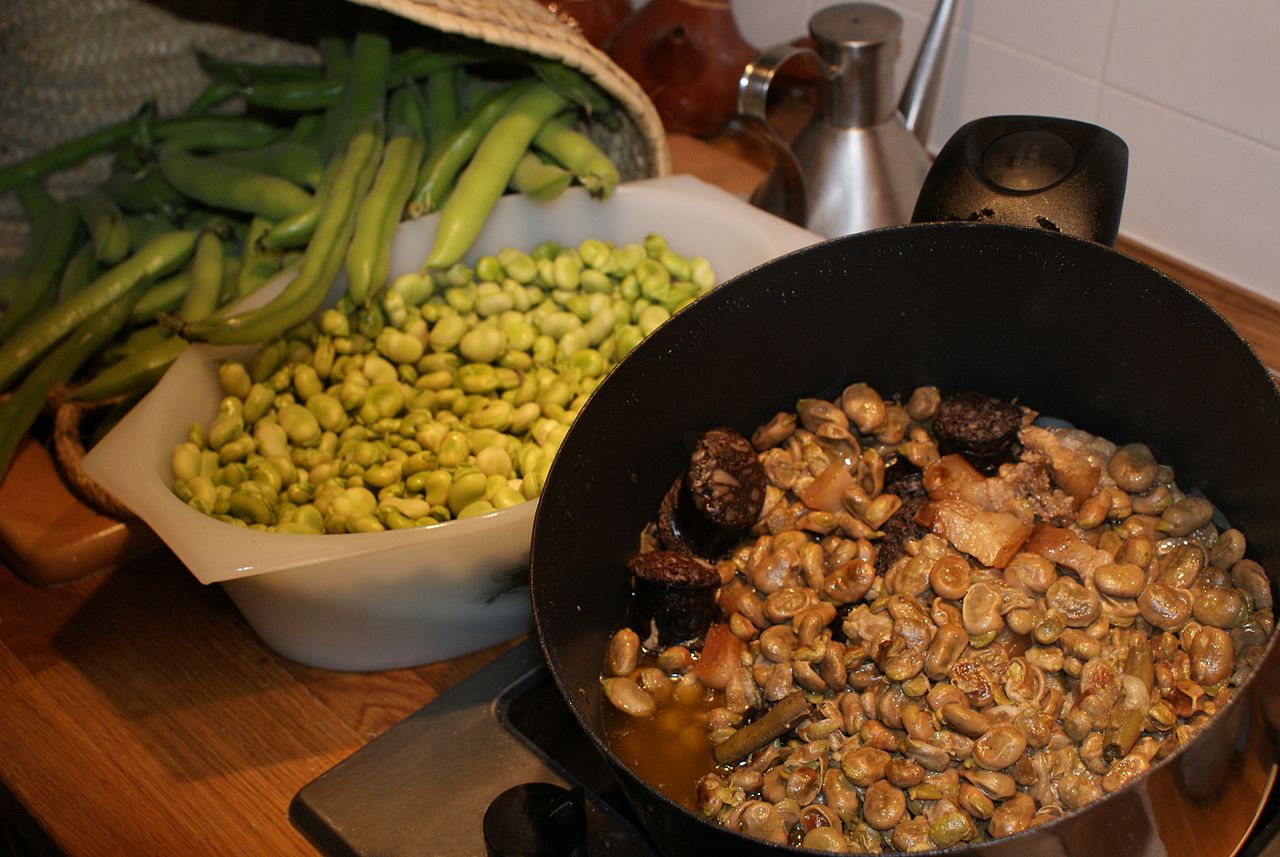 Crema catalana
Finally, time for you to make your very own Catalan dessert! We have opted for Crema catalana. This is very much the region's take on the French creme brûlée, and we love it.
For this one, you'll need some milk, citrus peel (lemon preferably) and cinnamon, heating the mixture in a pan. At the same time, mix some cornstarch and water on the heat in a separate bowl. Then, slowly add two beaten eggs and brown sugar to the cornstarch mix until it turns yellow and slowly add the heated milk. Be sure to not let the mixture scramble, allowing it to thicken as you stir! Once thick, divide the mixture into small bowls and place them in the fridge to cool. Once firm, add a layer of brown sugar on top and, ideally, apply some heat to the sugar top so it caramelizes, or try to make some spun sugar in a pan to place on top if you do not have access to a blowtorch! Lastly, add some fresh fruit like raspberries to the Crema catalana and enjoy- or as we say, Bon profit!