Knowing the diverse nature of Barcelona, from the people that live here to the languages you hear in the streets; it comes as no suprise that you can easily get food from every part of the world within our beautiful city. This time, we have looked into where you can get the best pizza slices in Barcelona. Being quick, cheap and varying in flavours and ingredients, a slice of pizza can be the ideal snack when exploring in and around the centre of Barcelona. We´ve narrowed it down to 5 pizzerias for you to get inspiration from!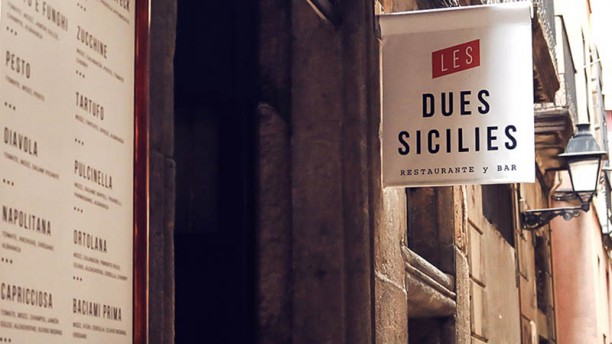 Opening in 2014, Les Dues Sicílies began as a takeaway pizzeria in the modern neighbourhood of El Born– which is known for its nightlife and cultural appeal. As well as having pizza slices for you to enjoy, the varied menu offers calzones, pasta dishes, sweets and many more foods to transport your tastebuds to Sicily. We 100% feel that this pizza slice deserves top 5 status! Try for yourself, you will not be disappointed.
The success that Les Dues Sicílies has experienced can be seen with its growth into four eateries in almost as many years:
CARRER CARDERS 22, Open everyday 9am-3am
CARRER PRINCESA 12, Open everyday 9am-3am
CARRER ANDREA DORIA 12, Monday-Thursday 9am-1am//Friday-Saturday 9am-2am//closed Sundays
CARRER REC COMTAL 4, Monday-Thursday 8.30am-1am//Friday-Saturday 8.30am-2am//Sunday 9.30am-1am
Also offering delivery with GLOVO, you can enjoy a slice or two in the comfort of your own place!
For a slice of arguably the most iconic style of Italian Pizza, the Neapolitan, then look no further than NAP in Barcelona. This kind of pizza will make you forget any presumptions you´ve had about Southern Italy. As this authentic slice will leave you wanting more, and that is a promise! The thin base and powerful toppings make this pizza stand out from the rest, for all the right reasons.
With three pizzerias in Madrid and two in Barcelona, NAP is guarenteed to be a favourite for locals and tourists alike. You can thank us later!
CARRER BALUARD 69, Open everyday 1.30pm-12am
CARRER GOMBAU 5-7, Open everyday 1.30pm-12am
Muccis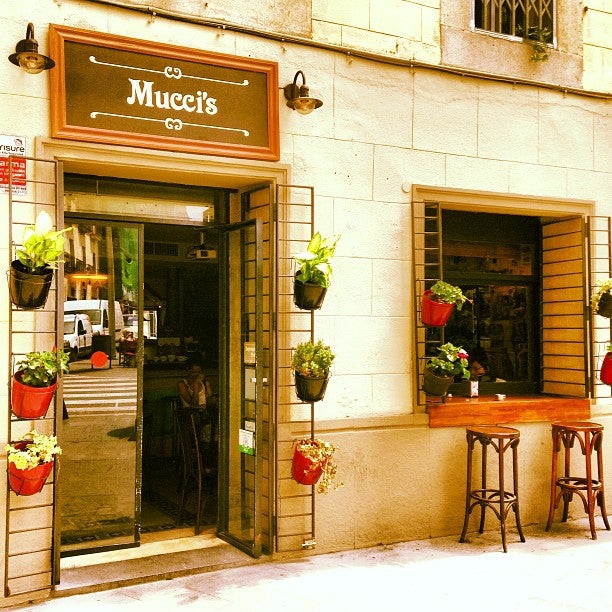 This pizzeria is as well-known for its giant slices of pizza, as for its authentic Argentinian empanada (a folded pastry with different fillings, tasting like a pocket of warmth-ideal for Winter!).
These pizzas taste great and have ever-changing toppings, ensuring that your taste buds will be satisfied and refined with every trip. With three locations throughout the city, Muccis ensure that you´re never too far away from a faultless slice of the good stuff! As well as this, they have a delivery service that you can get ordered home or collect soon after, details are as follows:
PLAZA DEL SOL 1, GRÀCIA, Open everyday 12.00pm – 23.30pm
CARRER DELS TALLERS 75, Monday-Thursday 11.00am – 00.00am//Friday-Saturday 11.00am – 01.00am//Sunday 11.00am – 00:00am
CARRER DEL BONSUCCÉS 10, Open everyday 11.00am-00.00am
We are not entirely sure if the naming of this one is in homage of the best footballer in the world, but we are sure that this restaurant offers the best
GF pizza in Barcelona. With two locations in the city, we wanted to add this to our top 5 so that anyone can enjoy a lovely slice of pizza whilst exploring this amazing city.
This is not an exclusively vegan or vegetarian pizzeria but the menu offers a range of vegan, vegetarian and meat pizzas for any GF preference! We´ll let you choose the topping of your dreams.
CALLE DE SIRACUSA 15, GRÀCIA, Open everyday 12.00pm-23.30pm
CALLE DE MUNTANER 109, Open everyday 12.00pm-23.30pm
Lastly, we´re ending on a classic. This place lives, breathes and (most importantly) makes pizza! They stay true to their American heritage by making New York style pizza with an array of toppings for any personal preferences. They truly do make pizza seem a masterpiece. Don´t take our word for it, go and see for yourself!
Only having one location in the city means that Tomasso are usually busy but they are more than worth the wait.
CARRER DE LONDRES 93, Open everyday 19.00pm-23.00pm (Friday 13.00pm-16.00pm as well as 19.00pm-23-00pm)
Here are the Instagram accounts, just to wet your tastebuds!
Muccis
NAP Neapolitan Authentic Pizza
Messie
Tomasso
Les Dues Sicílies
For us, there is one clear winner among these 5 restaurants, but that is just because we love neapolitana pizza! Now its your turn to taste, enjoy and rank the best pizza slices in Barcelona!