Do you want to drink with Dalí, get giddy with Gaudí, or have a few with Hemingway… well, you've come to the right place! Barcelona is full of hundreds of old drinking haunts that have lasted through some of the city's most turbulent times and paramount periods, bars full of so much character that to this day they are just as popular as when they began.
Tilly Brogan from Barcelona Connect shares 6 of her favourite places.
Can Culleretes (1786)
Can Culleretes is the second oldest bar/restaurant in Spain, founded all the way back in 1786! However, its quirky décor of 18th century murals isn't the only interesting thing about the place.
History has it that Can Culleretes used to go through so many spoons that they often ran out completely. Every time a waiter approached the bar he would cry 'Noies, culleretes!' (girls, the spoons!), repeating it so many times that the parish quickly adopted the saying 'Let's go to Can Culleretes!'
Carrer d'en Quintana, 5.
Bar Marsella (1820)
Marsella is by far the most famous oldest bar in the city, frequented in the past by the likes of Gaudí, Picasso, Dalí, and Hemingway, just to name a few… and not much has changed in the last 200 years!
Bar Marsella is Barcelona's very own time machine, taking punters back to the early 1800s with dusty chandeliers and the same mirrors from almost two centuries ago. Even their signature drink of absinthe has stood the test of time…
Carrer de Sant Pau, 65.
Casa Almirall (1860)
Ordained with moon-shaped lamps, marble décor, and an amazing Gaudi-style wooden doorway, Casa Almirall is a living and breathing representation of Barcelona's modernist movement.
Despite its old roots, the bar has successfully managed to keep its drinkers hooked by adding a second large room at the back of the bar, and the reinstatement of an old-time tradition – serving vermouth with a skewered olive.
Carrer de Joaquín Costa, 33.
London Bar (1910)
Just off the Raval side of the Rambla, London Bar is a far cry from anything you would find in England's capital city. With over a century to date, this bar was a favourite of Joan Miró and Salvador Dalí; its walls are sure to have seen a few interesting philosophical and political conversations in its day.
Like Casa Almirall, this bar has still managed to conserve its modernist décor but offers a different vibe to the previous, its location slightly further away from the tourist trail.
Carrer Nou de la Rambla, 34.
La Confiteria (1912)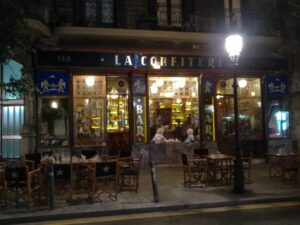 Previously a confectioner's shop, La Confiteria still holds many delights from its former years: tiny drawers for storing sweets, and even weighing scales to measure treats at the till. But it's also a great place to go if you want to enjoy the soothing yet sultry sounds of jazz music with your drink: in this case a craft cocktail.
Swat up! On the back of La Confiteria's menu, there is also a list of other events that took place in 1912, besides the opening of the bar.
Carrer de Sant Pau, 128.
La Concha (1982)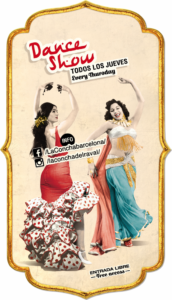 An eclectic bar in El Raval previously favoured by the gay and trans community, La Concha is dedicated to Sara Montiel: the singer and actress who bared all in an era that likened nudity to shame. Indeed, la concha is a subtle tribute to the Spanish slang associated with female genitalia.
Not only does the bar let you smoke shisha indoors, but they also do a killer mojito and Moroccan mint tea, playfully mixing Arabic, Spanish, and international fusions. Get here before 10pm to get a discount on shisha and tea, but stay late to watch the drag queens come out and play.
Carrer de Guàrdia, 14.