The ever-present, quintessential element of a fantastic night in Barcelona is always live music. It is the best part of an evening, and it explains why music seems to echo through the streets of Barcelona after sunset. If an unforgettable warm summer evening, packed with culture, history, and of course- live music, is your idea of a good time then look no further. The rooftop terrace of Antoni Gaudí's last civil work, officially named La Casa Milà and referred to more commonly as La Pedrera, makes for the perfect venue to enjoy local jazz and a complimentary drink.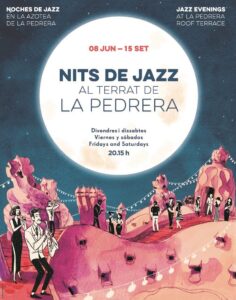 Starting on June sixth, there will be a live jazz concert from Barcelona's top jazz musicians every friday and saturday on the rooftop terrace of La Pedrera. The ticket includes a drink and a self guided tour through the attic of the building, which is organized as a tribute to the lifetime achievements of Gaudí. Though a slightly more expensive event, €36, it is well worth the extra money.
Gaudí, who is more well known for being the mind behind La Sagrada Familia and Park Güell, designed La Pedrera as a private residence for a wealthy Catalan family. The rooftop terrace is made up of a series of criss crossed paths winding between the towers of La Pedrera, which are twisted up toward the sky. This surreal setting, paired with a beautiful sunset makes this event an unforgettable experience.
The terrace itself is a beautiful creation, complete with gorgeous architectural feats sculpted into the building and stunning views of the city. This event is the ultimate intersection of culture and history, blending the old historical sites with the sounds of contemporary jazz groups of Barcelona. It is truly a celebration of this city and the beautiful people that make it so special.
There is not a more perfect combination of Catalan culture than live music paired with Gaudí, the architect who thought up the most world renowned attractions in Barcelona.
For a full line up of the groups performing at La Pedrera, go to the official La Pedrera Jazz website.