Nestled amongst the labyrinthine streets of El Born lies a very popular street named Passeig del Born. With the El Born Market at one end and the Santa Maria del Mar church at the other, Passeig del Born still retains its medieval feel out on the terraces of its fashionable bars and restaurants. This charming avenue has adapted to new times without turning its back on its past and makes for the perfect spot to spend a morning, afternoon or evening in Barcelona.
A Little bit of History
Dating all the way back to medieval times, Passeig del Born is a place rich in history. El Born, as its name suggests, ('born' is Catalan for 'jousting field') hosted tournaments and jousting matches. It was also the main site of the Holy Week processions and carnivals.
As well as being a hub for festivities and celebrations, the avenue also conceals some of the darkest chapters in Barcelona's history. In the 16th century, the victims of the Spanish Inquisition were executed here, and in 1714, it was occupied by Philip V's troops following the Siege of Barcelona. In spite of this, the 14th- century buildings that line this avenue often reflect on many glorious past times.
El Born Market
Standing proudly at the top of Passeig del Born is El Born's grand market, also known as El Born Centre de Cultura I Memòria. The market was designed in 1871 by Josep Fontserè and opened on 28 November 1876, at the time being the first large-scale cast-iron building to be built in Barcelona. The building was part of a global renovation project for Barcelona's network of markets, proposed after 1868.
It fulfilled its role as a market for 95 years, which can be divided into two periods, first being the local market for the neighbourhood of La Ribera, and later, as of 1921, becoming Barcelona's main wholesale market for fruit and vegetables.
Nowadays it is not used as a market but is an interesting place to visit nevertheless. Inside the building, the subterranean ruins have been exposed for visitors to see, while the space around the exterior has been preserved for mixed use. Additionally, pedestrians can pass through the building freely from Passeig del Born through to the other side, that leads to Parc de la Ciutadella.
Restaurants & Bars
As mentioned previously, Passeig del Born is home to many bars and restaurants, so we've selected a handful to give you the low-down on where to eat and drink on this lovely avenue.
La Pizza del Born – an Argentinian pizzeria with a lovely atmosphere, offering the tastiest of pizzas!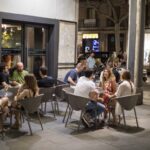 Cactus Gin-bar – a trendy bar with a wide selection of gins, cocktails and other beverages.
Stereo 18 – a lively bar playing mainly 80s music, offering plenty of yummy drinks and a cool atmosphere.
Gusto del Born – a cool pizzería that also serves up empanadas, pastas and salads, making it the perfect choice for a quick (but filling!) bite to eat.
Bar Sauvage – a great bar with nice vibes, good music and of course, top cocktails! Popular with the younger crowd.
Creps al Born – a mixture between a bar and a crêperie… what more could you want?
Bar El Born – a homely bar offering a wide selection of beers, spirits and other refreshments. They also serve some tapas dishes!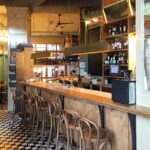 Casa Nova Tapas – a cosy tapas restaurant with an open terrace, offering a wide selection of sharing dishes and a variety of tasty main courses.
Restaurante Casa Delfín – a traditional restaurant with a great selection of tapas dishes as well as fish, rices, salads and meat.
Shops
For a small avenue, Passeig del Born is even home to a few boutique-style shops. Check them out below!
BIBA – a cool store selling women's accessories and suitcases.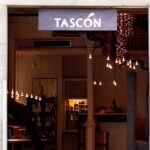 Tascón – a much-loved shoe shop that can be found at many points across the city.
David Valls – a unique boutique selling trendy clothes designed by David Valls.
La Chinata – a unique shop specialising in a wide range of products, such as cosmetics and food items made from extra-virgin olive oil.
Fet amb Love – a small store selling costume jewellery and other accessories
Santa Maria del Mar
At the opposite end of Passeig del Born, you will find the beautiful Santa Maria del Mar, also known as the 'Cathedral of La Ribera". Designed by Berenguer de Montagut, this basilica is a perfect example of Gothic style architecture due to its harmonious proportions and specific design. In the Middle Ages, it often took over a century to build a church due to changes in architectural style, however the Santa Maria del Mar in Barcelona is an exception to this, as it was built in just 55 years and is the only surviving church in the pure Catalan Gothic style.
Be sure to head to the church to experience a mass, take a guided tour or simply to take in the sheer beauty of the wonderful structure from its exterior.