If you're staying in Barcelona for a while and are in search of some different activities, or perhaps if you're already a fan of climbing and want to keep up your hobby or just simply start a new one, look no further.
Jump onto the bandwagon of the popular activity that this rock climbing! This full body sport has been trending for a couple of years now, which means you have plenty of choice when it comes to looking for the perfect place to boost your skills. Using just your pure muscle strength (sometimes with a safety helmet and ropes depending on the type of climbing you're doing) this is a proper workout and it's great for all round fitness building!
Here is our collection of climbing and bouldering places in and around Barcelona for all skill levels. Have fun!
Climbat
For beginners and advanced climbers alike an indoor climbing gym like Climbat is probably the easiest and safest way to practice the sport. Climbat offers a boulder wall, top rope courses and climbing routes; as well as classes in climbing for all different skill levels. There is also a 'Monkey Space' – a plywood-based training structure, which you can modify according to your skill levels.
Camí de la Foixarda, 14-18, 08038 Barcelona
Sharma
Sharma is an impressively spacious indoor climbing gym offering regularly changing routes for bouldering and climbing, as well as a yoga and fitness classes – if that is more what you're after. Sharma offers different classes and courses for all skill levels and even kids, or you can get private climbing lessons, if you want that extra boost. The best thing: if your energy is running low, or you are done with your climbing session, you can visit the on-site bar/restaurant and enjoy a refreshing drink or delicious pizza.
Carrer del Marroc, 206, 08019, Barcelona
Bosc Urbà
If inside climbing gyms don't sound like your thing then maybe Barcelona Bosc Urbà might be the place for you! This unique location – quite literally an urban forest – offers different outdoor activities such as bungee jumping and climbing in three different routes at varying difficulties. The friendly staff will be happy to assist you with choosing the right course for your skill level! Visit the first inner city adventure theme park for a climbing experience of a different kind. And if you get too hot from the workout – the beach and Mediterranean are just a stone's throw away!
Parc del Fòrum, 08019 Barcelona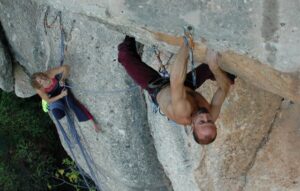 BarcelonaClimb
At BarcelonaClimb you'll get to enjoy the beautiful nature and mild climate, making the activity possible almost all year round. The experienced guides of BarcelonaClimb will be sure to make your trip most enjoyable. You can choose to climb in different regions and they even offer a pick up service from the city. The UIAGM (the most highly regarded mountain guide association) certified instructors speak Spanish, English, Italian or French and will help you to find a route that suits your skills, which they will then point out or climb with you.
Jordi (Toti) Vales: barcelonaclimb@gmail.com
Abseiling
If climbing upwards sounds too exhausting but you're still craving the thrill of being up high, abseiling could be for you! This relatively new trend in climbing requires a lot less body power, but a whole lot of courage! Take the step over the edge and enjoy the breathtaking views over the Catalonian countryside, whilst fueling the adrenalin as you walk down a 15m or 30m stone wall. And…if you are looking for an extra thrill, why not do the whole thing at night? Make sure, you are a group of at least two people to book this activity with Lifestyle Barcelona, easily accessible by train, located only 30 minutes from Barcelona.
Office: Carrer Mallorca, 260 – 262, 08008, Barcelona
Vias Ferratas
For those of you who are nature and hiking lovers who also want to experience some climbing, check out the vias ferratas around Barcelona. These are hiking routes that include some sections where you will need to traverse along a cliff face – but don't worry: there are pre-installed tightropes to assist you. Different routes of varying difficulty mean you can find one to suit you best before you head out! Experience the beautiful countryside, while improving your balance, strength and climbing skills. Be careful – for some of these vias ferratas you need proper hiking gear and safety equipment so make sure you equip yourself properly before heading out as most of the time you will need to provide your own gear. Also check the weather forecast…nobody wants to be stuck on a 5-hour hike when it's raining!
Free climbing and bouldering at Rocòdrom La Foixarda
For anyone who already knows the basics of the sport and just wants to practice and meet like-minded people, the climbing walls at Rocòdrom La Foixarda of Montjuïc are the place to be. As the name suggests, this area of two 50m climbing walls and a bouldering tunnel is aptly located atop Montjuïc – former home to the 1992 Olympics. Climbat, the first place we mentioned, even offers courses there, but the area itself is free to use for anyone and it's not at all far from the city centre. Meanign you don't really have an excuse not to try this one!
Camí de la Foixarda, 08038, Barcelona
When you feel you have fulfilled your inner chimp and trialled all of these top climbing destinations around the city, why not check out our list of free activities to do in Barcelona.