Good news! Roaming charges within the European Union have officially been abolished as of last week. This means that when you use your mobile phone while travelling outside your home country in any EU country you don't have to pay any additional roaming charges.  These new rules ensure that citizens travelling within the EU will be able to use their mobile devices at the same price they pay at home, so if you're planning a holiday soon, no need to worry about extra charges when phoning home. So, you've now got one thing less to worry about when planning your next trip to Barcelona!
However, don't get too carried away…despite the exciting change, a UK consumer group warned that phone users could face 'unexpected charges'. The new legislation means travellers can use their regular data allowance anywhere in the EU, however, if you exceed your data allowance you will be charged. So be sure to check the detail of your tariffs with your phone provider to avoid any unexpected charges…
Here's a round-up of what the main networks now offer.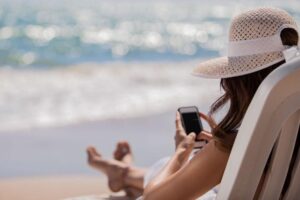 Vodafone:
Vodafone will offer Global Roaming as standard for Pay Monthly plans. This incentive includes 50 "Roam-free" destinations. Users in these designated destinations will be able to "roam like at home," but be careful, because charges will apply if you go out of your bundle. For those travelling outside of the 50 roam-free countries, there are 60 more destinations offered as roam-further countries. A daily flat rate of £5 allows users to use their phones in any of the participating roam-further countries as you would in the UK.
Before? Vodafone offered 100 minutes to call abroad for £3 a month on their Pay Monthly Plan. Vodafone's EuroTraveller pass gave customers full access to their usual minutes, texts, and data allowance but used to cost £3 a day!
Three:
Three's "Feel At Home" incentive is offered to pay monthly and pay as you go customers, offering free roaming in 60 countries. The catch is that if you have All-You-Can-Eat data only up to 12GB of data, 5000 texts, and 3000 minutes are included in the incentive for no extra charge, but this is still quite a lot!
Before? Three had an Add International Saver Add-On which offered 3000 minutes monthly before there were additional fees. For £5 a day, they also offered a Euro Internet Pass which gave customers all you can eat data…a pretty hefty sum we'd say!
O2:
O2 now offers free roaming to countries within its Europe Zone. The Europe Zone applies to pay monthly customers and pay as you go customers (excluding those from Guernsey, the Isle of Man, Jersey, Monaco, and Switzerland). Be careful, however, it is only valid for periodic travel (like holidays or short breaks) in their Europe Zone, otherwise you may be charged. You have been warned!…
Before? As part of their O2 Travel initiative, O2 gave customers full use of their UK plan for £1.99 for each day of usage.
EE:
EE will offer all customers on contracts free roaming in 48 destinations across Europe. A maximum of 15GB of data can be used while roaming, after which you'll need to buy a data add-on.
Before? If you were on an EE extra plan, you will have already received unlimited calls and texts when travelling in Europe, but customers needed to purchase a Euro Data pass to get roaming on travels, priced at a substantial £3 a day.
Although 'roam like at home' will only effect EU member states, some operators have announced that they will include other countries in the new change. If you're not from EU states, fear not! Below is a list of just a few of the companies throughout Europe that have also made roaming changes for their customers, so that travelling to another country can now be made a little easier and cheaper when using your mobile device. 
Spain:
As of June 15, Telefonica's Movistar announced that it will put an end to the roaming surcharges for all its tariffs across Europe. This means that all clients with a contract or prepaid plan will have the same tariffs as they do in Spain when traveling around the EU, Iceland, Norway or Leichtenstein.
Belgium:
Four days prior to this new measure, Orange Belgium customers were able to use their call minutes, mobile data volume, and SMS when roaming just as they would in Belgium when traveling in the EU, Norway, Iceland, Leichtenstein, and 8 other destinations. The change was implemented automatically.  
Italy:
Wind, a popular mobile phone company in Italy, began offering 'roam like at home' in the EU on April 24th, nearly two months before the new roaming rules came into effect. Wind became the first operator in Italy to end surcharges for all customers travelling throughout the EU. 
France:
SFR mobile phone company in France abolished roaming fees the same day that roam like at home went into effect. One difference with this company is that they have included Switzerland in the roaming zone for people on unlimited packages, a destination that is not included in the majority of mobile phone companies' new plans. Other French companies Free, Orange, Telecom, and Bouygues have also dropped roaming charges this year. 
Germany:
Base and Deutsche Telekom in Germany are also on the list of companies that have recently decided to change the way they charge roaming services to their customers when travelling within the EU. These two mobile phone carriers also dropped roaming charges last week, so customers can treat their holidays like they're using their phones in Germany. 
For more information on individual plans/phone companies and for a complete list of countries included in the free roaming plans for each mobile carrier, please visit their individual websites.