Possibly one of Barcelona's best loved qualities is its cultural richness and fascinating assortment of museums covering a plethora of interests. From history, architecture, sports, science, it is also a popular destination for art admirers thanks to its several art museums ranging from renowned artists like Picasso and Dali to modern and revolutionary artists.
Calling all avid museum lovers who are aiming to enjoy the Catalan capital on a budget, many museums in Barcelona open their doors to the public for free on the first Sunday of every month, or every Sunday afternoon. The MNAC, CCCB and the Picasso Museum are amongst those that kindly offer free admission to the public, meaning that you can save the pennies for exploring the city further. Read on, for an extensive guide to Barcelona's best free museums where you can enjoy entrance gratis on certain days of the month.
MNAC: Museu Nacional d'Art de Catalunya
The silhouette of the stunning neo-baroque MNAC, stood on the northern flank of the Montjuïc Hill, can be seen and admired from across the city. Originally, it was built in 1929 and used as the main pavilion for the World Exhibition, and was later restored in 2005.
This museum offers an enchanting artistic journey from the best Romanesque mural paintings in the world to Gothic, Modern and 20th-century art. The extraordinary Romanesque frescoes are certainly an outstanding feature of the collection, thanks to them being the most important concentration of early medieval art in the world. The collection consists of 21 frescoes, woodcarvings and painted altar frontals, all of which were rescued from neglected country churches in northern Catalonia in the early 20th century.
The museum's vast collection of work also includes that of the most representative artists of Catalan modernism, namely Gaudí and Casas, as well as great European renaissance and Baroque Painters such as Tiziano and Velázquez. However, the work on display accounts for a mere 20% of its holdings with the rest kept in storerooms. This can be accessed by calling ahead in advance to arrange  a guided tour of the museum.
Palau Nacional, Parc de Montjuïc
Free: Every Saturday from 3pm onwards/ First Sunday of each month
MUHBA: Museu d'Història de Barcelona
This fascinating free museum in Barcelona exhibits the historical heritage of Barcelona from its origins in Roman times to present day. It consists of 13 individual sights, stretching from the Plaça del Rei to the cathedral, most of them archaeological sites displaying the remains of the ancient Roman city, Barcino. This area was initially discovered by chance in the late 1920s during the construction of the well known avenue, Via Laietana.
The museum's headquarters are located on Plaça del Rei, in the Gothic Quarter. Here, you can witness and understand Roman Barcelona's urban structure and gain a further insight into commercial life of the city, its craft production and everyday life of Barcelona's first Christian community. It also includes the buildings that make up Palau Reial, which were key sights in the expansion of Barcelona in medieval times.
Plaça del Rei
Free: Every Sunday from 3pm onwards/ First Sunday of each month
Museu d'Història de Catalunya
The perfect choice for those wanting to d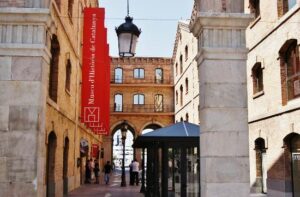 elve deeper into the history of Catalonia and be transported on a journey through time. It offers a virtual chronology of the region's past, spanning an era from the Lower Paleolithic era (the early Stone Age) right up to Jordi Pujol's proclamation as President of the Generalitat in 1980.
Enjoy an entertaining exploration of 2000 years of Catalan history, all squeezed into only two floors, with various artefacts, models, dioramas and documents of everything from a medieval shoemaker's shop to a 1960s bar. There are plenty of interactive exhibits that'll keep the kids occupied for hours as they put themselves to the challenge of trying to lift a knight's armour or irrigating lettuces with a Moorish water wheel. As you exit, visitors walk over a huge 3-D map of Catalonia, absolutely mind-blowing!
In addition to the permanent exhibitions, the museum also hosts several temporary exhibitions throughout the year. They generally tend to focus more on recent Catalan history such as events in regional politics.
After an exhausting few hours on your feet, make your way over to 1881 Per Sagardi, a hidden gem perched atop the museum. A seat on the terrace rewards you with a unique and privileged view of the city and marina, as you enjoy a well deserved glass of wine.
Palau de Mar, Plaça de Pau Vila, 3
Free: first Sunday of the month.
Museu Picasso
Boasting one of the most comprehensive collections of artworks by Picasso, it plays a significant role in understanding the vital formative years of the 20th-century Spanish artist. It is home to over 4000 pieces of Picasso's artwork which are housed in five adjoining palaces in Barcelona's La Ribera, two of which are specifically devoted to temporary exhibitions.
The museum initially opened in 1963, making it the first museum dedicated solely to Picasso's artwork and the only one to exist during the artist's life. The Government of Catalonia has since declared it as a museum of national interest, suggesting it is well worth adding to your Barcelona bucket list.
The collection reveals Picasso's deep and intimate relationship with Barcelona, a relationship that was shaped in his youth and continued to strengthen until his death in 1973. Significant pieces that can be distinguished from the collection include two of his first major works, 'The First Communion' (1896) and 'Science and Charity' (1897). The museum also houses an important representation of works from 1917 and onwards, specifically 'Las Meninas' (1957) as well as an extensive print collection.
Carrer Montcada, 15-23
Free: Every Sunday from 3pm onwards/ First Sunday of each month
Centre de Cultura Contemporània de Barcelona (CCCB)
Another fabulous free museum in Barcelona is Spain's largest cultural centre, the CCCB, which is also one of the most visited exhibition and arts centres in the city. Situated in El Raval, the centre's core theme is the city, urban culture and other issues that define current affairs. It primarily focuses its efforts on creative research and the production of knowledge through a series of exhibitions, live events, international debates, festivals, concerts, courses, lectures- the list goes on!
Check out their website to find out about current exhibitions that are being hosted at the CCCB.
Carrer de Montalegre, 5
Free: Every Sunday from 3pm to 8pm
Palau Robert
Located on Barcelona's famous avenue, Passeig de Gràcia, is the former private residence of Robert Robert i Surís, an influential aristocrat, financier and politician. This neoclassical style building was originally built between 1898 and 1903, and nowadays is a government-run institution with an exhibition space consisting of a concert hall, the city's tourism bureau and a bookshop. There is also a public garden out back where you can enjoy some peace and quiet.
Passeig de Gràcia, 107
Free: Always