Whether you're living here or on holiday in Barcelona, the city has many great places to get active, especially for those who like to stretch their legs. However if you're not careful, you'll end up running in areas that are too populated and full of pedestrians. Here we give you the best areas to jog in and around the city.
Port Olympic & Beach Front
The Port Olympic area was regenerated in 1992 for the Olympic games. Port Olympic is a great area to run whilst keeping your eyes busy on all the architecture and boats that are parked in the port.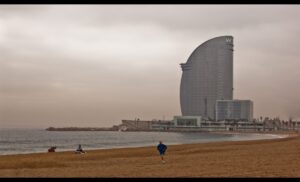 Furthermore, you can run along the Barceloneta 4.2km beachfront. Running by the sea in the summer can be a great experience as the wind from the sea current will cool you down. We recommend you make it to the coast in time for sunrise, as you're guaranteed a spectacular view.
Montjuïc
If you're up for more of a challenge, head to the more hilly area of Montjuïc. Starting at Plaça d'Espanya, there are pathways to follow that go up and down Montjuïc hill.
You can test yourself to see if you can make it up to the top near Montjuïc Castle. Routes close to Montjuïc will mean that you won't be fighting traffic and pedestrians, but this area is definitely for the more experienced runners. You can also head to the Montjuïc Olympic stadium and pay 3€ to run round the running track.
La Carretera de les Aigües & Tibidabo
To get away from the hustle and bustle of the city centre of Barcelona, head to La La Carretera de les Aigües, a long dirt road along the hills behind Barcelona. A favorite for most local runners and cyclists, you will see great views of the city whilst running along the track. You can get there by taking S1 or S2 Lines from Plaça Catalunya FGC station.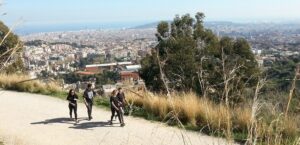 Close to Carretera de les Aigües is Tibidabo Montain. Running up to the top of Tibidabo can be another great experience. A tough uphill run is guaranteed, but it makes for a different and more peaceful experience of running through the trees rather than the city's roads. At the weekends you are likely to see many locals running through this route.
Running Tours
If you want to join a group of runners and see the most of Barcelona, you can join a running tour like Running Tours Barcelona. They offer a private tour of Barcelona's biggest sights from a runners perspective.