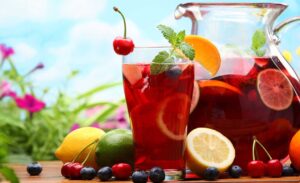 Wondering where in Barcelona you can sample a typical glass of Sangria? Our handy guide below will help you discover the best Sangria bars in Barcelona and will teach you how to prepare this famous Spanish drink in just 3 simple steps.
Sangria is a traditional beverage from Spain and Portugal consisting of wine, chopped fruit, sweetener, liquor and lemonade. Traditional Sangria is of a dark red colour as it contains red wine. In fact, its name derives from the Spanish word for "bleeding" due to its blood-like colour – but don't let that put you off!
There are many ways to make an authentic glass of Sangria, with plenty of variations across Spain and Portugal. Typically, a great jug of Sangria will include the following ingredients:
A bottle of red wine
A similar quantity (or slightly less) of a lemonade drink such as Sprite or 7up
A glass of liquor such as brandy
A peach
An apple
An orange
5-10 ounces of sugar
A little cinnamon to add some spice
How to make Sangria in 3 simple steps
Pour the lemonade into the jug, followed by the wine and liquor, and add lots of ice.
Add the sugar and cinnamon to taste (it's supposed to be sweet!)
Add the chopped fresh fruit and a little more ice if necessary.
…and there you have it, a delicious jug of Sangria ready to be chilled or served straight away.
If you're coming to Barcelona and hoping to taste some Sangria in the city, take a look at these 4 fantastic bars renowned for their delicious, home-made Sangria.
4 Top Sangria bars in Barcelona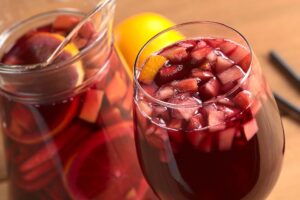 1. Bar Celoneta Sangria Bar
Located in the Barceloneta neighbourhood of the city, hence its name, this quirky Sangria bar is one of a kind in Barcelona. Situated just steps from the beach, Sangria is their speciality, making it the perfect drink on a hot summer's day. Choose from a wide selection of red, pink and white Sangrias blended with quality spirits and spices.
Address: Carrer de Sevilla, 70, 08003
Nearest Metro: Barceloneta (L4 yellow line)
2. Los Caracoles
This cosy bar in Barcelona's Old Town is renowned for its roast chicken and of course its Sangria. With warm hospitality and great food guaranteed, Los Caracoles is the ultimate place to try your first glass of Sangria in Barcelona. They've even seen a few famous faces through their doors over the years, including Robert De Niro and Bon Jovi!
Address: Carrer dels Escudellers, 14 08002
Nearest Metro: Drassanes (L3 green line)
3. Arcano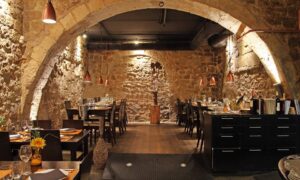 This cave-like restaurant is hidden away within Gothic Quarter and is highly rated for its Mediterranean cuisine. They also serve up some of the best Sangria in Barcelona, offering both the traditional red (tinto) Sangria and a special Cava Sangria.
Address: Carrer dels Mercaders, 10, 08003
Jaume I (L4 yellow line)

4. L'Ovella Negra
This German-style biergarten bar generally attracts a young crowd but is a great place to sample some Sangria in Barcelona. Located near Las Ramblas, deep within the winding streets of El Raval, L'Ovella Negra sells a massive 5 litres of Sangria for around 30€, perfect for a large group of friends.
Address: Carrer de les Sitges, 5 08001
Nearest Metro: Catalunya (L1 red line or L3 green line)