Whether you've had your fill of art or history museums in Barcelona, or are simply looking for something on the quirky-side, then your next move should be to visit one of these eight unusual spots. Barcelona has more to offer than just the popular, tourist-filled museums everyone knows all too well. Change it up and try something out of the ordinary like a sweet trip to the chocolate museum or a hands-on experience at the museum of ideas and inventions.
1. Museu del Perfum
The Museu del Perfum allows you to step into the past to see a timeline of perfume bottles. The museum displays bottles from around the world throughout past eras, so each bottle has a story to tell. Although the Perfume Museum in Barcelona has only been open since the 1960s, its collection includes bottles dating back from Mesopotamia, Roman and Egyptian times.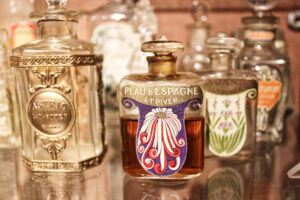 The museum's intention in displaying these ancient bottles is to show how they have evolved over time. There are at least five thousand vintage and modern perfume flasks to see in this museum. The perfume gallery showcases brands like Atelier Cologne, Tom Ford, Amouage, Kilian, and Byredo. As the only perfume museum in all of Spain, the Museu del Perfum is absolutely unique.
General admission approx: 5 Euro
Passeig de Gràcia, nº 39
Metro: L2, L3, L4 Passeig de Gràcia
2. Museu de la Xocolata
This museum is almost like your regular history or art museum, the only main difference is that the history and art is about chocolate. There is so much more to chocolate than we think and to learn about this delectable treat's past, take a stroll down to the Museu de la Xocolata. Besides going for the chocolate bar used as your entry ticket, in this museum you'll discover the mysterious stories behind what you are about to consume.
Find o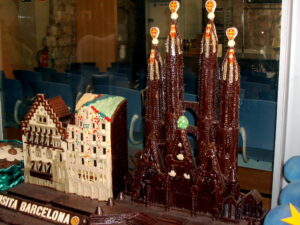 ut about the origins of chocolate and how this sweet made its way into Europe, how chocolate has been used throughout the years, such as for medical purposes, and other traditions that different cultures have used it for. The Museu de la Xocolata is a good day out for all the family, especially those travelling with young children.
General admission approx: 6 Euro
Carrer del Comerç, 36
Metro: L1 Arc de Triomf
3. Museum of Ideas and Inventions
Enter a world of inspiration and possibilities at the Museum of Ideas and Inventions of Barcelona. This is a place where creativity and imagination is strongly encouraged. The museum not only displays quirky, unheard of inventions, but also the building in itself is an adventure filled with interesting items. There is a large slide inside, a room to hear your echo, a glass entrance which simulates walking on air and so much more. This is a Barcelona museum for those who have inner  inventor ambitions but it can be fun for anyone.
General admission approx: 8 Euro
Carrer de la Ciutat, 7
Metro: L4 Jaume I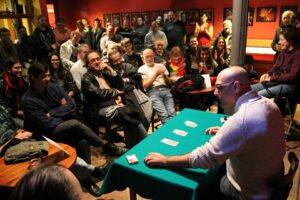 4. El Museu del Rei de la Màgia
One other extraordinary museum to visit is the Museu del Rei de la Màgia. Its name means "The Museum of the King of Magic." Its purpose is to educate the public about the evolution of magic and its presence in Spain by taking a look back into history. The exhibits include antique objects along with some old-fashioned tricks, books, posters, drawings and pictures of past famous magicians.
Visit the museum to reveal how magic tricks are performed and maybe even take a guided tour, workshop or a course that the space has to offer. After reading up on what the "magical" objects are used for, listen in on a lecture and stage display of tricks and magic shows.
General admission approx: 16 Euro
Jonqueres, 15
Metro: L1 and L4 stop Urquinaona
5. Museu de Cera

A wax museum is always something different to try out, but the Museu de Cera in Barcelona is particularly interesting. Catch a glimpse of some of the most important Spanish and Catalan figures over time, as well as some contemporary famous faces among the 360 waxworks. They're placed in different surroundings and projections to match their person alongside video and audio effects. The Museu de Cera in Barcelona also has a cool bar next door, completely decked out like a scene from a fairytale, waterfalls and all. Don't miss a trip to El Bosc de les Fades Café if you head to this museum!
General admission approx: 15 Euro
Passatge de la Banca, 7
Metro: L3 Drassanes
6. Museu de L'Eròtica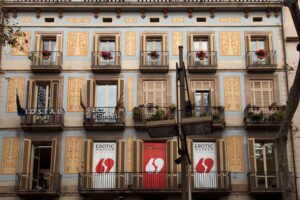 Perhaps one museum that many people are not so familiar with is the Museu de L'Eròtica in Barcelona. This space can be easily spotted on La Rambla thanks to its Marilyn Monroe figurine dancing on one of the top floor balconies. In there, you can find in depth background information about eroticism and how it has evolved overtime.
 Some examples of what you can expect to see in this bizarre Barcelona museum are erotic art pieces, information on origins of Spanish pornographic cinema and over 800 more works.
General admission approx: 9 Euro
La Rambla 96
Metro: L3 Liceu or L1 Plaça Catalunya
7. Museu Moto
Only a couple of minutes and glances is all it takes to realize that Barcelona is home to a very large number of motor cyclists! For this reason, it was only appropriate to establish a motorcycle museum in the city. The exhibits in this unique museum delve into the world of motorcycling in much detail, and visitors can enjoy lectures, meetings, presentations, activities and even a store.
General admission approx: 9 Euros
Carrer de la Palla, 10
Metro: L3 Licieu or L4 Jaume I
8. Museum of Funeral Carriages
Finally, one last unusual museum is one that showcases something that is a bit stranger than what has been previously mentioned: funeral carriages. It is a museum renowned for displaying some of the finest antique funeral carriages and hearses in the world. The collection began in the 70s and is now composed of 19 original horse-drawn hearses, accompanying cars and motor hearses. The exhibits are key in learning how Europeans moved their deceased to the burial sites in times gone by. What's more – it's free!
General admission: Free
Mare de Déu de Port, 56-58 (Inside Montjuïc Cemetery)
Bus: L21
Exit 13 Ronda Litoral