La Molina Ski Resort
La Molina is a popular Catalan ski resort located in the beautiful Pyrenees mountains of Northeastern Spain, close to Barcelona. La Molina has something to offer for everyone on the slopes, whether you're an experienced skiier or aspire to become one. The resort has a reputation of being one of the sunniest skiing areas in Europe, meaning you can experience the very best of sun and snow at the same time.
La Molina boasts 54 ski slopes covering a total of 61km, suitable for all levels. There is even a large snowpark with the biggest superpipe in the Pyrenees. If you're not a skiier or a snowboarder, there are other winter activities on hand too, such as tubing and snow segways. Find out more info about the resort itself on the La Molina website.
Summer Activities
During the winter you can let rip with traditional snow activities such as skiing, snowboarding and snowmobiling, but don't worry if the white stuff isn't really your thing; La Molina is full of life in the summer months too. Maybe you would like to try your hand at caving, paragliding or even horse-back riding? Bring along the family and try out their treetop adventure circuit with zip lines, bridges, Tarzan jumps and more; get competitive on the laser tag combat field or settle for a game of family-friendly bowling. There are a number of activities to suit everyone at La Molina, making it the perfect place to disconnect and have some fun in the great outdoors.
Events at La Molina

La Molina hosts many snow-related events, such as the IPC Para-Snowboard World Championships from 23rd – 28th February 2015. This is the biggest gathering of para-snowboarders since the Sochi 2014 Winter Olympics with around 80 athletes from 20 different countries expected to compete in the games.
Distance from Barcelona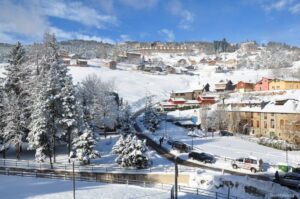 Situated along the border of France and Spain, La Molina is located in the heart of the Pyrenees and is one of the nearest ski resorts to Barcelona. Getting to the resort from Barcelona is easy:
By car: La Molina is approximately 150km and about 2 hours north of Barcelona by car.
By Train: The Tren Blanc (white train) from Plaça Catalunya is another way to reach the popular ski resort. The train operates from December to early April and costs approximately 41€ for adults and 31€ for children. You can buy your Tren Blanc ticket at any Renfe/Rodalies railway stations, including Plaça Catalunya. Visit the Rodalies website for more info.
By Bus: Barcelona Turisme recently launched the La Molina SkiBus. This bus departs Gran Via de Les Corts Catalanes, 724 in Barcelona at 6:30am and returns from La Molina at 4pm, ensuring you have a full day on the slopes!
One day ski packs are available for purchase on their website. This ski pack includes return bus travel from Barcelona to La Molina; Ski Pass entrance to the resort; skiing insurance and finally an experienced travel guide on board the bus – all for just 38€!
Snow Accommodation
If you're considering a trip to La Molina, why not rent an authentic ski-style cabin in the mountains? Apartment Barcelona has a variety of apartments available in the Pyrenees, able to accommodate anything from couples or families to small groups of up to 9 people. Put your feet up after a long day on the slopes and rent a cozy apartment in the heart of the Pyrenees.
If La Molina doesn't sound like the right resort for you, take a look at other ski resorts near Barcelona.