Last updated: November 2017
Barcelona is home to some of the finest Mediterranean, Spanish and Catalan cuisine around. Whether you're a fine dining connoisseur, or you're simply looking to treat yourself on your travels, we've hunted down 11 of the finest restaurants in Barcelona – and there's something for everyone!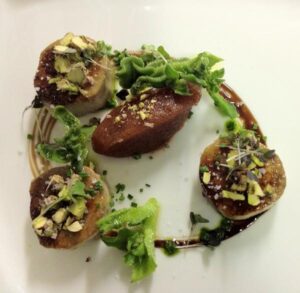 1 Restaurant Montiel
C/ Flassaders, 19
Located in El Born, this cozy and romantic restaurant combines fine dining with art and wine. Not to be missed during your stay in Barcelona, Montiel serve some of the best Mediterranean and Spanish cuisine in the country. They were even featured in the Travellers' Choice Top 10 Restaurants in Spain 2014 on Tripadvisor.
Tip: Their chef's tasting menu consists of 7 exquisite dishes that change weekly. They'll even cater for any allergies you might have!
2 Alkimia
C/ de la Indústria, 79
Founded in 2002, this Spanish restaurant is highly regarded as one of the finest eateries in Barcelona. Located just a few minutes from Sagrada Família, you are guaranteed to sample some delicious Spanish cuisine at Alkimia. Michelin star chef Jordi Vilà, who likes to add a contemporary twist to traditional Catalan cuisine, takes a lot of pride in his restaurant. Be sure to dress smart for this one.
Tip: Dine for 50€ pp on Wednesday's with their Menú del Miércoles.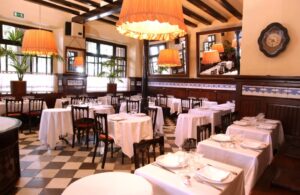 3 7 Portes
Passeig Isabel II, 14 
This elegant Barceloneta restaurant has been around since 1836 serving up some of the finest paella and seafood in the city. 7 Portes' food represents Catalonia cuisine to the highest of standards, preparing every dish with the finest natural and seasonal products. If you're looking for a traditional Catalan meal with a modern twist, this is the place for you.
Tip: Try the traditional paella with a Catalan twist! 
4 Con Gracia
C/ de Martínez de la Rosa, 8
Con Gracia is a small restaurant bursting with elegance and grace. Home to some of the finest Mediterranean cuisine in Barcelona, this intimate restaurant has a surprising oriental vibe. Chef Paul Treacy offers guests two carefully selected tasting menus, based on traditional Mediterranean tastes with a unique Asian fusion. The service here is renowned for being over and above, too!
Tip: Try their tasting menu for a complimentary glass of wine with each dish.
For a friendly atmosphere on your fine dining experience, head to Big Fish in El Born and enjoy a wonderful combination of Japanese and Mediterranean cuisine. Their seafood is bought fresh every day from the harbours in Barcelona. Situated just steps from Ciutadella Park, this is a fresh fine dining in Barcelona experience is not to be missed.
Tip: Sample some sushi from their Japanese-style sushi bar.
6 Botafumeiro
C/ Gran de Gràcia, 81
Botafumiero has something for everyone, literally. This classy seafood restaurant is divided into several rooms suitable for families, business meetings, couples and more! Since it was founded in 1975, Botafumiero has built up a reputation of preparing some of the finest and freshest seafood around, not to mention the attentive staff and the elegant environment. Seafood lovers won't want to miss this fine dining in Barcelona experience.
Tip: If you're feeling adventurous, try their Galician Octopus! 
7  La Forquilla
C/ de Pere IV, 210
Since opening its doors to the neighbourhood of Poblenou in 2014, La Forquilla soon became one of the most highly regarded restaurants in Barcelona. This fine dining gem represents the very best of Spanish cuisine. Chef Vidal Gravalosa claims his secret is finding the finest seasonal produce around!
Each and every dish is tastefully presented and they have a nice selection of wines, too.
Tip: Try their sensations menu for just 28€
8 ABaC Restaurant
Avinguda del Tibidabo, 1
Previously located on Carrer del Rec, ABaC relocated to Av. Tibidabo back in 2008. This Michelin star restaurant is perfect for those looking for an unforgettable Mediterranean fine dining experience in Barcelona. Chef Jordi Cruz defines his cuisine as "evolutionary and restless, based on the product and where creativity and tradition are merged!" ABaC was also featured in Tripadvisor's Travellers' Choice Top 10 Restaurants in Spain 2014. Each dish is wonderfully different from the last, with a creative and unique Mediterranean taste ready to tickle your taste buds.
Tip: Reserve a few months in advance to guarantee a table!
The perfect place for a private and exclusive fine dining experience, Spoonik really is a truly unique gem. Located within a refurbished house in Plaça Lesseps, the setting is theatrical and the food is simply exquisite. The eight dishes on the menu change weekly and are paired with a complimentary glass of wine. But don't forget you reserve your place beforehand!
Tip: Arrive early to enjoy a complimentary glass of Cava in the Spoonik garden.
10 La Pepita
C/ de Còrsega, 343
Located between Eixample and Gràcia, La Pepita combines the very best of original tapas and fine dining in Barcelona. Since its establishment in 2011, just a few years ago, La Pepita is already regarded as one of the finest tapas joints in Barcelona. The atmosphere is lively and the staff are very attentive. They also specialise in local, homemade drinks including gin and vermouth.
Tip: Be prepared to wait in line for a table as this place can get quite busy and they don't take reservations – but it's worth it!
11 Tickets
Avinguda del Paral·lel, 164

Perhaps one of the most famous restaurants in Barcelona, Tickets was formed by the the Adrià brothers after their huge success with the infamous El Bulli. The restaurant has somewhat of a 1950's Broadway feel about it, combined with the very best of Catalonia. Tickets is one of the finest tapas bars in Barcelona, so reserve online a few months before your trip to ensure a table.
Tip: After dinner head to the Tickets cocktail bar, 41, and end your evening in style! 
Do you have a Barcelona fine dining experience that you'd like to share? Let us know in the comments below!