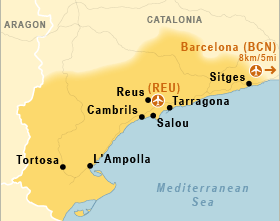 Last Updated: November 2017
Whilst Barcelona's beaches can't be beaten for convenience, the Catalan coastline wins hands down on every other detail. Going north towards France you'll find the picturesque Costa Brava, with its popular beach towns such as Tossa de Mar, Lloret de Mar, Begur and Cadaquès. Its coastline is characterised by rocky coves and deep crystalline waters.
South of Barcelona is the Costa Dorada, the "golden coast", which has earned its name for its many kilometers of soft, golden sand. If you're considering a day trip or weekend break on the Costa Dorada or even a holiday,  read on for a few of our favourite spots.
Relax on the beaches of L'Ampolla
This beach resort on the Costa Dorada is in the province of Tarragona, and close to the Ebra river. The town centre's artisan shops, enticing cafés, and great seafood restaurants all add to L'Ampolla's unique charm.
However, it's the beaches that really make this a popular destination on the Costa Dorada. Its sandy beaches with shallow water are ideal for children, and its rocky coves surrounded by red cliffs are perfect for those who want to get away from the crowds.
You can also visit the Olles Lagoon, which covers 54 hectares and is the smallest lagoon of the Ebro Delta National Park. Follow the "birds and rice route", and discover its fascinating wildlife and ecosystem.
Reus: wineries and historic town centre
Located 120km away from Barcelona and in the province of Tarragona, Reus has three main claims to fame. It's the city that gave birth to Modernist architect Gaudí; it's  an important centre for wine production and has many surrounding vineyards; and there's a RyanAir airport.
There are several Modernist buildings to visit when on a break in Costa Dorada's Reus, although none by Gaudí. However, there is a "Gaudí Centre" where you can find out more about his life and works.
Reus is known as the "shopping centre of the Costa Dorada", so you'll find all the high street brands as well as plenty of independent boutiques and shops selling local crafts and products.
A great time to visit would be at the beginning of  June for the Reus Viu el Vin wine festival. Local wines will be sampled and celebrated, and winery tours offer deeper insights into the local production. The old town of Reus is full of historic buildings, pretty squares, and typical restaurants.
Cambrils: Seaside fun and Tapas Festival
The seaside town of Cambrils dates back to before the Romans, and has seen countless invasions from the conflicting armies that have staked their claim on the Iberian Peninsula. Its potential as a holiday resort on the Costa Dorada has been steadily developed since the 1960s, although it retains a quieter ambience than the nearby town of Salou.
Cambrils is well known for its sports tourism. You can find all sorts of water sports here, from kitesurfing to sailing and waterskiing. It is a well known centre for cycling in the Costa Dorada, with excellent facilities and routes.
If you're planning a trip to the Costa Dorada in June, look out for the Cambrils Ruta de la Tapa gastronomical festival that add a sparkle to the towns's streets, bars and restaurants. Sample all the local specialties and enjoy the live music and performances that accompany this unique event!
Salou and Port Aventura theme park
The beaches of Salou tend to take second place to the nearby Port Aventura theme park; its sheer opulence and large-scale fun factor makes this one of the top attractions in Catalunya, receiving more that 3.5 million annual visitors. Port Aventura has everything from towering roller coasters and gravity defying rides to imaginative and entertaining installations for the younger kids. There's also the huge Port Aventura Aquatic Park with fast and furious water rides and gentler options that will delight all the family.
Salou's summer cultural agenda has a different appeal, with open air concerts, Catalan "sardana" dances, street art, markets, and other special events. Every Monday there is a weekly market with over 100 stalls where you can find souvenirs, clothes, accessories, and much more.
There is a cultural route in Salou that passes by the town's main monuments and sights. These include several panoramic views of the sea, the Font Lluminosa fountains, and local church Santa María del Mar.
From Roman Tarragona to a contemporary city
In Roman times, Tarragona was the capital of their Iberian empire, and the city's infrastructure is still heavily influenced by the remains of this ancient civilization. A large amphitheatre overlooks the Mediterranean Sea, fragments of the Roman walls offer spectacular views, and Roman columns provide an intriguing backdrop to many café terraces.
Tarragona's National Archaeological Museum is definitely worth visiting, its rich collection of artifacts include spectacular mosaics, statues, and maritime curiosities.
Its beaches are wide and welcoming, attracting sun-seekers and water-sports enthusiasts throughout the warm summer months. If you're travelling with kids check out the Tarragona Minipop Festival in June, which has a varied line-up of live music for kids and adults.
The best way explore this unique coast would be to rent an apartment on the Costa Dorada and use this as your base for visiting its towns and beaches. Pack your swimsuit and shades, and discover another corner of Spain! Apartment Barcelona offers a range of holiday rental apartments in the Costa Dorada. Visit www.apartmentbarcelona.com for more information.