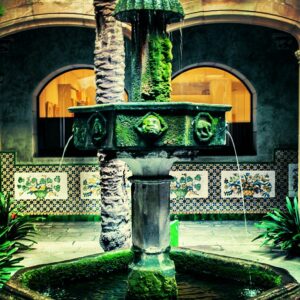 Last updated: November 2017
Plaça de Catalunya. Plaça Reial. Plaça Sant Jaume. Barcelona has some truly iconic squares that are timeless classics amongst visitors to the city. But what about the lesser known corners of the Catalan capital? The more humble squares, the hidden enclaves tucked away from it all where those in the know go for a chill out, a cool beer, a read or a gossip? Shall we spill the beans? Oh, go on then! Take a sneaky peek at a few of our favorite secret squares in Barcelona and live like a local during your stay in the city!
1. Plaça de la Vila de Gràcia
Located in the village-like neighborhood of Gràcia, lively Plaça de la Vila de Gràcia (once known as Plaça Rius i Taulet) is a firm favorite amongst locals in the area and is more often than not brimming with families and friends who've taken over the peripheral bars. Getting a table here is no easy feat, but well worth waiting for as there is some great tapas up for grabs here, as well as some delicious ice creams! The beautiful town hall and curious clock tower give this Barcelona square an added charm and there is a constant vibrancy about the place. A perfect plaza for sampling some local culture!
Metro: Diagonal / Fontana L3
2. Plaça de la Barceloneta
Having fought your way through the hoards that take over the beachfront of Barcelona, you may find yourself in need of something a little more serene. Slap-bang in the middle of the old fisherman's quarter, although surprisingly untraversed by tourists, is rustic Plaça de la Barceloneta. With its old Baroque church and cool tapas bars this pretty little Barcelona square is a great place to stop off after a day on the beach and unwind with some local chilled wine and delicious seafood.
Metro: Barceloneta L4
3. Plaça dels Traginers
Hidden away in the labyrinth that is El Barri Gòtic, teeny Plaça dels Traginers is a welcome delight for those lucky enough to stumble upon it. This mini, secret square in Barcelona (although its square shape is indeed debatable) sits below impressive ancient Roman walls and no doubt has many a tale to tell. The cute, bohemian cafés surrounding it are ideal for refueling and great for kicking back and watching the world go by. Watch out for musicians and painters flooding the square with their talents on Saturdays.
Metro: Jaume I L4
4. Plaça de la Concordia
Away from the city center in the neighborhood of Les Corts lies Plaça de la Concordia. Despite the surrounding modern architecture, this pretty Barcelona square retains its traditional character and is very popular with locals. There are a host of great bars and cafés located here offering drinks and nibbles and its proximity to the Nou Camp makes it a great option pre or post match.
Metro: Les Corts L3
5. Plaça de Sant Pere
Drenched in history, this fascinating, secret square in Barcelona played an important role in Medieval Barcelona. The church of Sant Pere, located here, seems frozen in time and paints a vivid picture of how life must have been in the city 700 years ago. Stumbling upon Plaça de Sant Pere is one of the most exciting parts of discovering the ancient neighborhood of La Ribera and is a perfect example of the ever-changing faces of Barcelona.
Metro: Arc de Triomf L1
6. Courtyard at the Casa de l'Ardiaca

This one is a little different to those above, but definitely worth mentioning. The courtyard at the Casa de l'Ardiaca in Barcelona's Gothic Quarter is a beautiful place to explore. The entrance to this secret square lies on Carrer de Santa Llúcia, on the opposite side of Plaça Nova, by the Barcelona Cathedral. Making your way into the 'Archdeacon's house', you'll find a whole host of interesting archaeological remains and a tranquil square in true Renaissance style. The house itself is built against an ancient Roman wall.
On the day of Corpus Christi in June the fountain in the square impressively supports l'ou com balla, or 'the dancing egg,' a Barcelona tradition in which eggs are bounced and bobbed in the water of different fountains across the city.
Don't miss the letter box designed by architect Lluis Domenech i Montaner in 1902. The birds on this Modernist feature of the square are said to show the lofty flight to the heights of justice, but the turtle represents how slow the administrative system can be. It is said that if you place your hand on the stone animal's back it will bring you luck!
Metro: Jaume I L4
Lazy, vivacious, ancient and quirky, the secret squares of Barcelona are just waiting to open themselves up to you. So leave the obvious behind and get your discovery shoes on… you won't be disappointed with what you find!