Last Updated: November 2017
Flamenco and Paella. Two things synonymous with Spanish culture. Two things that Barcelona does exceedingly well. And what better way to spend an evening than with these quintessentially Spanish phenomena combined in a dinner and show extravaganza?  A night full of passionate music, invigorating dancing and tantalizing Spanish cuisine awaits you in the Catalan capital, promising an experience you'll never forget! Barcelona of course has its own Catalan traditions too, but for those of you wanting a true evening of Spanish culture you're sure in for a treat!
There are numerous flamenco and paella venues in Barcelona offering dinner and live performances, so follow our handy guide and you'll be in the know as to where to go for an authentic Spanish experience.
Tablao Flamenco Cordobés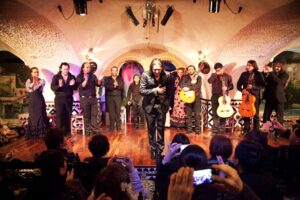 Located in the very heart of Barcelona, on the legendary Ramblas, the Tablao is well known as one of the main flamenco venues in the city. Designed in the style of the incredible Alhambra Palace of the Andalusian city of Granada, the Tablao is a great place to spend an evening admiring the flamenco art form.
The buffet-style dinning room has a delicious array of Spanish foods on offer, ranging from local fish and meats to mouthwatering paella, all of which are sure to get you in the mood for a Barcelona flamenco show! Performances take place in smaller room, guaranteeing an intimate, engaging experience.
La Rambla, 35.
El Patio Andaluz
This beautiful Barcelona flamenco venue, located in the Eixample area, is wonderfully decorated in the style of an Andalusian courtyard, with bright colors, flowers and mosaic tiles. This perfect setting really creates a fantastic ambiance and the shows come alive with this authentic backdrop. This is a great place to gain an insight into this energizing music and dance form as well as enjoy some classic Spanish cuisine. With special set menus including paella and sangria, you're certainly in for a memorable evening here!
C/ de Aribau, 242.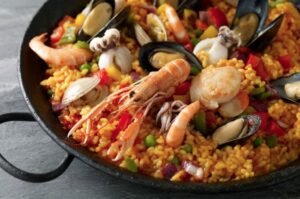 Barcelona Flamenco
Here you're in for a real Spanish treat – a paella cookery class with a private flamenco performance thrown in! This hands-on experience is fun, unique and fascinating, and the intimacy of such a special flamenco show really is an opportunity like no other. The perfect way to discover Spanish culture, this is a fantastic activity to enjoy with friends or family.
Nou de la Rambla, 42.
Many other places around the city have their own twist on a night of Barcelona food and flamenco.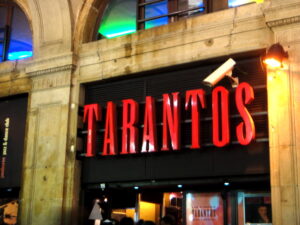 Los Tarantos in the spectacular Plaça Reial hosts short concerts lasting around 30 minutes. They're held three times a night, making this one an ideal option for a sharp kick of Spanish culture. And its location in this beautiful square couldn't be better for grabbing a bite to eat after.
Plaça Reial, 17
Tablao del Carmen, one of the most popular and renowned Barcelona flamenco venues in the city, is located in the wonderful Poble Espanyol, an open-air museum boasting reconstructions of typical, regional Spanish architecture. This is a great place to combine Spanish music and dance with gastronomy and history.
Avinguda de Francesc Ferrer i Guàrdia, 13.
Palacio del Flamencohas a real air of grandeur and is the place to
go if you're after a touch of glamour. This old fashioned style theater offers selected menus in combination with performances, and is a great place to come for that special something.
Carrer de Balmes, 139.
Pata Negra is the place to be if you're after top class tapas in Barcelona and the rustic ambiance of a colorful taverna. The range of food on offer is simply delicious and perfectly resembles the homely cuisine of the south.
Carrer de Càceres, 32.
With these lively locals you're sure in for a memorable experience and who knows, you may even be inspired to take up flamenco yourself!