When the air gets cold and smells like hazelnuts and the days are shorter, then you know that Christmas is coming to Barcelona! No matter if you are religious or not, no matter if you simply like going out and buying stuff (or you simply need to run away from the never-ending New Year's reunions, parties, meetings with relatives), Christmas fairs are there for your benefit. They are a part of the tradition of the city and something worth visiting.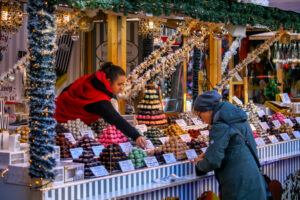 So, come take our hand, and let us show you the Top Five Christmas Fairs in Barcelona.
Port Vell Fair 
The first of our top five in Barcelona is also the newest. This market, located in Portal de la Pau, next to the statue of Christopher Columbus, is part of the 150th anniversary celebrations for Port Vell.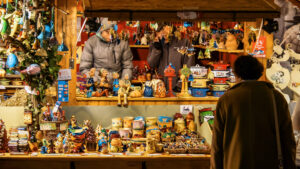 It has wooden stands, decorated with traditional Christmas tinsels which sell crafts and presents. For those who cannot stand the cold air without eating, there are lots of food trucks with traditional Spanish food.  
Shopping is not your thing? You do not need to worry! The market also has a stage and lots of musical and theatrical shows!  But none of these is yet the biggest surprise of our first choice, as you will see. What if I tell you that there is a 31-metre-high Christmas Tree and an amazing floating nativity scene? Make sure you don't miss this one, from early December to early January. 
Date: December 9th 2021 to January 6th 2022
Times. Various opening times
Location: Rambla de Mar by Port Vell harbour 
Fira de Santa Llúcia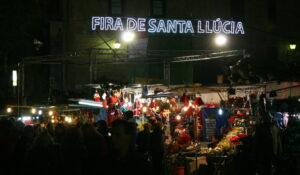 Second in our list is the famous Fira de Santa Llúcia, set next to Barcelona's Cathedral. 
It is a market with quite a long story which started in 1786 (wow!), and is the oldest Christmas fair in the country.  Santa Llucia is such a traditional place that it is always crowded and visited by thousands of tourists.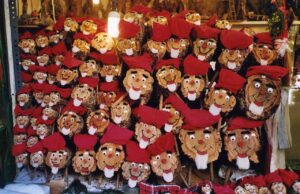 Santa Llucia Christmas Market is the best place to have a look at the most typical traditional Catalan Christmas traditions: the surprising Caga Tio and the Caganer. 
If you're someone who'd love to learn a little more about Catalan Christmas traditions, check out  our most recent blog on Christmas and Winter in Barcelona 2021-22. 
Date: November 26th to December 23th 2021
Times. 10am- 9:00pm
Location: Cathedral of Barcelona, Gothic Quarter 
Fira de Nadal Sagrada Familia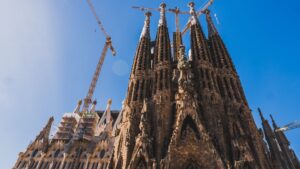 Who can be indifferent to art when standing in front of Barcelona's most famous artist Antonio Gaudi works? We guess no one. So, yes, considering its location, la Fira Sagrada Familia should be the top of our Top Five Christmas Markets in Barcelona. 
Created in 1962 as a prolongation of Santa Llucia's, this is nowadays the most traditional Christmas Market in the zone of the city known as Eixample. It is set in Sagrada Familia Square and divided in four sections where you can buy trees and plants, nativity scenes (pesebres), traditional figures, food, sweets, presents, crafts and even jewellery and clothes from the end of November to the end of December. 
Date: November 29 to December 23 2021
Times. 10 am- 10pm
Location: Plaça Sagrada Família, 08025 Barcelona
Fira dels Reis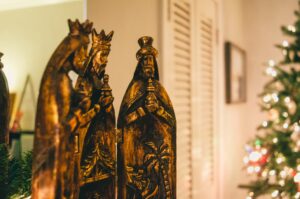 There was a time when Father Christmas was not even known in Spain and the Epiphany, or Three Kings Day, celebrated on the 6th of January, was the most important and traditional Christmas event in all the Hispanic world. Things have changed much since then, but yet, on the Epiphany Day Hispanic kids receive presents (if there is no tangible proof of misbehaviour) from the Three Wise Men from the East, who are thus as appreciated by the young ones as Santa. This makes the Three Kings Market one of our Top Five Christmas Markets in Barcelona, for sure. 
The market was created in 1877 as a toy market where the young Catalan kids could choose the gifts that they "ordered" later, in a well written and presented letter that the kings themselves read. Nowadays, the market's tinsels are located on both sideways of Gran Vía, one of the city's main avenues, where the dozens of chariots of the King's Parade greet and offer candies the thousands of local kids on January the 6th. 
Date: December 17th 2021 to January 6th 2022
Times. 10am- 10:00pm (Mondays- Fridays), 10:00am- 12:00am (Saturdays and Sundays)
Location: Gran Via de los Corts Catalanes 
Fira del Poble Espanyol
Poble Espanyol (Spanish Town) is an open-air architectural museum located in Montjuic, a few meters from the Magic Fountains. It is a museum that offers contemporary art, architecture, crafts and food. The enclosure is made up of 177 real-scale buildings from all Spain, and makes up a town with its streets, squares, houses, schools and shops. 
From the 6th to the 8th of December, Poble Espanyol celebrates the magic of Christmas with an incredible market which deserves to be one of our Top Five Christmas Markets. During those three days visitors will enjoy of tastes of wines and handcrafted beers, traditional Spanish food (paella, yeah!), live music and theatre, Christmas inspired films and Christmas Carols.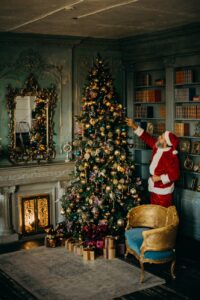 If you have got children, or like kids, or even if you feel like one yourself, Poble Español will be twice the fun! Poble Espanyol offers them a living nativity scene, storytellers, and a giant snowball where you can take crazy pictures! 
Of course, Santa Claus will visit Poble Español too, and more than once, and will personally receive all the children's letters. Don't miss the Forest of Desires, where you can hang your Christmas wishes even if you are too old (or too naughty) to receive presents from good old Santa Claus.
Date: December 6th to December 8th 2021
Times. 10am- 12am
Location: Av. Francesc Ferrer i Guàrdia, 13, 08038 Barcelona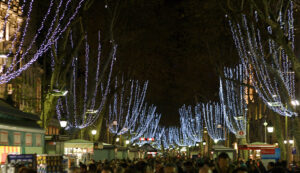 If shopping is definitely your thing, and you need a bit of guidance on the best places to go shopping this Christmas, check out our blog.