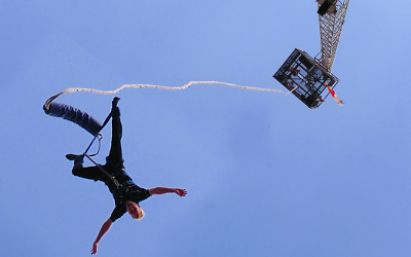 If you're making your way to Barcelona, you may imagine a trip filled with sightseeing, tasty tapas and of course, Gaudí. But the Catalan capital also has plenty for those looking to get their blood pumping a little. From gliding through the air to high-speed sea adventures, Barcelona offers visitors the perfect mix of history and culture, doused with a splash of adrenaline! So, go on, leave that tourist map at home for a day and try your hand at some of these extreme activities in Barcelona.
Quad Biking near Barcelona

Explore the rugged terrains of the Catalan countryside during this thrilling experience. Perfect for groups coming to Barcelona, you can venture along the different tracks of the beautiful Montenegra National Park, through amazing scenery and plenty of wildlife, with a combination of speed and adventure that's sure to get your blood racing. For a guided tour and private transport from your accommodation, check out Barcelona Adventure, a company that offers a 2-hour, exhilarating quad biking experience in Barcelona.
Parasailing in Barcelona
If you're looking for a once-in-a-lifetime experience then parasailing in Barcelona is for you. Soar through the skies at 150 meters above the deep blue Mediterranean Sea as you take in some spectacular views of the Barcelona coastline. Whether you're slightly faint-hearted or an adventure addict, this fun-filled activity is a truly unique way to see the city from above. Share this experience with that special someone as tandem parasailing is also available. Hop on the metro (L4) to El Maresme-Fòrum and head to the action-packed alternative style beach, Parc del Fòrum bathing area, where you can enjoy this activity from May until October!                                                                                                                                                                                                                                                                                                                                           
Jet Skiing in Barcelona
Looking to make the most of the hot Spanish sun and the cool ocean waves? If so, we recommend jet skiing in Barcelona! You are sure to feel an incredible buzz as you race along the shore on your own jet ski. Not only is this a top beach activity in Barcelona, but it also offers spectacular views of the city skyline. Head down to the Barcelona Jet Ski hut in Port Fòrum to hop aboard or check out the Jet Scoot website and book up for a fun tour of the coastline. This sea adventure is perfect for groups looking to explore the Med at high speeds! If jet skiing is not quite your cup of tea, don't fret, there are plenty more water sports to choose from, from hopping aboard a catamaran to wakeboarding!

Abseiling on Montserrat

Why not try your hand at abseiling in Barcelona? This fun expedition is sure to mix up those emotions. From the initial backwards step off the edge, the descent down the cliff face to the moment when your feet finally make contact with the ground, abseiling will give you a thrilling buzz and the urge to do it all again. What's more, the location of this activity is perfect for those looking for a short escape from the hustle and bustle of the city, as you will head to the beautiful Montserrat Mountain, just outside Barcelona. Here you will catch a glimpse of some amazing views of Barcelona and you can also try out rock climbing up a 12 meter rock race. To take part in this unforgettable quest, check out the Catalonia Adventures website.
Bungee Jumping in Costa Brava

If you're a daredevil in search of a truly memorable experience, then have a go at one of the most extreme activities – bungee jumping! Take a leap from a 65 meter high crane and plummet head first towards the ground. Don't forget to take in the incredible birds-eye view of the Costa Brava while you're up there! You'll spend a day outside Barcelona, but this terrifying yet terrific dive will leave you feeling like never before. For more information, check out Bungee World in Lloret de Mar. 
Flyboarding
Flyboarding is recent water sport to have skyrocketed (pardon the pun) in popularity all over the world in recent years. If you've never heard of flyboarding before, let us explain. You balance yourself on a high-powered water jet board, that propels you out of the water and into the air, which you then control by going up, down, forwards and backwards. It's the closest you can get to being a real-life superhero!
It takes a bit of practice to get into the swing of flyboarding, but a team of certified instructors will be on hand to teach you all the basics. Check out Fly Board Club Barcelona for more information on how to get involved.
Canyoning in Pallars Sobirà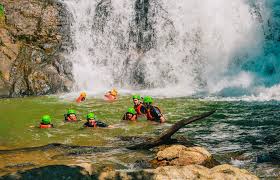 A day of descending canyons, swimming, jumping, sliding and abseiling is sure to get your heart racing. The experience can be customised depending on your skill level and what you would prefer to do, for example if you'd prefer to do more swimming and sliding natural slides instead of the exhilarating pond jumping. It's essential to know how to swim for this one, but aside from that you just need to bring lots of energy and courage to take the plunge (literally)! Head to Rafting Catalunya to find out more information on how to book.
So, whether you're an adrenaline junkie or just looking to try something a little out of the ordinary on your trip, be sure to check out one (or all!) of these extreme activities in Barcelona, sure to satisfy your thirst for adventure!