There is no better way to get to know Barcelona than by bike. You can get into the back streets, find all the hidden gems, and see every romantic hideaway… all by the power of pedalling. On a tour bus, your guides are your earplugs, but on a bike tour, your guides are locals that know the city back to front.
Doing a bike tour is like letting a friend show you around the city; someone who can not only tell you all about Barcelona's amazing history, but also take you to the real Barcelona behind the tourist facade.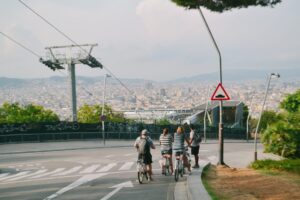 Buena Vista Tours offers two bike tours every day. One morning tour at 11am and another afternoon tour at 4pm.
The tour groups are small, meaning that you can enjoy a friendly, laid-back experience, where everybody gets to know each other. Small groups are also safer in busy traffic: nobody gets lost and everyone is more relaxed.
Private Tours
Another type of tour that Buena Vista offers is a private tour on bike. These private tours are perfect for families, small groups of friends, or colleagues from work. Being private, the itinerary can be customised and you can go to all the places that you want to see, and do all the things you want to do. You can even stop for tapas if you fancy. Buena Vista can help you put together a plan that is practical, informative, and fun for everybody involved.
The City Bike Tour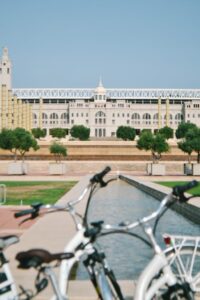 One of the best Buena Vista tours is the City Bike Tour. The City Bike Tour is an easy ride, even for those of you that don't know a handlebar from a tapas bar. The tour follows bike lanes and there are lots of stops along the way for photo opportunities and refreshments. This is a great activity for families and the tour is suitable for all ages – as long as you can ride a bike, you can do the tour.
The tour guides at Buena Vista are all locals, dedicated to providing guests with the best possible tours and answering all the odd-ball questions that visitors might have like, what time do the Spanish go to bed?
More Information
Buena Vista do daily bike tours of the city departing from beside the fountain in Plaça Reial, and covering major landmarks like the Sagrada Familia, the Palau de la Musica, Ciutadella Park, Plaça Sant Jaume, and the charming Town Hall and the Generalitat.
For more information, visit the official Buena Vista Tours website.