Every traveller knows that when the city becomes too much, with the heat, bustling tourists and endless crowds, the city's rooftop terraces are the place to hang out. Barcelona is famous for boasting some of the most unique and wonderful terraces you'll find across the country.
Through the summer months, the rooftops of Barcelona put on an incredibly busy schedule of unique and exceptional events, such as rooftop pool parties with highly-distinguished and up and coming DJs. When the sun decks aren't filled with thriving party-revellers, one can simply relax at the bar, unwind with a cocktail or a cava, whilst soaking up the incredible and unique panoramic views of the city.
Hotel Terrace Week 2019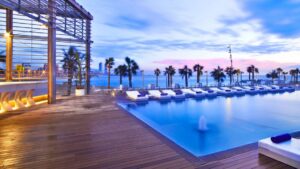 Every year, the beautiful city of Barcelona holds a special event and opens up its exclusive and exceptional hotel terraces for everyone to enjoy, providing a timetable full of fun and entertaining activities, alongside more high-class events, such as those revolving around haute cuisine and delicious cocktails.
This year, the 9th edition of the Barcelona Hotel Terrace Week, or Setmana de les Terrasses d'Hotel, to give it its correct title, is taking place between the 7th and 16th June, running a full ten days of prestigious events.
For this week only, over 65 hotels open their terraces to the public for free, delivering a vast array of one-off events.
Activities and Events
Several of the city's best hotels will participate in the 2019 Hotel Terrace Week, including the Melià, Barcelona Mandarin Oriental, Ohla Eixample and Casa Fuster, among many others.
With over 200 free activities, ranging from live music, fitness and cooking classes, tapas tastings, free cava, children's activities and more, all boasting magnificent and unparalleled views of Barcelona, the 2019 Hotel Terrace Week will not disappoint!
With what's set to be the most successful year yet, make sure you add one of these exclusive events to your agenda. A full list of Hotel Terrace Week events can be found on the Més Q Hotels website.