Barcelona is hands down the best place to escape your ordinary day-to-day routine. For those looking to try new experiences, both touristy and spiritual, the city offers infinite options to create unforgettable memories during your time here.
Yes, the city is home to an immense variety of magnificent places and landmarks to go and see, but don't forget that it also offers luxury and premium services exclusively for those looking to explore Barcelona with all of their five senses.
One of the best things to do is to enjoy a spa experience; great particularly after a long day of walking around city streets. But don't just go to any old spa, try Barcelona's first Premium spa, perfect for relaxing both body and mind…
Slow Spa: Premium Asian Spa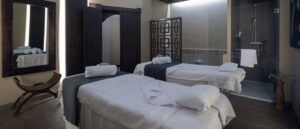 This oasis can be found in the heart of Eixample, and takes inspiration from Asia: the perfect retreat where body, soul, and mind come together in a multi-sensory experience using all five senses.
The exotic décor, subtle yet elegant, takes you to one of the most extraordinary corners of Asia, where music and aroma come together to create a glorious wellness experience that'll have you questioning whether it's all in your head…
Inspired by the best luxury hotels in Asia, SLOW SPA has seven rooms (both single and double) for you to achieve ultimate rejuvenation, and to disconnect from the outside world with beauty treatments carried out by a team of professional masseuses and physiotherapists.
An experience unique, unforgettable, and irresistible.
All of the treatments at SLOW SPA use products which are 100% natural, organic, and vegan, to bring you back to basics with nature without any type of chemical additive.
SLOW'S Philosophy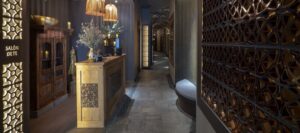 As its name suggests, the philosophy at SLOW SPA is based upon the Slow Movement, a style of life that promotes calmness and tranquillity, used to counterbalance the negative effects the fast-paced lifestyle many lead in the world causes.
Here you can forget about the trivial matters in daily life and instead focus on a simpler way of living, if only for a couple of hours.
A SLOW SPA experience is the best way to indulge during your stay in Barcelona, a space of rejuvenation and guaranteed to make you forget whatever is on your mind.
This Premium spa also encourages Slow Beauty, a new concept of inner beauty, where the beautiful is in harmony with the passing of time. It gives importance to a healthy lifestyle and habits that help us reconnect with our own body and nature, using products that are 100% organic and natural, beneficial for both you, and the environment.
Premium Treatments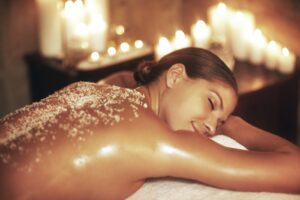 At SLOW SPA, you will find an infinite selection of natural treatments guaranteed to produce a multi-sensory experience.
Relax with one of their full body treatments and exfoliate your skin of impurities, or enjoy a facial treatment to rejuvenate and hydrate your skin. Immerse yourself in the full Asian spa experience with a thai massage or a four hand massage experience, all you have to do is close your eyes…
You can also indulge in other Asian treatments, organic treatments, beauty treatments, and luxury vegan treatments. Better still, gift the experience to a partner and enjoy a romantic spa treatment where the multi-sensory experience is doubled!
SLOW SPA treats every one of their clients as an individual, and seeks to make every experience special. They offer special treatments for those who are pregnant, supporting and encouraging the wellness of both the mother, and the baby.
All of their treatments can be finished with 30 minutes in the Jacuzzi… sounds good, right?
Yoga Classes and Beauty Parties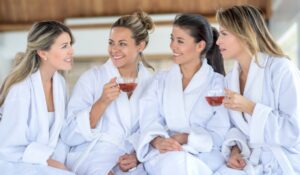 If the previous treatments have peaked your interest, what until you hear the best bit. Finish your spiritual journey to Asia with Kundalini and Flow Yoga, a dynamic yoga class where movement and breathing are one. This practice creates enough internal heat that your organs and inner body are purified and rid of toxicity.
You can do the class individually or in groups no larger than four people. The first session is free!
And the icing on the cake… enjoy a unique experience with a Beauty Party, a new concept great for celebrating any special day with family and friends, stress free and away from daily routine. With a minimum of four people, the spa is completely closed and open just for those in the group. An Asian oasis just for you!
Opening Times
SLOW SPA opens every day from 10:00 to 21:00, including Saturdays and Sundays, and bank holidays when it opens until 20:00. There is no excuse not to experience SLOW!
Exclusive treatments in a unique space in Barcelona. Leave yourself in the hands of the professionals, all you have to do is relax, close your eyes, and enjoy…