Barcelona is one of Europe's most colourful and artistic cities, and its creativity carries on into its tattoo scene. With many high quality tattoo studios with talented artists from all over the world, Barcelona is one of the best places to get that ink you've always wanted.
So, if you're just visiting the city for a few days, or are living here for a longer period of time, what better way to make sure these memories last forever than getting them beautifully inked onto your body.
We should know, two of our office interns already have their next tattoos booked here in Barcelona…
Avantgarde Tattoo Collective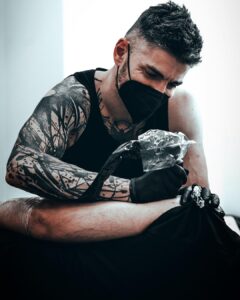 If you are looking for a quality tattoo studio in Barcelona, look no further! Avantgarde Tattoo Collective offers a unique possibility for you to choose the style that you like the most from a large cast of tattoo artists.
International artists, recognised throughout the world located in a single completely professional place, to offer the highest quality helping you at all times to capture what you want to express on your skin.
Professionalism within the reach of a click through their website or visit their studio, located at Carrer de Guitard 47, in Sants Estacio.
Telephone: +34 930 24 70 11 / +34 658 10 76 07
Desideratum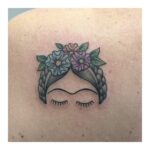 Desideratum is a tattoo studio run only by women and one of our favourites here in the city. Owner Noemi Garcia wanted a place where women could get tattoos and piercings, without feeling judged or uncomfortable in the process as many sometimes do when getting inked by male artists.
The studio also works closely with abuse survivors, as well as the city's LGBT community.
Make sure to check out their instagram page to see more of their work, which is also the place where you can message the studio to enquiry about specific artists and styles, before making your appointment.
Pro Arts Tattoo Shop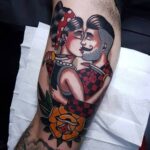 As well as being a tattoo studio of impeccably high quality, Pro Arts is also a supplier of tattoo gear and equipment, meaning if you are a tattoo artist yourself, you can pick up all the things you need right there in the studio.
Pro Arts has been running for over 20 years and regularly welcomes guest artists through its doors. They also teach beginners tattoo courses training budding artists a variety of styles from some of the most highly skilled tattoo artists in the city.
Click here to view more on their instagram page.
L'embruix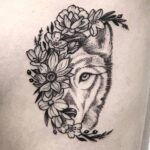 L'embruix is one of the busiest tattoo studios in Barcelona due to its central location and excellent value for money.
The studio is known for its great service as well as its artists that have well over 15 years of professional experience. Like Pro Arts, L'embruix also offers tattoo courses for those who want to take their love of ink even further.
Remember to book far in advance, as L'embruix is an extremely popular studio. (And rightly so, we think.)
Instagram link.
Addicted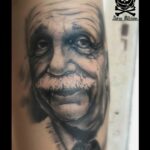 Addicted is usually home to four incredible artists, but they also love welcoming many other incredible international inkers into the studio. As well as tattoos, Addicted are known for their body modification service, something slightly more daring for those who find tattoos just aren't enough!
The studio also creates vegan tattoos, using ink from a veggie solution as unfortunately, traditional ink is not vegan friendly. If you're interested in this service, the studio also offers vegan aftercare meaning you can make your design at Addicted, 100% vegan.
Check out their instagram for more.
LTW Tattoo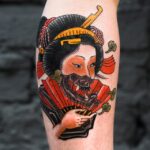 LTW is a studio that offers exceptional tattoos, in every style! Due to its location just minutes from the city's Plaza Catalunya, LTW is one of Barcelona's most popular studios but also one of the best.
If you are unsure exactly what tattoo you want, LTW is the perfect place to start as they specialise in so many different styles and designs!
See more on their instagram.
Before you book your tattoo appointment…
Make sure you've done your research. These are our favourite tattoo studios in the city but there are plenty more if you feel that our picks aren't exactly what you're looking for. Remember, this is your tattoo.
Think about where you want your tattoo. Do you want to be able to hide it easily, or do you want it to be visible on your body?
Tattoos can be pricey. Don't be alarmed at the cost of your design. And don't forget some studios often want a deposit to confirm your appointment.
Happy inking everyone!