Barcelona has so much to offer this spring: a city of 1.5 million people filled with history, art, festivals, and activities around every corner! But, sometimes it is nice to take a step back from the hustle and bustle and take advantage of the wonderful weather. If you are coming to Barcelona for more than a few days, you might be interested in planning a day trip outside of the city limits. Check out our suggestions for getting away from the city center for a day.

Montserrat
Located about an hour north of Barcelona, Montserrat is a fascinating mountain town and is home to one of the most important monasteries in Spain. It makes for an interesting day out and is particularly enjoyable during the warm days of spring. If you are a fan of walking or hiking, there are many different trails leading you to great vantage points on the mountain, where you can see the spectacular views of Barcelona. But don't worry, if you are looking for a more relaxing trip, there is something for everyone here.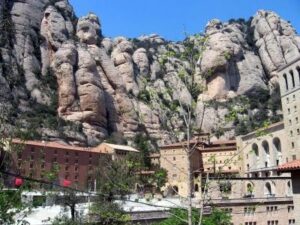 The main sight and attraction on the mountain is the Benedict Abbey of Santa Maria de Montserrat. This monastery attracts pilgrims from all over the world and is Catalonia's most important religious retreat. A tour through the basilica is a must. Also, the Montserrat Boys' Choir, L'Escolania, is known to perform everyday, around 1:00pm.
To get to Montserrat, you can easily take the train from Plaça de Espanya to the bottom of the mountain. Once there, you can either grab a cable car or the Funicular train (your choice) up to the top.
Sitges
If you want to get out of the city, but not necessarily away from the beach, Sitges is a must. This small coastal town, located about half an hour south of Barcelona, is known for its film festival, Carnival party experience, and gay scene.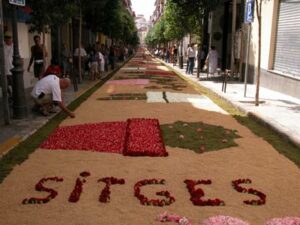 The main attractions of Sitges are undoubtedly the beaches. With over 17 different beaches ranging from small peaceful coves, to family-oriented beaches, to urban beaches, everyone can find some comfort along the coast, especially in springtime. And the range of bars and restaurants overlooking the Med, serving up delicious seafood and local specialities are an equally splendid way to enjoy Sitges.
Tarragona & Salou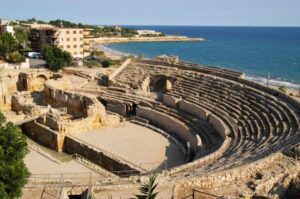 Further along the seaside lies another beautiful place, Tarragona. Once an ancient Roman city, this Catalan metropolis on the Costa Dorada still maintains a lot of its history, and the Roman ruins of Tarraco that you can find there have even been declared as an UNESCO World Heritage Site. For another cultural experience, you can take a look around the Tarragona Museum of History, too. Besides the historical attractions, the city has many religious buildings, including the Tarragona Cathedral.
To get to Tarragona from Barcelona, visitors can take around a 1-hour Renfe train ride. Spend the day strolling through the city, gazing at ancient architecture and exploring the villages. The architectural beauty and history that are present in Barcelona can be found in Tarragona, but without the hustle and bustle.
Just a few kilometers south of Tarragona is the popular holiday town of Salou, which is home to Spain's largest amusement park, PortAventura. The park, ideal for adrenaline junkies, is one of the biggest in Europe and has some of the fastest, tallest, most hair-raising rollercoasters on the continent!
Whether you decide to see the sights in Sitges, venture up to Montserrat, or take a ride out to Tarragona, you will be sure to find the perfect day trip for your spring break in Barcelona. There are also plenty more spring activities in Barcelona you can take part in on the outskirts of the city, such as hot-air balloon rides and bike tours, so you will never find yourself without an interesting way to enjoy Barcelona and its surrounding areas.