Fancy an escape from the hustle and bustle of city life? Why not venture outside the Catalan capital to the stunning Lloret de Mar, the perfect day trip whether you're a beach-bum, culture vulture or history buff. And what's more, it's a mere 50 miles from Barcelona meaning that you can squeeze as much as possible into your exciting day out to the 'rugged coast'.
Thanks to its pristine golden beaches, spectacular sea views, unspoiled coastal beauty and its blissful Mediterranean climate, it is renowned for being the package tour capital of the Costa Brava. With the Lloret de Mar dating back to the 3rd century BC, needless to say that this former fishing village also boasts a rich and fascinating history, ideal for the explorers amongst you.
So here you have it, everything you need to know to enjoy an unforgettable day trip to Lloret de Mar, from the best spots for sightseeing to where you can enjoy a great nosh.
Sightseeing
Hiking: With Lloret de Mar's picturesque scenery, it's the perfect holiday destination for those that seek adventure and love to explore. Breathe the essence of Lloret de Mar, with one of their many walking trails along its impressive coastline, or why not discover the depths of their forests to admire the hidden Mediterranean fauna and flora. All hiking trails are clearly signposted.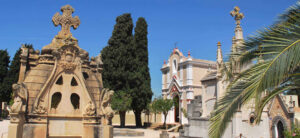 Modernist Cemetery: Call yourself a Gaudí fan? If so, this Gaudí-esque building is a must with its exuberant Catalan modernist style. Opened in the early years of the twentieth century, the cemetery was funded by the wealthy locals, the 'indianos', and their culture is preserved through this artefact.
Chapel of Sant Quirze: Situated a short two minute walk from the cemetery is the oldest chapel in Lloret de Mar, possibly dating back to the time of a Christian Roman General named Quirze.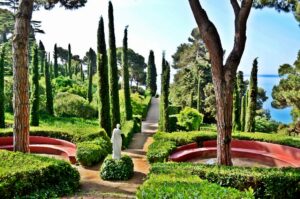 Santa Clotilde Gardens: This tranquil sanctuary of outstanding natural beauty, located next to the sea, makes the gardens a wonderful spot for a peaceful stroll. These cliff top gardens were built in the style of the Italian renaissance and are a prime example of the Noucentisme movement. What's more, it allows you to enjoy breathtaking views of the Mediterranean sea.
Sant Joan's Castle: This medieval fortress from the early 11th century is located on the hills, which separates Lloret's beach from Fenals. Having been attacked several times, only the foundations of the tower remains and it now serves as a heritage centre. The castle was expanded to include a museum in order to present the Catalan culture in the Middle Ages.
Lloret de Mar Town Hall: The Neoclassical Lloret de Mar Town Hall on the Plaça de la Vila.
Maritime Museum: Just off the seafront promenade, you will find a cultural experience for the whole family to enjoy. Discover Lloret's seafaring history at this fascinating museum which is housed in what used to be Casa Garriga. This house is a surviving example of the traces of the 'indianos', those who left for Cuba or the West Indies, and returned after making a fortune. Entry to the museum is 4€ for an adult ticket.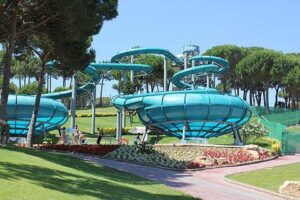 The Parish Church of Sant Roma Chapel: As one of the most symbolic and representative sights of Lloret de Mar, is it an unmissable attraction during your trip here. This spectacular church is a fascinating blend of Renaissance, Moorish, Byzantine and Modernist influences but was initially built in Catalan Gothic style.
Waterworld Lloret De Mar: If you're planning on turning your day trip into a weekend getaway, head to one of Europe's largest and most exciting water parks. Both children and adults will have a blast here with their fabulous selection of activities and rides including wave pools, rapids, toboggan rides, slides and much more. Within the park, you will also find restaurants, crêperies, picnic areas and pine groves, where you can relax in the stunning surroundings.
Bask on the Beach
Home to several beautiful beaches, why not end your day by lounging on the glorious golden sand and cool off in the sparkling waters of the Mediterranean. You'll find several happy holidaymakers soaking up the sun at Lloret Beach, the biggest beach in town. It is consistently awarded the Blue Flag for its cleanliness and specifically, the excellent environmental quality of its crystal-clear water.
Granted, sunbathing is not for everyone. If you're more of the adventurous type and looking for an adrenaline rush, there are plenty of fun water sports available to give your day trip a thrill injection. Whether you fancy sailing, scuba diving, windsurfing, parasailing, jet skiing and wet skiing, Lloret de Mar's got it all.
Tip: Head to the end of the beach where you will find the 'Fisherman's Wife'. Legend has it that if you touch the sculpture's foot whilst gazing out at the horizon, all your wishes will come true. Fingers crossed that you get lucky!
If you're looking to seek refuge from the hoards of tourists, head over to the quieter, and certainly more scenic, Fenals beach. Tucked away in a sheltered bay, its serene setting is perfect for an afternoon snooze with its tranquil atmosphere and the soothing sound of the waves. Its idyllic backdrop of green pine trees, overlooked by the castle, makes it a lovely location for a delicious picnic.
Places to Eat
Recognised chefs and restaurants have transformed Lloret de Mar into a first-rate gastronomic centre with both multicultural and traditional cuisine offered. Thanks to the overwhelming amount of English tourists that Lloret de Mar receives each year, in addition to traditional Spanish restaurants serving local cuisine, there are plenty of English restaurants, Indian curry houses and Chinese takeaways.
Recommended restaurants include: La Parrilla for delicious seafood, Restaurante El Romani for quality and authentic tapas dishes and La Lonja to sample a traditional paella.
Nightlife: live la vida loca at Lloret de Mar
Lloret de Mar is famous, or rather infamous, for its buzzing and vibrant nightlife scene. Fiesta central pretty much all year round, it comes as no surprise that it has been a magnet for the 18-30 European partygoers for decades. Its thriving nightlife is ideal if you're looking to boogie the night away with its abundance of clubs, bars, pubs open until the early hours of the morning. No wonder this Catalan seaside resort is so popular with hen parties and stag-do!
Some of the most popular bars in the number one party town of the Costa Brava are Gerrys Bar, 7 Seas Pub, Buzzby's, Rabbies Bar, Sportsman Pub, Route 66, Navy Pub, Rob Roy and Bar Cala Banys.
Tip: Look out for the summer line-up of entertainment and concerts on the beach.