Rob Dobson is a search engine marketing consultant from London, England. When he moved to Barcelona, he started an English language website HomagetoBCN.com. He writes about anything and everything that relates to the amazing city he calls home.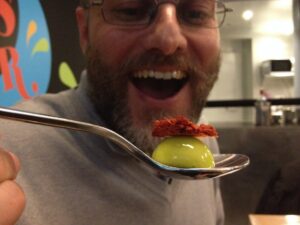 1. Let's start off with an ice-breaker… Name three interesting things about yourself. Don't be modest!
I'm a pretty normal guy really. I haven't done anything extraordinary. The most interesting (or exceptional) thing I've done is manage to marry a great girl and have a hand in producing two great kids. That makes me feel pretty lucky, interesting even.
2. How long have you been living in Barcelona?
I've been here for about 5 ½ years. I work between here and London. But my heart is definitely in Barcelona. It really is an ideal city for a good work/life balance.
3. Which is your favourite neighbourhood of the city and why?
I've lived very near to Plaça Catalunya, then moved to Sants-Montjuïc, and am now in Gràcia. There is something special about Gràcia, it's definitely my favourite so far. But I also love the Born and Barceloneta.
4. If there is one festival in Barcelona that people (visitors and/or residents) absolutely can't miss, which would it be?
Of the neighbourhood festivals it would have to be Gràcia's Festa Major. It really is the biggest and best of the neighbourhood festivals and streets try to out do each other with some extremely creative themed decorations. Luckily I'm on the edge of Gràcia as the festival goes on all week and if you live on one of the main streets you won't be getting much sleep for a week.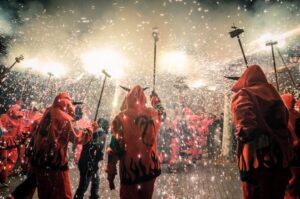 La Mercè though is the one. The city-wide festival in September that celebrates the patron saint of Barcelona and much of Catalan culture. Parades, a wine festival, music stages and the incredible correfoc (or fire-run), that would surely be banned in most Western countries. People dress as devils and attach fireworks to sticks and dance down the street to rhythmic music in a shower of sparks and fireworks. It is an incredibly thrilling display of health and safety madness. I love it!
As far as international music festivals go there is of course Sónar or Primavera Sound. But the new DGTL festival last year was a recent success and one to watch out for.
5. What's your favourite place to grab a bite in the city?
Wow. Impossible question so I'll give you a few. Casa de Tapas or The Tatami Room in Poble Sec. Lolita Tapería in Sant Antoni. El Vaso de Oro or La Cova Fumada in Barceloneta. Santa Gula or La Xula Taperia in Gràcia. I could go on but I'll leave you with those. Barcelona is an incredible city for food from amazing quality and value to some of the world's best Michelin-starred experiences.
6. Is there a hidden corner or an 'off the beaten track' sight in Barcelona that you'd recommend to visitors?
I seem to consistently recommend Turó de la Rovira (or El Bunkers del Carmel). I shouldn't really as it's still not overrun with tourists even though it's been tidied up and become more of an attraction than it was in previous years. I love it up there. The best views in Barcelona and a wonderful place to appreciate how lucky you are.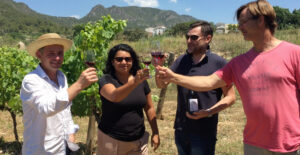 7. How should a visitor 'experience' the city, rather than just see it?
Globally there has been a change in tourism that encourages visitors to experience the place they visit through locals, the same has definitely happened in Barcelona. EatWith or Withlocals. Tapas tours, photography tours, or architecture tours. There really is an incredible range of activities on some of these sites that will show you a side of the city that you wouldn't necessarily see (or certainly appreciate as much) on your own.
8. What's something that visitors definitely should not do when in the city?
The same as when visiting any city. Don't get drunk and make a fool of yourself. Respect the people that live in the city you're visiting – yes, they appreciate your tourist income but that doesn't mean you can do what you like. Understand the local culture and history – in the case of Barcelona this would be their local Catalan language and the current wish of nearly half of the region to be independent from Spain.
9. What's the most interesting piece you've written for your blog H2BCN?
One of my favourite days of the year is coming up on April 23rd, La Diada de Sant Jordi (St. George's Day). St. George is the patron saint of Barcelona as well as England. In England it's hardly celebrated. Here they do it properly.
10. It's my first time in the city. What's your no.1 tip?
Look up! The simplest of buildings can have amazing flourishes and architectural accoutrements. It really is a city to keep your head out of a map and just wander.