Located in the historical heart of the city, El Born has grown into one of the trendiest corners of Barcelona, despite its humble beginnings. It seamlessly transcends the old and new parts of Barcelona by encapsulating the beauty and charm of the Gothic Quarter whilst maintaining its local charm.
Boasting a vibrant café culture and a fabulous selection of eateries, its characteristic narrow streets and picturesque squares are lined with many of Barcelona's favourite food and coffee spots. Ranging from fancy Michelin-star establishments and fashionable cosmopolitan style restaurants to quaint cafes for some al fresco lunchtime dining, there's something to suit even the pickiest of eaters. Alternatively, if you're looking to kick back and relax with a café con leche, head to the idyllic Passeig del Born where you will find an array of boutique coffee shops.
So if you're looking for some post-sightseeing relaxation after a day of traipsing up and down La Rambla, why not spend your afternoon or evening at one El Born's hidden gems, to enjoy a bit of calm off the beaten track.
Mosquito
Looking for tapas with a twist? Get the full Asian tapas experience that'll leave your taste buds singing with joy. Not your traditional tapas bar, Mosquito is the epitome of exoticism and combines a myriad of Asian flavours with its dishes inspired by Vietnamese, Chinese and Korean cuisine.
Amongst an impressive menu featuring various noodle, soup and vegetable concoctions, you will find their famous speciality: xiaolong bao (steamed pork dumplings). You simply cannot come to mosquito without trying their dumplings- truly delicious. And to accompany your meal, why not wash down your tapas with one of their fabulous home-brewed beers.
Priding themselves on cheap, quick and tasty Asian food, all dishes are made from high quality local ingredients without paying the price for it – what could be better? You'll be hard-pressed to find Asian food better than this fantastic restaurant in El Born.
Carrer dels Carders, 46
Bormuth
It's no surprise that this place has taken Barcelona by storm ever since it opened in 2013 with its selection of authentic, yet affordable, tapas. Its menu consists of various incredibly tasty tapas dishes, and with all of them being at such a superb value, your best bet is to order an assortment for the table so you can try a bit of everything – be brave! The English speaking-staff are extremely assisting and will be happy to offer personal recommendations and advice when ordering. Although, their famous patatas 'mojo picón' and honey drizzled fried aubergine are a real crowd pleaser and always go down a treat.
Make the most of this happening place by requesting a table by the window. That way you can soak up the buzzing vibe of the restaurant whilst watching the hustle and bustle of El Born pass by.
Plaça Comercial, 1
7 Portes
Located in an elegant 19th century building, this place is one of Barcelona's most iconic restaurants and most treasured eateries. Its rich history speaks for itself, with it initially opening its doors over 175 years ago as a luxury restaurant and café.  Picasso, Miró, Camilo José Cela and Federico García Lorca are amongst the many famous faces that have enjoyed a meal here in the past, and if it's good enough for them, we're sure it's good enough for you!
Its eponymous seven doors have certainly stood the test of time thanks to their wholehearted dedication to traditional Catalan food, all made with fresh and seasonal produce. They specialise in reviving regional recipes such as their stewy fish zarzuela with half a lobster and their legendary paella. Each day, they offer different flavour paella dishes, however, their paella paralleda has become somewhat a talking point of the city with its delicious combination of chicken, mussels and clams.
Passeig Isabel II, 14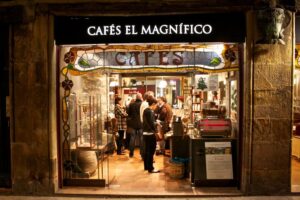 Cafés el Magnífico
For three generations now, this place has been roasting coffee beans to perfection so that you can enjoy the perfect cup of coffee. Take your pick from their selection of coffee imported from various corners of the world- Ethiopia, Kenya, Colombia,India- and let your taste buds do the talking as you enjoy Barcelona's answer to the best cup of coffee. What's more, you get to enjoy it in the enchanting Born neighbourhood! Be warned, it's not cheap but with high quality coffee like this, it's worth forking out the extra coins, especially for their café con leche which'll send you to heaven.
Carrer de l'Argenteria, 64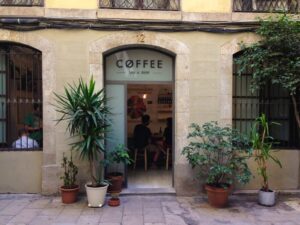 Coffee Lab & Shop
A temple of cafe culture, this place is undeniably one of the best cafés in El Born and will make all your coffee dreams come true. Its founder, Jordi Mestre, certainly knows good coffee after years of experience in London. They specialise in variations of Nomad Coffee, which if you take a particular liking to- you can purchase it online.
Passatge Sert, 12