Last Updated: 03/07/2017 
Ever heard of the Kiss of Death, or 'El Beso de la Muerte'? Perhaps not… Barcelona is well known for its works of art, from the masterpieces of Gaudí and the wonderful Picasso museum, to quirky Joan Miró and the edgy MACBA. But what about its lesser known arty-hotspots? What about the mysterious corners of the city, the un-trodden paths, the secret enclaves? For a real venture into the unknown, one with fascinating echoes of the past, the cemetery of Poblenou is certainly a place to discover for any curious traveler.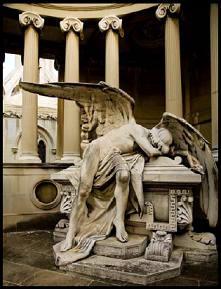 Origins of Poblenou Cemetery
Poblenou cemetery was originally created in 1775 due to space issues caused by the growing population within the old walls of the city. Destroyed by Napolean's troops in 1808, it was later reconstructed in a neoclassical style with the aid of Italian architect Antonio Ginesi. Peaceful but macabre, the cemetery of Poblenou is today an intriguing place to visit and is in itself a museum, home to some incredible sculptures, haunting, yet beautiful none the less.

Curious Corners
Extended many times, Poblenou Cemetery now has many different sections. One of the most interesting, perhaps, being the 'Recinto de los Panteones'. Here it is possible to see the tombs of the old bourgeoisie of Barcelona, who even in death were eager to demonstrate their wealth and flamboyancy.
The Kiss of Death
One of the most curious pieces in the cemetery of Poblenou is known as the 'Kiss of Death'. Constructed in 1930, this strange, mystifying, marble sculpture is both eerie and captivating, and produces varying reactions from passers by. The sculpture depicts a winged personification of Death kissing the forehead of a young man, and thus taking him away to another world. Many have wondered whether the young man is welcoming of death, or indeed invaded by it – who knows? It is of equal mystery who the sculptor was. It is thought to have been either Jaume Barba or Joan Fontbernat, but it is not known for sure. Written beneath the sculpture are the chilling words: "His young heart is thus extinguished. The blood in his veins grows cold. And all strength has gone. Faith has been extolled by his fall into the arms of death. Amen."  
Visitors Route
A fascinating route exists through Poblenou cemetery which traces 100 years of history. Visitors are able to see constructions, sculptures and tombs of famous individuals from the time of origin of the cemetery up until that of the Universal Exposition of 1888, one of the most important events in the history of Barcelona. For All Saints Day, a special night tour of the cemetery is held with a 19th century theme. A guide in period costume explains its history and the ambiance in suitable spooky tones! For more information visit the Barcelona Cemeteries' website.
How To Get There
The cemetery of Poblenou is open every day between 8:00–18:00. The nearest metro stop is Llacuna L4.