Last updated: November 2017
Barcelona is the envy of endless metropolises around the world. Its year round sun, its outdoor culture and above all its fantastic coastal location mean that this is one seriously cool city.  One of the best loved ways to spend time in the Catalan capital is, of course, by making the most of its wonderful beaches, and with plenty of great accommodation in the area you can really be in the heart of it!  From luxury penthouses to the quirky, old fishermens' quarters, Barcelona beach apartments can cater to all tastes, and the area has some seriously exciting activities lined up for you too. So check out some of our favourite reasons for staying by the beach in Barcelona!
The Beaches Themselves – What Else?
It goes without saying, but the 4.5 kilometres of beaches offered by Barcelona are difficult to tear yourself away from. For the sun worshipers out there, this truly is the place to be. The city's trendy beaches attract visitors, expats and locals alikeand are a great place to work on your tan, or simply promenade and take  in the wonderful Mediterranean views. If you're feeling energetic, be sure to take part in some local favourites such as beach volleyball, rollerblading and cycling along the pathways. And by renting a Barcelona beach apartment, you'll be able to pop home and freshen-up in a flash.
Fancy  a Splash?
Water sports are becoming increasingly popular along the city's coast so a beach apartment in Barcelona right by the shore is a great idea for those who enjoy taking-on the waves. From energizing swimming and ever-so-cool surfing, to top notch sailing and the must-do sport of the moment, stand up paddle, those who enjoy making a splash will love Barcelona's beaches, and having base camp in the vicinity will means that taking a time-out after an action packed few hours will be easy.
When Hunger Strikes!
But it's not all just about sand and sea. Barcelona is famed for its exquisite cuisine, and where better to sample some of its wonderful tapas and seafood than in one of its coastal hangouts. From fried 'calamares' and buckets of mussels to delicious paellas and 'fideuas', Barcelona has some fantastic beach bars offering a tantalizing gastronomical selection. As an alternative, you could delve in to Barceloneta's food market and pick up some local produce yourself. Your Barcelona beach apartment could play host to your very own Mediterranean feast!
A Night on the Tiles!
The Port Olímpic area of Barcelona has its own beach and is known for its swanky bars and trendy night clubs. With their enviable sea front location and classic cocktails, this is a great place to gossip over some delicious drinks. The host of visiting DJs also makes this one of the city's best places to get your groove on. Staying here means you don't have far to go to get home in the wee hours of the morning!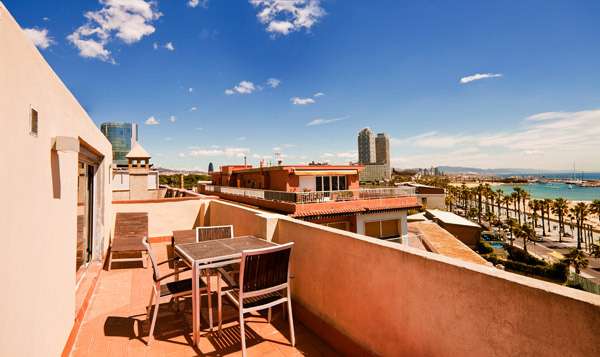 So for beach bums, wave-cravers, foodies, shakers and movers, this is the area for you!
Book your accommodation now: