Last updated: November 2017
Barcelona is a city able to cater to all tastes and budgets. Whether you're here on a shoestring getaway, a family holiday or a luxury break, the Catalan Capital has it all. And if you are indeed feeling flash with your cash, Barcelona is certainly a place to come and play. From fine dining and designer shopping to taking to the Mediterranean waves in style, Barcelona does luxury very well. So, if you fancy splashing out, take a look at our top treats for a few days of pure Barcelona luxury.
1. Forget Rodeo Drive – Hit Passeig de Gràcia
Barcelona has recently been voted one of the top 5 most fashionable cities in the world, so if you've come to town on a shopping spree you won't be disappointed. The shopping opportunities are endless in the city, and if you're searching for designer goodies and luxury items in Barcelona you'll need to take to Passeig de Gràcia, the most elegant boulevard in town and one of the most expensive streets in Spain. With high fashion, top brands and that general swanky feel this is the place to be for a bit of luxury Barcelona.
2. Take to the Waves Like a Star

Tempted by the jet-setter lifestyle? Inspired by those tantalizing, summer music videos? How about a yacht trip around the coast of Barcelona, then? Skyline BCN offer a range of excursions, including private sessions, perfect for getting away from it all and taking to the seas in true VIP style! Want a spot of luxury in Barcelona? This is the way forward!
3. Fine Dining at its Most Creative
Where better to dine during your luxury stay in Barcelona than in one of the most exciting gastronomic creations of the Adrià brothers, Tickets. One of Barcelona's hottest restaurants, reservations here fill weeks in advance and reviews are always none other than raving. The incredible, artistic-fusion cuisine is a true winner, impressing guests time and time again. Forget your basic tapas and paella, here you're in for a real treat. There are plenty of other Michelin star eateries in Barcelona. Try Moments and Sant Pau Restaurant for an exclusive dining experience! Fancy a cocktail or two for afters? Head to Dry Martini on C/ Aribau 162-66 for some delicious drinks in a luxurious setting.
4. Time to Get Your Game On
  When the sun goes down where better to head than Barcelona's very own Casino. Set right on the Med in cocktail-sipping-central, Port Olympic, this is certainly a place to sample a bit of Barcelona luxury. Fancy your chances of ending the night as a high roller? Put on your poker face and dare to participate in a game or two, or try your luck at some roulette and see if lady luck is on your side! You could be in for a Luxury Barcelona trip you'll never forget!
5. A View Like No Other
Barcelona has many spectacular view points, Park Güell, Montjuïc, the Sagrada Familia to name but a few. But if you've come to town for an all out few days of extravagance, you may find these views just a bit too low. You'll be wanting a birds-eye view of the Catalan capital, so a helicopter tour of Barcelona will be right up your street! BCN.Travel offer various heli-trips around the city and its vicinities, a truly memorable way to see the sights and a perfect way to experience a bit of Barcelona luxury.
Luxury Accommodation in Barcelona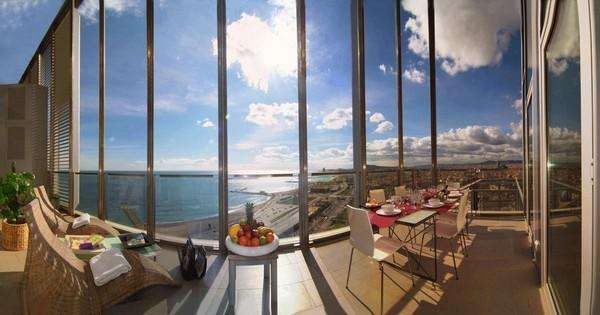 To round off your luxury trip to Barcelona, you'll need to reserve the best of the best in accommodation. If you're looking for something a bit more out-of-the-ordinary, then opt for renting a luxury apartment in Barcelona. With private pools, terraces, vast views of the Mediterranean and much more, choosing to rent an apartment is the best option for those who want to keep that comfortable feel while on holiday without splashing out on a suite.   So forget St. Tropez and Montecarlo, and head further down the coast to Barcelona – stylish, exciting and oh to tempting! You'll be living like a star in no time!
Book your accommodation now: