Last updated: November 2017
Barcelona has an endless array of nightlife on offer – in fact, it is said to have more bars and cafés than any other city in the world! Whether this be officially true or not, it doesn't matter, for the range of evening haunts in Barcelona, perfect for both a tipple or a full on riotous night of partying,  is seriously tempting, never disappointing and simply, just down right smashing fun!
Always on top of the latest trends, the classic Gin and Tonic is the must have beverage of the moment in Barcelona, and there is a lot of competition out there for the best mix in town. Who's on top, then, in the Barcelona G&T league tables? Who's king of the classic combo? Who's got the perfect dash of this and that, the idyllic citrus twist, that heavenly, refreshing bitter touch…? We've got the lo-down on some of the best Gin and Tonic bars in Barcelona, so read on and check out our favourite G&T locals here!
1. Dry Martini – For a real James Bond style experience
Renowned as one of the best cocktail bars in the Catalan capital, Dry Martini is certainly the place to be for a classy evening of Barcelona G&Ts. This fantastic lounge bar has a real touch of yesteryear, with a true sense of 1920s classic New York style. The décor cries out vintage class, and the impeccably groomed, penguin-suited waiters add to the feeling of a truly special night out. The cocktails here are superb, masterfully made down to the final touch and of course, the gin and tonics are of particularly excellent caliber. Like artistic creations, the G&Ts here are prepared with fine skill, all adding to Dry Martini being an experience you won't forget!
C/Aribau 162
2. Elephanta – A cosy bar in a cool neighborhood

Like most places in the trendy neighborhood of Gràcia, Elephata is a secret little hangout for those in know. Specializing in gin and tonics, this teeny bar is great for a chilled out evening of catching up with friends whilst sipping on a few of those delightful bowl glasses of bitter-sweet mixes. This Barcelona gin and tonic bar has a great selection of G&Ts on offer with some exciting twists, as well as a special menu that changes throughout the year. Even better, until 8pm there is a 3€ discount on all gin and tonics. So, what are you waiting for? This is a great place for a relaxing Barcelona G&T experience!
C/ Torrent d'en Vidalet 37
3. Úbeda Gin & Tapas – For that perfect Barcelona combination
What better way to spend an evening in Barcelona that by combining delicious local tapas with classic G&Ts? Úbeda has this awesome pairing down to a tee offering a tantalizing selection of tapas, perfect for nibbling away at after a day visiting the city, and the ideal side-kick to their fantastic gin and tonics. Their classic mixes are separated into three curious categories, Love, Passion and Temptation. Which one will you go for? Úbeda has been awarded Best Gin and Tonic in Barcelona by Time Out Magazine, so is certainly one not to miss during your stay in the city!
C/ Josep Tarradellas 133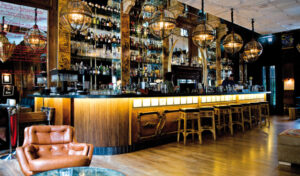 4. Boca Grande – For that Movie Star Feeling
If you feel like really going to town, then this is the place for you! The décor here is incredible, highly stylish and perfect for a special occasion. The cocktail lounge has a real touch of class, is super fashionable and lots of fun! Gin and tonics are one of the specialties of the house and are well in keeping with the tones of the venue, with great attention to detail and a flair that leaves you thirsty for more. Known as one of the top gin and tonic bars in Barcelona, Boca Grande should certainly appear on your BCN G&T schedule!
Passatge de la Concepció, 12
5. Bobby Gin – For Something a Little Different!
The tag line here is 'Not just meals or drinks – it's all creativity', and that's certainly the case at Bobby Gin, one of the hippest gin and tonic bars in Barcelona. Each dish and drink here is a true work of art meaning that this is an exciting, even intriguing, place to spend and evening. The range of G&Ts on offer is seriously tempting, and the selection of tantalizing bites to eat coincides perfectly with the delicately prepared beverages. The cool ambiance of the bar makes its easy to be sucked in for 'just one more', paving the way for a night of amazing wining and dining!
C/Carrer de Francisco Giner, 47
So for your perfect Barcelona G&T experience, be sure to stop off at a few of these cool hangouts. You'll certainly be in for a treat, no doubt about that!
Have you been to another G&T joint you think should be on this list? Let us know in the comments below!