Last Updated: November 2017
Tucking in to some delicious Spanish cuisine is top of the list for many visitors to Barcelona and one of the best ways to enjoy the wonderful gastronomy of the city is of course by sampling some of its finest tapas. From spicy patatas bravas and home made croquettes to fresh tomato bread, you certainly won't go hungry here!
The best way to enjoy tapas is to do it like many locals – on a culinary bar crawl, stopping off in different spots for a nibble here and there. And this certainly lends itself perfectly to combining the top-notch tapas of Barcelona with discovering the best sights of the city. So no need to stress about trying to fit everything in during your trip, with our Barcelona tapas route you can catch the highlights of the city and refuel along the way!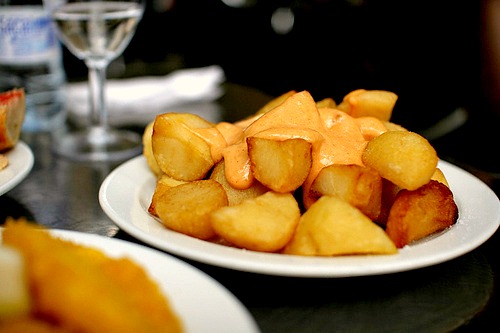 1.  Top Sight: Gràcia Neighborhood
Top Tapas Spot: Nou Candanchu, Plaça de la Vila de Gràcia, 9
Gràcia is known as the bohemian neighborhood of the city and with its local vibe, quirky shops and cafés, and beautiful buildings, this wonderful area is certainly worth the visit. Centrally located in a pretty square, Nou Candanchu is well known for serving up some of the best tapas in the area and is often brimming with locals and savvy tourists. The tapas selection is great and the portions more than sufficient. Their fish dishes are particularly noteworthy as are the chunky patatas bravas.
Barcelona tapas summary: Local, buzzing, delicious.
2.  Top Tapas Spot: Tapes Gaudí, Avinguda de Gaudí, 44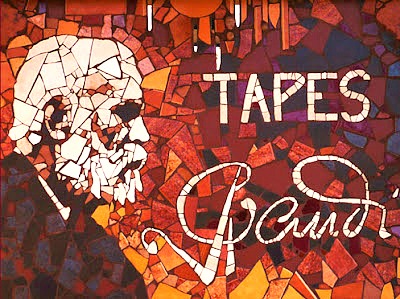 2.  Top Sight: La Sagrada Familia
Gaudí's unfinished masterpiece, La Sagrada Familia, is on every visitor to the city's Barcelona bucket list, and rightly so. This architectural jewel is awe-inspiring, strange and dramatic, and well deserves its hoards of onlookers. An apt place to stop off is Tapes Gaudí, decorated in honor of the architect with quirky, colored tiles. There is a large selection of favorites available, from Spanish meatballs to mini chorizos – enough to satisfy even the hungriest of Gaudí fans.
Barcelona tapas summary: Homemade, varied, good value.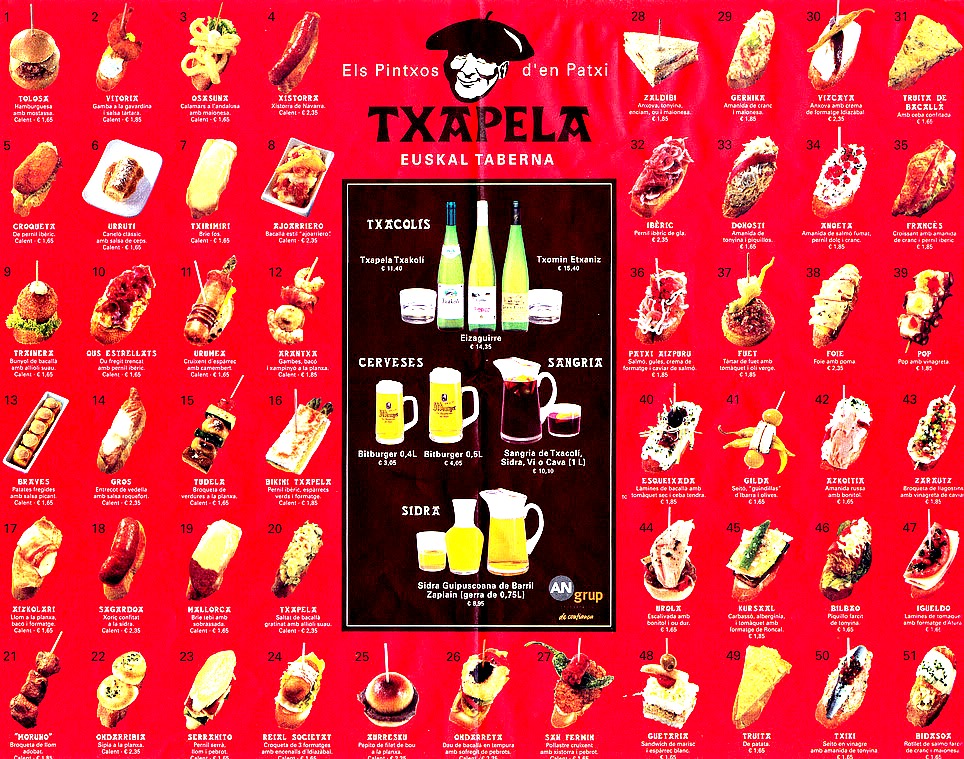 3.  Top Sight: Casa Batlló and La Pedrera
Top Tapas Spot: Txapela, Passeig de Gràcia, 58
Sticking with Gaudí means heading over to Passeig de Gràcia next, where you'll find two more of his incredible creations, Casa Batllóand Casa Milà (aka La Pedrera). The amazing façades of these buildings are captivating to say the least, and their interiors no less inspiring. Taking in all this wonderful architecture you'll certainly work up an appetite, but Txapela has the answer. This Basque style tapas bar specializes in pinxos: mini tapas towers held together by cocktail sticks, and their fun picture menu will help you to know exactly what you're ordering, so no language troubles here! Be sure to try their house cider too, perfect to wash down those delicious mouthfuls.
Barcelona tapas summary: Fun, different, memorable.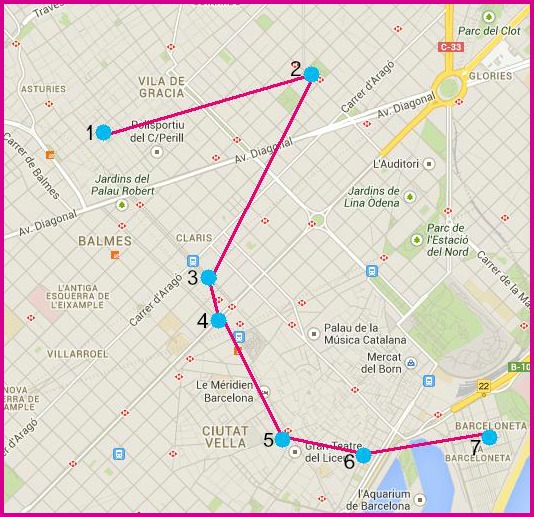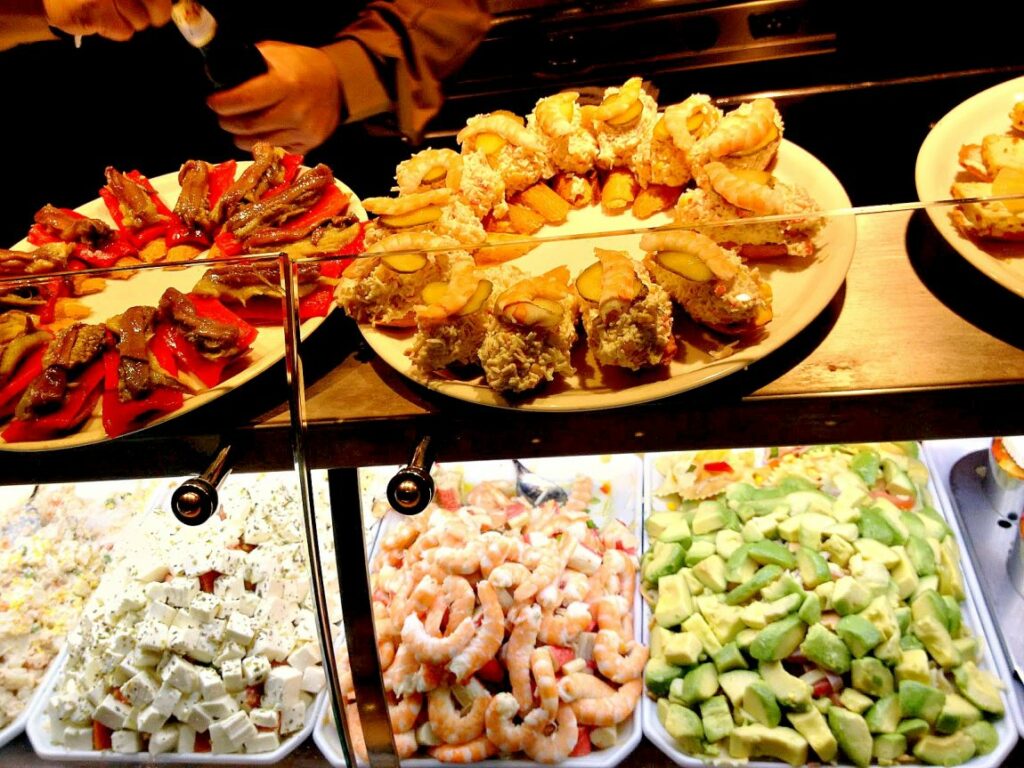 4.  Top Sight: Plaça Catalunya
Top Tapas Spot: Cervecería Ciudad Condal, Rambla de Catalunya, 18
Plaça Catalunya is the heart of Barcelona, a gateway to the four corners of the city, so where better than here as a resting point on your route. The cool Cercevería Ciudad Condal is a great place to recharge. The array of delicious Catalan tapas displayed along the bar is more than tempting and the range of beers on offer are certainly thirst-quenching. The street leading up from the bar, elegant Rambla de Catalunya, is also well worth a look, with its beautiful architecture and trendy shops.
                                                                                                                                                                                                          Barcelona tapas summary: Stylish, good prices,                                                                                                                 filling.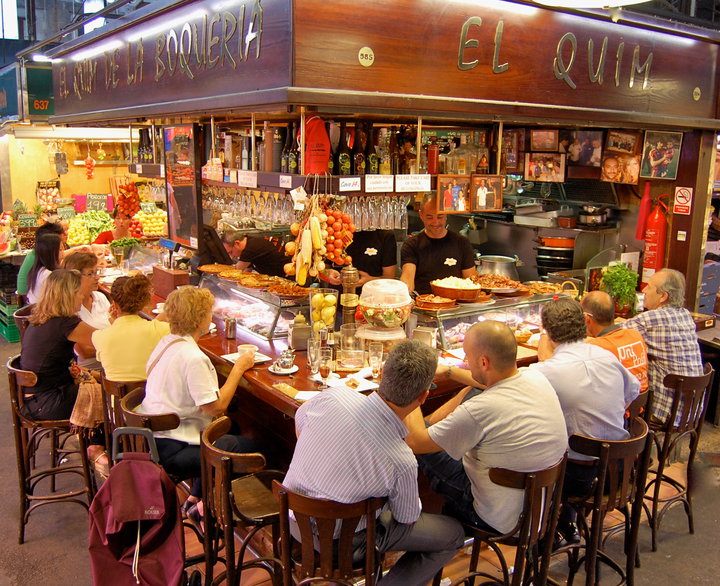 5.  Top Sight: The Boqueria Market
Top Tapas Spot: El Quim de la Boqueria, Mercat de La Boqueria, Las Ramblas
The Boqueria Market is one of the most colorful and mesmerizing places in Barcelona. This foodie heaven has even won an award for being the best market in the world! The sights and sounds are unforgettable and the array of produce on offer is hopelessly seductive. So where better to eat than amidst this culinary jungle? In the centre of the market you'll find El Quim de la Boqueria. This incredible Barcelona tapas joint is an experience in itself. Perch on a stool and watch the chef rustle up some fine Catalan specialties before your very eyes!
Barcelona tapas summary: Bustling, creative, exciting.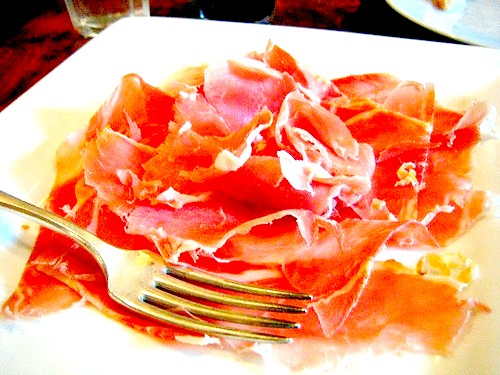 6.  Top Sight: The Gothic Quarter
Top Tapas Spot: Tasca el Corral, Carrer Mercè, 17
Barcelona's Gothic Quarter is a fascinating area of the city and with its endless laberynth of narrow streets, it is a world of its own. Hidden away amidts its historic  alleys is Tasca el Corral, an old Barcelona tapas bar where rustic doesn't even come close to doing it justice. Ham hangs from the ceiling, bottles and barrels line the walls and old photographs and trinkets fill the place with the charm of times gone by. The tapas here are equally rustic, with the meats being particularly delicious.
                                                                                                  Barcelona tapas summary: Olde-worlde, secret,                                                                                                                  photo-tastic.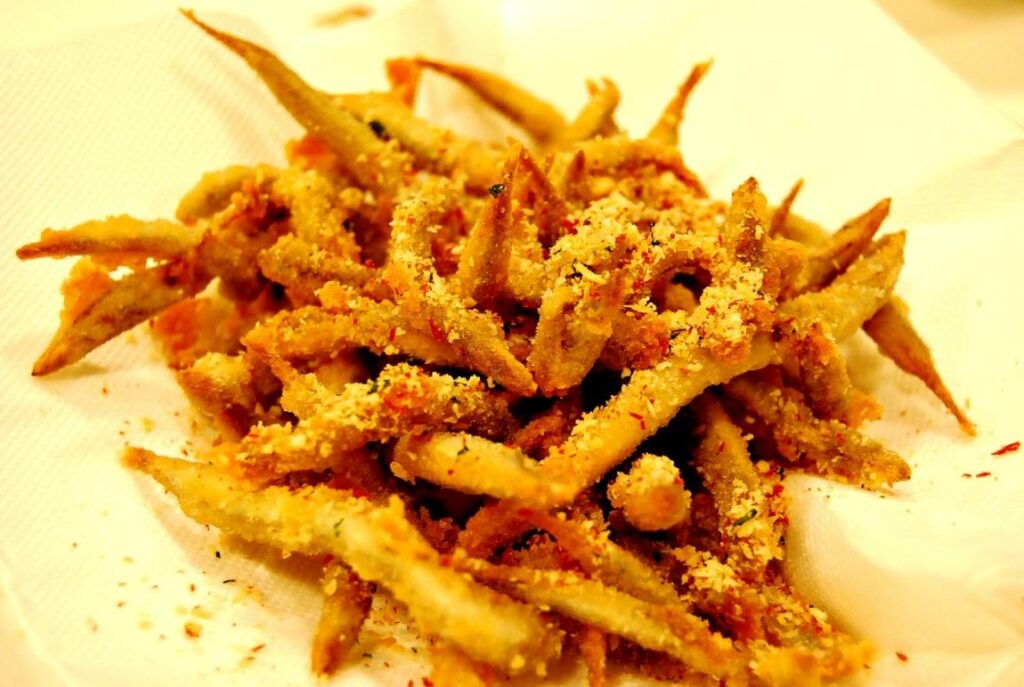 7.  Top Sight: Barceloneta and the beaches
Top Tapas Spot: Jai-Ca, Carrer Ginebra, 13
Once the old fishermen's neighborhood, Barceloneta retains its seafaring feel even today. Of course, the proximity of Barcelona's fantastic beaches helps, where you can really live the Mediterranean experience to the full. And after all this sightseeing you'll need a refuel, so Jai-Ca is the place. This lively Barcelona tapas bar is a favorite amongst locals so be prepared to squeeze in or wait for a table. However, as always, the locals know best as the food here is scrumptious! Try the pescadito frito or the salpicón de gambas for some real seafood treats!
Barcelona tapas summary: Quirky, tasty, cool.
So that's it! The top sights of the city combined with some top tapas! A perfect way to spend a day in Barcelona!