Last Updated: September 2017
Watching the sun go down, sipping wine and nibbling on some delicious tapas is one of the best ways to spend time in Barcelona, and where better to do it than at a cozy locale right by the Mediterranean Sea? There are so many fantastic places to eat in the city, but if you're headed to Barcelona during the warmer months of the year, then enjoying some tapas by the beach is an absolute must! Here we've selected a few of our favorite coastal eateries along with some chilled out chiringuitos for our guide to Barcelona's best beach tapas.
1.      Cava Mar – A People-Watching Paradise
This top restaurant sits right on the promenade of the Barceloneta Beach, and is perfect for whiling away a few hours and taking in a few rays as you do. A great spot to watch the world go by, you'll really gain an insight into Barcelona's beach life – rollerblading, surfing, volleyball, it all goes on here! And while you're at it, you'll be treated to some fine local cuisine too.
Cava Mar offers a wide range of tapas as well as delicious Spanish ham platters, ideal for sharing. This Barcelona beach restaurant even won the 'Best Tapa' award at the 2012 Festival de Tapes de Barcelona, so we would definitely recommend trying a few of these little delights, especially the goats cheese and spinach tapa.
Cava Mar also offers some tasty, traditional paellas, fideuás and fish stews which go down a treat with a swig of local Cava. And be sure to try out one of the refreshing selections of sangria too, and idyllic combination with the classic Spanish favorites cooked up at Cava Mar.
(Vila Joiosa 54, 08003 Barcelona)
2.      L'Ostia – A Groovy Kitchen Vibe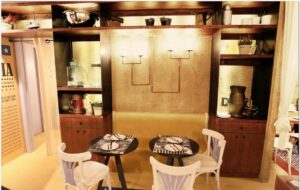 This gastronomic tavern located in the heart of Barceloneta, in its central plaza, is a stone's throw away from the beach and has the feeling of a boutique marketplace. Its outside terrace has a boho-chic vibe and is a great place to take in the atmosphere of this quirky neighborhood. The tapas menu at L'Ostia is extensive and includes all sorts of timeless classics like patatas bravas, as well as some more adventurous options. The ensalada rusa is known as the house specialty and their bomba is also highly recommended, both of which go down perfectly with a glass of chilled vermut.
(Plaça de la Barceloneta, 1, 08003 Barcelona)
3.      Jai-Ca – Cool and Colorful
With a 'vintage, Spanish pub' meets 'cool, street café' ambience, Jai-Ca is always buzzing and it's easy to see why. This lively tapas bar in Barcelona is full of character – barrels and quirky ceramics line the walls, tables are decorated with traditional, vibrant tiles and its funky, curved bar is always pilled high with seriously tempting tapas. The pescadito frito is a house favorite, as is the salpicón con gambitas. The terrace outside is equally full of life and is a great place to enjoy lunch in the summer months.
(Carrer de Ginebra, 13, 08003 Barcelona)
 

4.      Tapa Tapa – In the Heart of the Port
Watching the cruise liners and yachts gracefully leave the marina is great dining entertainment, which, combined with tapas this good, makes for a truly memorable meal. Tapa Tapa has a vast range of dishes on offer and its handy picture-guide menus mean you'll know exactly what you're ordering. It's also a great way to learn about different types of tapas – you could even go on a bit of a spree and try lots of different ones! The ambience inside is cool and modern and its location right by the water at Port Vell, means that it's a great place to stop after a hard day's shopping!  
(Edifici Maremàgnum Moll d'Espanya, 5, 08039 Barcelona)
5.      Cal Papi – Authentic and Tasty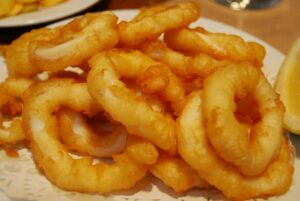 This rustic Barcelona beach tapas bar is packed with authenticity. The decoration inside, with its nets and shells hanging from the ceiling in celebration of Barceloneta's fishing heritage, reminds us of an old boat and here you can enjoy some of the best seafood tapas in Barcelona amongst a local crowd. The vibe in this small inn is buzzing and there's nothing more atmospheric than perching around a barrel-table and tucking into some exquisite house specialties. The calamares are amazing, as are the langostinos and buckets of juicy mussels.
(Carrer de l'Atlàntida, 65, 08003 Barcelona)
Ps. For another local favorite check out La Bombeta, famous for its incredibly moreish bombas. You'll be ordering round after round, that's for sure
(Calle de la Maquinista, 3, 08003 Barcelona)
 6.      Fancy venturing further afield? 
Just outside the city there are some lovely coastal towns that play host to some great beachside chiringuitos. Feel the sand between your toes and watch the Mediterranean sun go down as you feast on some delicious Spanish specialties!
Chiringuito Ibiza in Castelldefels is a great place to unwind and Wednesday nights are especially lively as Chef Marc rustles up a shore-side feast of mouthwatering, local, sea-inspired tapas.
(Passeig Marítim, 326, 08860 Castelldefells)
El Chiringuito at La Cupula in Garraf is the perfect place to watch the sun go down!  Perched on a cliff which juts out into the sea, it offers spectacular views of the cove and its famous, wooden beach huts. The menu offers some classic tapas such as pescadito frito and grilled sardines which go down a treat with a class of chilled wine.
(Avenida Llorach, Garraf)
 So be sure to try out some of these cool hangouts during your trip! Your tummy won't be disappointed!
Tapas Menu Guide
Pan con tomate – Tomato topped bread
Calamares a la Romana – Fried squid rings
Chocos – Fried cuttlefish
Buñuelos de bacalao – Cod fritters
Langostinos – King prawns
Gambas – Prawns
Mejillones – Mussels
Patatas bravas – Fried potato cubes with a hot, spicy sauce
Queso – Cheese
Jamón – Ham
Chorizo – Spicy sausage
Albóndigas – Meatballs
Ensalada rusa – Potato salad
Bomba – Fried potato and meat ball
Croquetas de jamón – Ham croquettes
Escalivada – Cold, roasted peppers, eggplant and onions
Tortilla de patata – Spanish omelette
Pinchos – Slices of baguette with various toppings
Aceitunas – Olives
Pulpo – Octopus
Sardinas – Sardines
Pescaditos fritos – Mini fried fish
Paella de marisco – Seafood paella
Paella mixta – Mixed meat and fish paella
Arroz caldosa con marisco – Fish and rice stew
Fideuá – Mini, chopped Spanish noodles
Parrillada – Mixed grill