The beautiful town of Gràcia in Barcelona is one of the most charming neighborhoods in the city. With a Catalan-bohemian vibe, both exotic and traditional restaurants, cool nightlife and quirky stores, this area of the city is a great place to experience a different side of Barcelona. Although the neighborhood is known for its small town feel, the residents of Gràcia range from elderly Catalans to young families to artsy types, creating a unique ambience and a vibrant place to visit. What's more, you'll find the amazing Park Güell in this artistic neighborhood, a must-see if you're staying in Barcelona for a few days.
Setting the Scene in Gràcia
Once upon a time, Gràcia was known as a quaint village on the outskirts of Barcelona. Until the late 1800's the neighborhood only had access to the city center by a long dirt track, which nowadays is one of the most expensive and grandest streets in the city: Passeig de Gràcia.
 Although Gràcia was annexed to Barcelona in 1897, while strolling around the narrow streets and discovering the lively squares in this town, you will be immersed in authentic Catalan culture. That being said, the area is now known to be one of the most eclectic and artistic in the city and when the sun sets, a youthful hub of energy brings the area to life, particularly on Carrer Verdi, one of the irresistibly trendy streets in the city.
What to see and do in Gràcia
Park Güell

Gràcia is home to Gaudí's very own colorful paradise: Park Güell. Originally designed to be a residential area for the Barcelona elite, this beautiful park is now one of the city's greatest attractions, combining impressive architecture, green spaces and spectacular panoramic views of the city. Don't forget to watch out for the famous dragon fountain at the entrance and see how many more of the Catalan-born architect's signature naturist elements you can spot in this bright park.
Casa Vicens
Completed in 1889, this UNESCO World Heritage Site is one of the lesser visited Gaudí buildings in Barcelona although it is said to be one of his most important works. Situated on Carrer de les Carolines 24, this magnificent house was built for industrialist Manuel Vicens, and while unfortunately the inside is not open to the public, the exterior offers an up-close look at some of Gaudí's most intricate and colorful designs. (C/ Carolines, 18)
Teatre Lliure
Considered to be one of the most prestigious theatres in Spain, the Theatre Lliure produces its own productions along with being a great exhibition space. So if you fancy a bit of local culture, this is definitely worth checking out. (C/ del del Montseny, 47)
Cines Verdi 
If you are a bit of a film fanatic and fancy watching a movie on the big screen while on your trip to Barcelona, this is the place to go. The Verdi multi-screen cinema shows films in their original languages with subtitles – so no dubbing! (C/ de Verdi, 26)
Festa Major de Gràcia 
If you're hitting the town in August, then the district of Gràcia is an absolute must-visit. From the 15th of the month for one whole week, the most colorful and vibrant festival in Barcelona, Festa Major de Gràcia hits this 'barrio', bringing with it some traditional festivities such as  Sardana dancing and Correfocs (fire-runs). Don't miss the annual 'Best Decorated Street' competition, where the 'calles' of the town are adorned with amazing homemade decorations based on a different theme each year.
Dining in Gràcia
Gràcia has a fantastic range of restaurants to satisfy any culinary craving. Dine in Gràcia and you will get an authentic taste (literally) for this diverse 'barrio'.
If you want to try a traditional Catalan restaurant, head to Roig Robí (C/ Tordera, 62), known for its exquisite menu and charming terrace. If you're in the mood for authentic tasty seafood, there's Botafumiero Restaurant (Gran de Gràcia, 81), one of the city's most famous seafood restaurants, and for some scrumptious Asian food, head to Asia amb Gràcia (Plaça Diamant, 5), a hip Chinese-run 'wok' joint. If you're heading out with a group, check out La Caleta de Gràcia (C/ del Torrent de l'Olla, 121), this fine restaurant is especially designed for large parties.
Shopping in Gràcia
Sure, Passeig de Gràcia's shopping street has got plenty to offer, but if you choose to avoid the mainstream labels, then Gràcia is the place for you.  Venture off the main street and on every cobbled pathway and around every corner, you will stumble across every kind of shop from arty boutiques and unique vintage shops to traditional Spanish stores.
For the best of vintage quirk, head to Retro City on Travessera de Gràcia. Here you will get lost in the accessories, shoes, bags and clothes filled from floor to ceiling. If you're a fashionista with an eye for a bargain, then check out Philo on C/ del Pendes. This chic boutique is sure not to disappoint with its 'Brit chick' and French elegance inspired designs.
If you want to take a Mediterranean specialty home with you, then Oli Sal is where you'll find the 'liquid gold'. Here you'll come across heaps of every type of olive oil known to man, plus soaps and bubble baths, perfect as gifts!
Nightlife in Gràcia

Barcelona's nightlife attracts party-goers from far and wide, every night of the week. In Gràcia you can discover some cool hang outs with a local feel. For a relaxing evening, chill out at Cafe Adonis (C / de Bailen, 188), and enjoy sitting on the terrace with some great tunes and tasty drinks. If you fancy a boogie, head to nightclub, Duvet (C/ de Corsega, 327), inspired by the legendary Studio 54 in New York, with a live DJ playing top tunes, you'll be sure to dance the night away. For a low key jazzy vibe, check out Woody's Bar (Plaça del Sol, 7-8).
Square City
Gràcia is home to several charismatic squares or 'plazas'. Whether you fancy some breakfast in the early sun, a read of your book, or spending the evening with friends, tapas and beer, the alluring atmosphere from these squares will have you chilling for hours.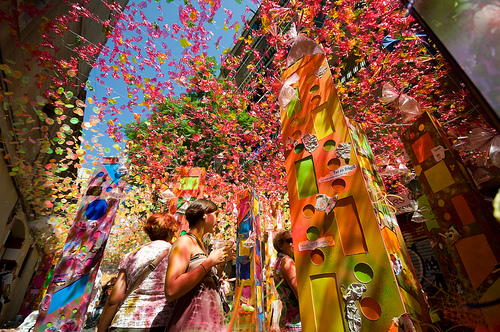 Plaça del Sol- The most central square in the neighborhood. Here you will discover a distinctive bohemian ambience, local musicians, street artists, along with many trendy and lively bars. Grab a refreshing drink and chill out on one of the terrace cafés while you soak up some Spanish sun!
Plaça de la Vila de Gràcia – Family friendly square and very easy to find with the striking clock tower in the middle. The perfect spot to enjoy a bite to eat in the afternoon and perhaps catch some live music from local buskers.
Plaza de la Virreina – This neighborhood square offers an array of welcoming outdoor cafés which are perfectly shaded under the trees. In the middle of this 'plaza' stands the church of Sant Joan which is open to the public. Don't miss the market on a Sunday; it sells all kinds of second-hand bits and pieces!
Staying in Gràcia
Whether you choose to try some exotic cuisine, socialize into the early hours in one of its pretty squares or visit one of the most colorful green spaces in the city, Gràcia certainly offers a different experience with a Catalan twist, without venturing from the city center. Choose to stay in one of the many Barcelona apartments in Gràcia, where you can step out everyday onto the beautiful streets with an alternative personal identity. Enjoy the nightlife, local delicacies and of course, the beautiful Park Güell, leaving you with a culturally rich experience of Barcelona.